Backend
::::::Parvati Vibes and ExtraterrestrialComics Release::::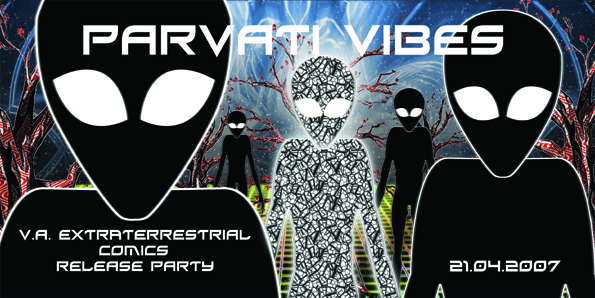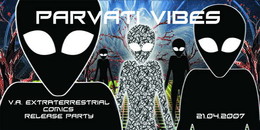 Line Up
Live Floor:

+++++++ plus surprise Artist: HOKUS POKUS (Parvati Rec) Denmark++++++++++

23pm-2am::::::Monchichi(dj) (neuro family) stuttgart
2-3am::::::::::::::Multi Evil (Evil Knivel/5th elements rec) poland
3-4,30am::::::::Mubali(Trishula/ Mistress of evil rec) U.S.A
4,30-6am::::::::Syntax Error(G.O.W., parvati rec) danmark
6-7,30am::::::::Highko(Noise Poison Rec) berlin
7,30-8,30am::Terranoise (Doof/Mass Abduction Rec) israel
8,30-9am::::::::Terrakur (Mass Abduction Rec) israel/germany
9-10am::::::::::::Ankur (Noise Poison/Mass Abduction Rec)berlin
10-11,30am::::Galactic Disco berlin
11,30am-end::all together dj set


2nd floor:
23-1 Chinaski (Area25) berlin
1-3 Moarice (Pangaeon) berlin
3-5 Electro Engel (tribaltools) berlin
5-7 Shawnodese (mind funk music) holland
7-10 Bull (dooflex) israel
10-11,30 Frechbax (live) (ajana rec) germany
11,30-end Koszki (www.dj-kotzki.com,klangspieler rec.) berlin
Info
We are joining here with a hole bounch of friends to make things possible wich are usually not,
we will bring u 12 artist and many djs from all around the planet, for just 10 euro!!!!!!!
also for us is important to present something for everyones taste, we gonna have diffrent styles on both dancefloor so as a speaciel downbeat area (alot of space), with 3 live acts and varius djs.
its wont be to ambient, more groovy and even danceble........
a big thank u to all artist, djs, deco teams, hepling hands and friends!!!!!
Check Out the 3rd Mass Abduction release: ExtraTerrestrialComics!!!!!
more information: massabduction.com
links:
[parvati-records.com]
[noise-poison.com]
[trischula-records.com]
[doofrecords.com]
[cosmicwalkers.de]
[miditerranien.de]
[chillinberlin.com]
[massabduction.com]
BooooOOOOoooom
Organizer
Organizer
brainstorm and ankur