Parvati Night By Fraktal Forest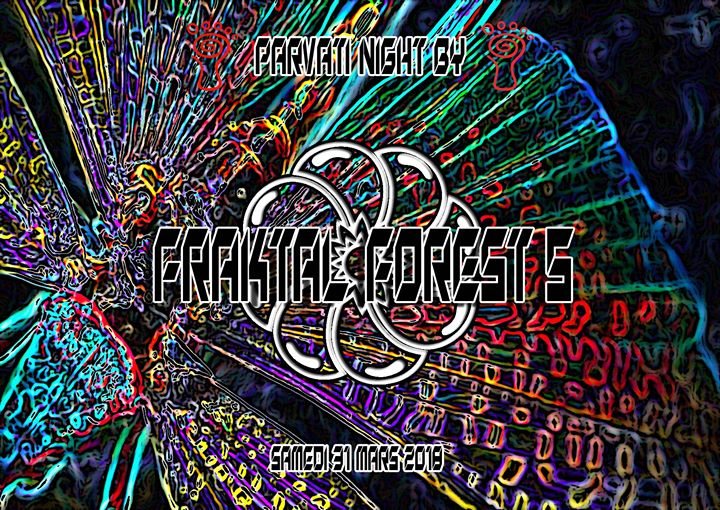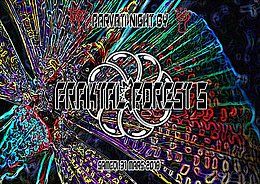 Line Up
Le célèbre et mondialement connu label Parvati records sera à l'honneur lors de la prochaine Fraktal Forest, lors d'une parvati night. Parvati records s'est fait une place majeur dans le monde la Psytrance et plus particulièrement avec la Forest et Dark Forest depuis maintenant 17 ans. Nous avons déjà eu l'occasion d'accueillir Giuseppe, le créateur du records lors de la Fraktal Forest 3.
Pour la Fraktal Forest 5, nous avons invité pas moins de trois livers pour une expérience inoubliable.
Cette soirée sera exceptionnelle et à ne surtout pas rater autour de Lille.
Deux Djs et un liver locaux seront également de la partie pour compléter ce line-up impressionnant.
On retrouvera aussi les deux résidents des soirées Fraktal Forest.
La soirée évolura progressivement en terme de style musicaux afin de proposer de la Psydub, DarkProg, prog, Full-on, Twilight et Forest.
The world famous Parvati label records will be honoured at the next Fraktal Forest parvati evening.
For the past 17 years, Parvati records has played an important part in the world of Psytrance especially with Forest and Dark Forest.
In the past, we've already had the pleasure of welcoming Giuseppe at the Fraktal Forest 3.
For Fraktal Foredst 5, we have invited at least three livers for an unforgetable expxerience.
This will be an exceptional evening not to be missed in the area of Lille.
Two DJs and a local liver will also take part in the impressive line-up. Furthermore, the two residents of the Fraktal Forest musical evenings will also participate.
The evening will evolve gradually with various musical styles leading to Psydub, DarkProg, Prog, Full-on, Twilight and Forest.
▬▬▬▬▬▬▬▬▬▬▬▬ LIVE ▬▬▬▬▬▬▬▬▬▬▬▬▬
►JAHBO (Parvati Records - Danemark)
soundcloud
[facebook.com]
►CONFO (Parvati Records - Grèce)
soundcloud
[facebook.com]
►ULVAE (Parvati Records - Portugal)
soundcloud
[facebook.com]
►CHILOPOD (Visionary Shamanics Records - France)
soundcloud
[facebook.com]
▬▬▬▬▬▬▬▬▬▬▬▬▬ DJ'S ▬▬▬▬▬▬▬▬▬▬▬▬▬
►NOVOVRATIC (Woo-dog Records - France)
soundcloud
►R-PROJEKT (Nothing is done - France)
[click here]
[facebook.com]
►DARKSIDE (Fraktal Forest - France)
[facebook.com]
[zippyshare.com]
►STELLAR (Fraktal Forest - Suisse)
[facebook.com]
soundcloud
▬▬▬▬▬▬▬▬▬▬▬▬ DECO ▬▬▬▬▬▬▬▬▬▬▬▬
►MALETINE
▬▬▬▬▬▬▬▬ SOUND SYSTEM ▬▬▬▬▬▬▬▬▬▬▬
►AMICAL SOUND SYSTEM (5kw)
▬▬▬▬▬▬▬▬▬ RESTAURATION ▬▬▬▬▬▬▬▬▬▬
►Food Truck Bio (Bis2Fly)
[facebook.com]
▬▬▬▬▬▬▬▬▬▬ PREVENTES ▬▬▬▬▬▬▬▬▬▬▬
►Les préventes sont désormais disponibles sur le lien du pot commun.
▬▬▬▬▬▬▬▬▬▬▬▬ INFOS ▬▬▬▬▬▬▬▬▬▬▬▬
Le lieu de la soirée est facilement accessible en train, avec une marche à pied.
Pensez également aux plateformes de covoiturage comme Uber ou Blablacar.
▬▬▬ RESPECTONS CES QUELQUES CONSIGNES ▬▬▬
►Soirée interdite aux mineurs.
►Veuillez prendre soin du matériel et du lieu.
►Des cendriers et poubelles seront mises à disposition.
►Les bouteilles en verre sont interdites sur le site.
►Le bar proposera des tarifs attractifs.
►Les chiens sont interdits sur le site.
►Le parking est sécurisé
►Soirée en intérieur avec accès sur une grande cour
Location
Location
Nord-Pas-de-Calais, Frankreich