Partyamo vol4 befana day party special guess Sunday light live set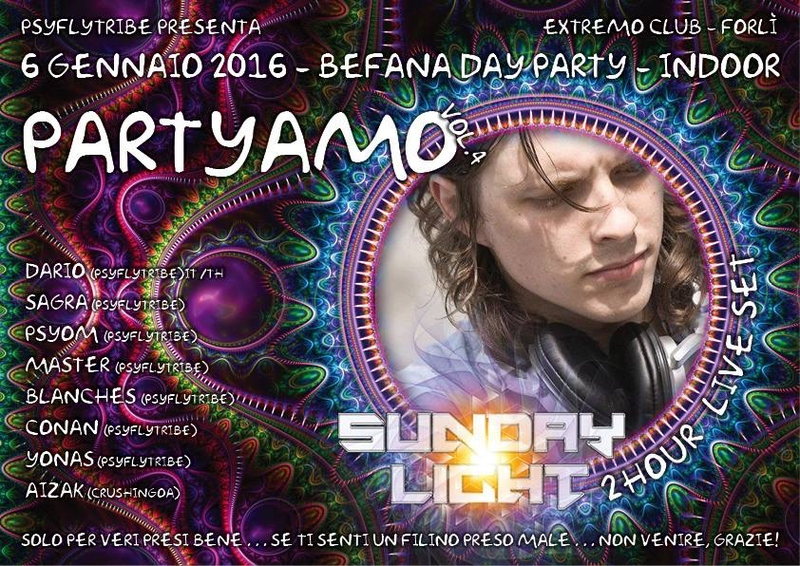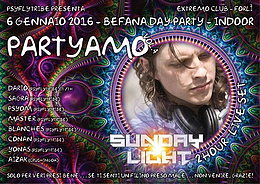 Line Up
Sunday light geomagnetic rec

Sunday Light is the psychedelic trance project from Alexander Alexandrov, born in Russia in middle 80's, moved to Italy in early 90's and still living there.
With a solid indie rock background (playing rhythem guitar and singing in some bands during teenage years), he begins djing at italian public events in 2004 as DJ Sasha, gets graduated as audio engineer at S.A.E. Institute and approaches psy trance production in late 2008.
After about 3 years of special dedication, the project starts to get first international bookings, with shows between Switzerland, Germany, Brazil, Chile, Argentina...
The style gets defined as morning full on trance, sustained by fat melodic basslines, shiny and effective drum playing, unpredictable spaced Fx, and a distinct touch of melody rendering thoose morning atmospheres as well.
Since 2012 project releases many tracks in Eps and VA's on important label recordings like Mutagen, Ovnimoon, Planet B.E.N, Profound…Also collaborating with legends like Atomic Pulse and Asimilon.
The debut LP "Law of Attraction" is released on Geomagnetic TV in january 14, reaching Psyshop top 20 for some time.
At the moment Sasha is experimenting second generation of Sunday Light music…Stay tuned and expect always better !


Dario Psyflytribe

Sagra Psyflytribe

Yonas Psyflytribe

Master Psyflytribe

Psyom Psyflytribe

Conan Psyflytribe

Aizak crush in goa

Line up is close ...
Deco
Deco
Per questo evento Psyflytribe vi stupira con nuove decorationi

Super visual by psykiry
Info
Non si entra con vetro dall esterno

Vietato ai minorenni

100x100legal party

No tesseramento

Laser game

5 kW turbo clean sound sistem cervin wega sub

Possibilta Di banchetti

Ricordiamo Che e urn trance party quindi la gente vuole divertirsi senza rotture Di Cazzo,se sei preso male stai a casa!
Location
Location
Capannone riscaldato con tutti I comfort possibili
From
dariopsyflytribe thay stile ·
872