Pachamama Dance - Locals Night mit Muscaria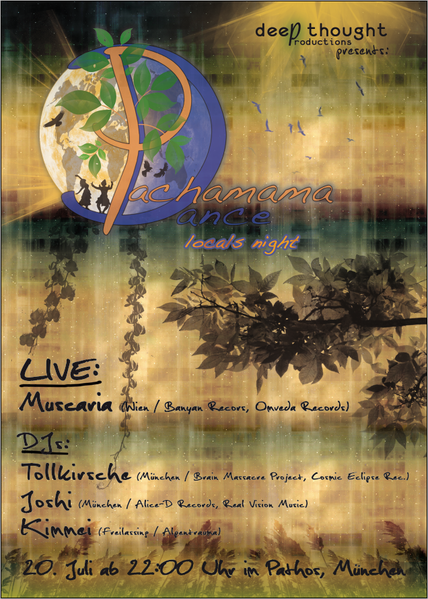 Live
Line Up
*** Muscaria *** (Wien / Banyan Recors, Omveda Records)
soundcloud
DJs
*** Deadly Nightshade aka Tollkirsche *** (München / Brain Massacre Project, Cosmic Eclipse Rec.)
soundcloud
*** Joshi *** (München / Alice-D Records, Real Vision Music)
soundcloud
*** Kimmei *** (Freilassing / Alpentrauma)
soundcloud
Info
Info
TIMETABLE

22:00 - 00:30 Kimmei
00:30 - 02:00 Muscaria
02:00 - 04:00 Joshi
04:00 - 06:00 Tollkirsche

Welcome to the jungle! Oder besser gesagt, welcome to the forest… Diesmal wird's grün im Pathos. Wir holen uns ein Stück Natur ins graue Gemäuer. Rollrasen und eine Menge Pflanzen verwandeln das Pathos in eine gemütliche, urige Waldkulisse. Da darf der richtige Sound natürlich nicht fehlen. Murky, organic and complex! Daher haben wir bei dieser Locals Night MUSCARIA für euch im Gepäck. Und wer Lust hat, kann seiner Phantasie freien Lauf lassen und sich ins Kobold- oder Waldelfen-Outfit schmeißen. Also macht euch schick und zeigt was in euch steckt!
Location
Location
Pathos München
Dachauer Straße 112d

Anfahrt mit der MVV über Leonrodplatz:
Tram 12 / 20 / 21 / N20
Bus 53 / 112 / N43 / N44
Organizer
Organizer
Deep Thought Productions