O.Z.O.R.A. One Day in Tokyo 2022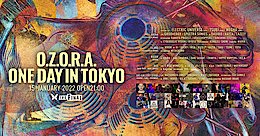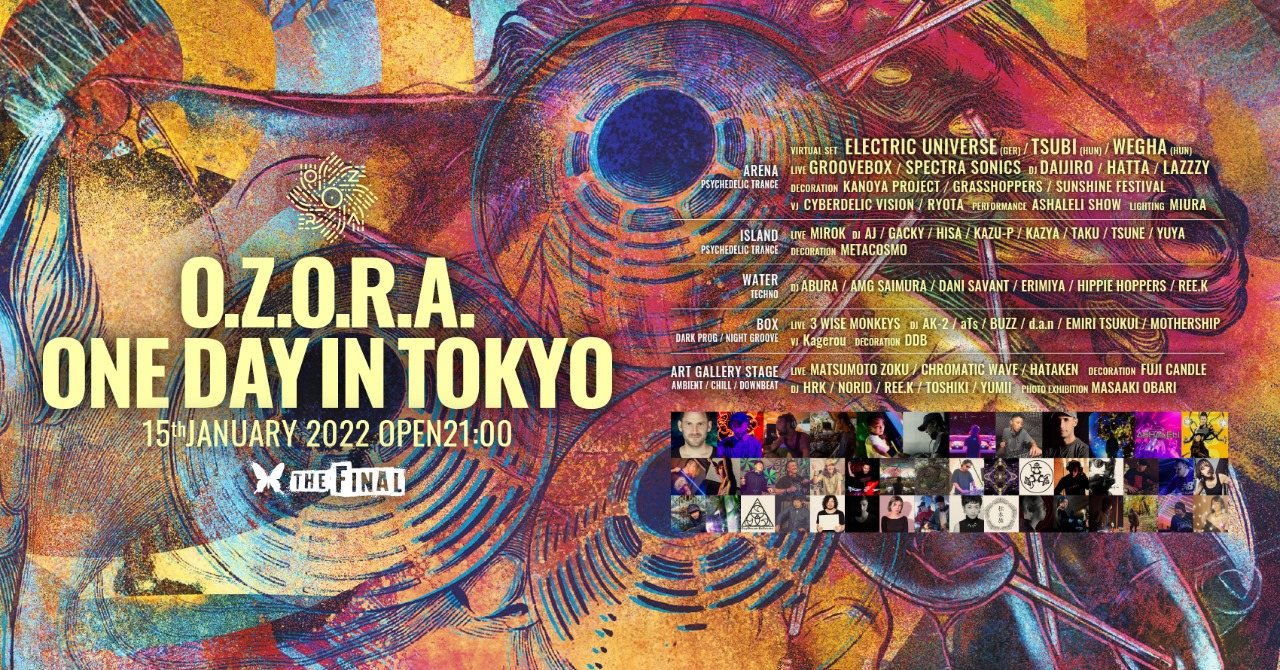 Line Up
■LINE UP
【ARENA】
□GENRE
PSYCHEDELIC TRANCE

■VIRTUAL SET
■LASER HARP CONCERT
ELECTRIC UNIVERSE (GER)

■DJ form OZORA
TSUBI (HUN)
WEGHA (HUN)

■LIVE
GROOVEBOX
SPECTRA SONICS


■DJ
DAIJIRO
HATTA
LAZZZY

■DECORATION
KANOYA PROJECT
GRASSHOPPERS
SUNSHINE FESTIVAL
■VJ
CYBERDELIC VISION
RYOTA
■PERFORMANCE
ASHALELI SHOW

■LIGHTING
MIURA

【ISLAND】
□GENRE
PSYCHEDELIC TRANCE

■LIVE
MIROK

■DJ
AJ
GACKY
HISA
KAZU-P
KAZYA
TAKU
TSUNE
YUYA

■DECORATION
METACOSMO

【WATER】
□GENRE
TECHNO

■DJ
ABURA
AMG SAIMURA
DANI SAVANT
ERIMIYA
HIPPIE HOPPERS
REE.K

【BOX】
□GENRE
DARK PROG / NIGHT GROOVE

■LIVE
​ 3 WISE MONKEYS

■DJ
AK-2
aTs
BUZZ
d.a.n
EMIRI TSUKUI
MOTHERSHIP

■DECORATION
DDB

【ART GALLERY STAGE】
"THE VISIONARIES"
□GENRE
AMBIENT / CHILL / DOWNBEAT and more

■LIVE
MATSUMOTO ZOKU
CHROMATIC WAVE
HATAKEN

■DJ
HRK
NORID
REE.K
TOSHIKI
YUMII
Info
Japan's biggest Psychedelic Gathering of Winter,
O.Z.O.R.A. One Day in Tokyo 2022 to be held on 15th Jan 2021.
ageHa is going to be closed down venue at end of Jan, therefore it will be the last big psychedelic trance related event.
To feel the festival vibes in Hungary, This event is held by 5 stages of ageHa, From art gallery stage to the massive dance floor of ARENA, gather to ageHa the many domestic and international artists such as Electric Universe, and Wegha and TSUBI from OZORA in Hungary.
Please join at ageHa's last biggest psychedelic night!
Welcome to Paradise 🌈
----
■DATE : 2022.1.15 Sat.
■EVENT TITLE : O.Z.O.R.A. One Day in Tokyo 2022
■OPEN - CLOSE : 21:00 - 06:00
----
*Photo ID check available at entrance, please bring ID.
*Age under 20 is not permitted to enter to venue.
Please read guide line
ageHa Guideline (English)
[ageha.com]
Location
ageHa Tokyo
2-2-10 Shinkiba Koto-ku Tokyo 1360082 Japan
[ageha.com]
TEL : +81-3-5534-2525
Added

1y 3m

· Update

1y 2m

·