O.Z.O.R.A. One Day in Tokyo 2020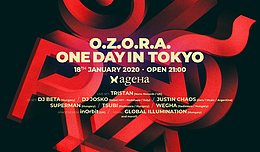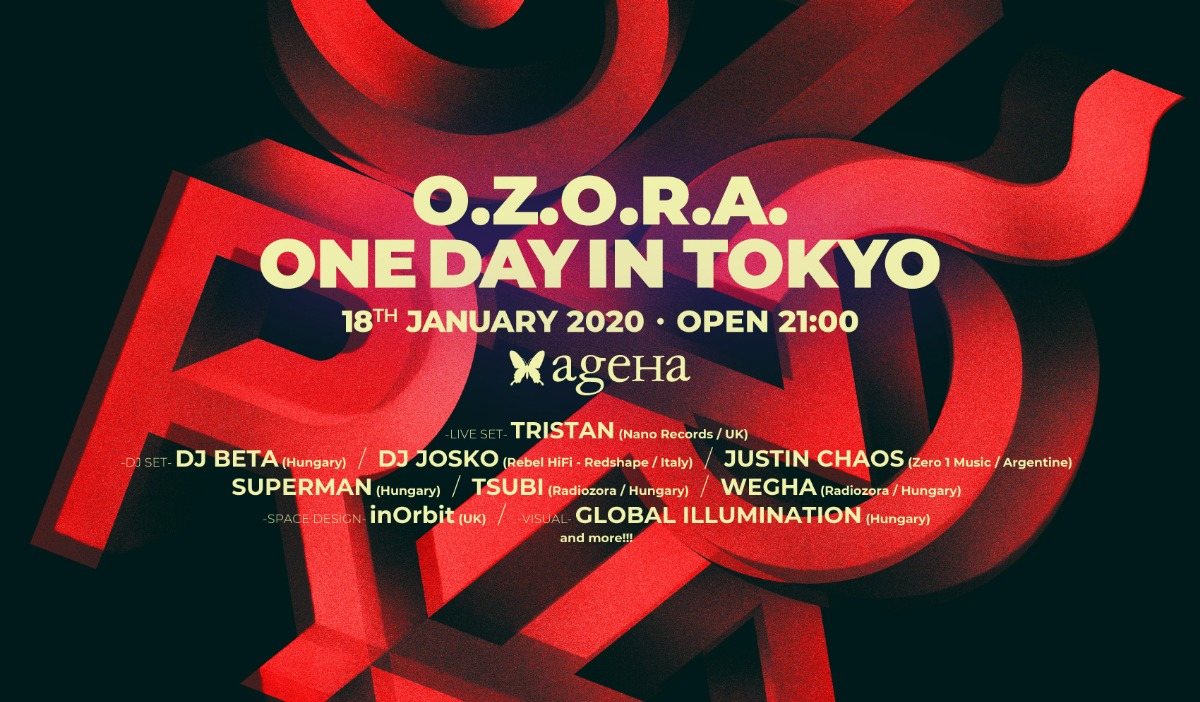 Line Up
■■■ ARENA ■■■■■■■■■
□GENRE
TRANCE

■LIVE SET
TRISTAN (Nano Records / UK)

■DJ SET
WEGHA (Radiozora / Hungary)
TSUBI (Radiozora / Hungary)
JUSTIN CHAOS (Zero 1 Music / Argentine)
HATTA (Grasshopper Records)

■SPACE DESIGN
inOrbit (UK)
Supported by OZORA Tokyo



■■■ ISLAND ■■■■■■■■■
□GENRE
TRANCE

■DJ SET
HANABI (Mosaico Records/Wing Makers)
IRY (Grasshopper Records)
KO-HEI (Hi-Lite)
LAZZZY (Transubtil records/onosim/0=zero)
MISAKI (Candyflip)
TAKU (Green Magic)

■SPACE DESIGN
METACOSMO



■■■ WATER ■■■■■■■■■
□GENRE
TECHNO / HOUSE

■LINE UP
DJ BETA (Hungary)
SUPERMAN (Hungary)
ABURA (99 Flags)
DAIJIRO (DigitalBlock)
HIPPIE HOPPERS
KANDEMIC (Nutek / Planet)



■■■ BOX ■■■■■■■■■
□GENRE
TECHNO / CHILL OUT / ALTERNATIVE

■LIVE
RABIRABI
Bucket Drummer MASA

■DJ SET
DJ JOSKO (Rebel Hifi / LDG / Italy)
TOSHIKI (DayDreamBelievers)
YUMII (Merkaba Music)
YUTA (Liquid Drop Groove)

■SPACE DESIGN
PSYCHO 69

■OHP LIGHTING
RYOTA (Grasshopper Lighting Syndicate)
 
 
■■■ ART GALLERY ■■■■■■■■■
■EXHIBITIONS
"MIRADOR" from O.Z.O.R.A. festival
"OZORA 2018 Photo Gallery" by Magu Sumita

■SOUND NAVIGATOR
MENTAL(Visionary Mind Rec. / Orbita Parvati / Italy)
MICHIRU (IDPS / 0 = zero)
JUGEN (◎parts Code / LOOP)
HRK (Matsuri Digital Chill)
Chy- Chy-
Norid

 
 
Info
Info
Powered by peaceful vibes and unmatched passion, welcome to dance music paradise! The global phenomenon that is the Hungary-based O.Z.O.R.A Festival is coming back to ageHa on Saturday, January 18th, the year of the Tokyo Olympics!

This will be Ozora Tokyo's sixth outing since its debut in 2015. The party has maintained wild success in Japan's trance scene as the first psychedelic tribal gathering of each year - and the energy source for new life and community in the scene.

This year, the largest Ozora team yet will be flying over to faithfully reproduce the positive vibes of the Hungarian festival. Get ready for an unforgettable celebration with a scope that goes far beyond music - extending to art, culture, and lifestyle. What's more, superlative superstar of the trance scene TRISTAN will be headlining to guarantee a night of roiling dance floor excitement!

Doors will be opening two hours earlier than usual, kicking the show off at 9 p.m.! Also, look forward to a deluge of extra creative flavor in the form of vendor booths, an art gallery, and more! Make no mistake - this is an incredible festival-class party for the books!

Welcome to Paradise!!Paradise is far closer than we thought... Right here. Welcome!
Location
ageHa Tokyo
2-2-10 Shinkiba Koto-ku Tokyo 1360082 Japan
[ageha.com]
TEL : +81-3-5534-2525
Entry fee
>>DOOR : ¥4,500
>> Advance Ticket : ¥3,500 (~1/17 23:59)
[ iFlyer ] (English OK!!)
[zaiko.io]
>> Age under 23 & Foreign passport holder's Friendly Price at Door ¥3,100
We offer a FRIENDLY PRICE to the guest from overseas and young friends and all guest age under 23 years old.
In order to receive Foreign passport holder's discount, please bring one of the following I.D.
※Passport / Driver's license / Resident Card except for Japanese.
※Copies/Smart Phone Photos are not acceptable.
※You must be 20 years or older to enter and a valid photo ID containing your birthdate is required at the door.
Organizer
Organizer
ageHa
Ozora Festival official
Grasshopper Recs
DANCE ON THE PLANET
Added

3y 3m

· Update

3y 2m

·