OWN SPIRIT FESTIVAL teaser party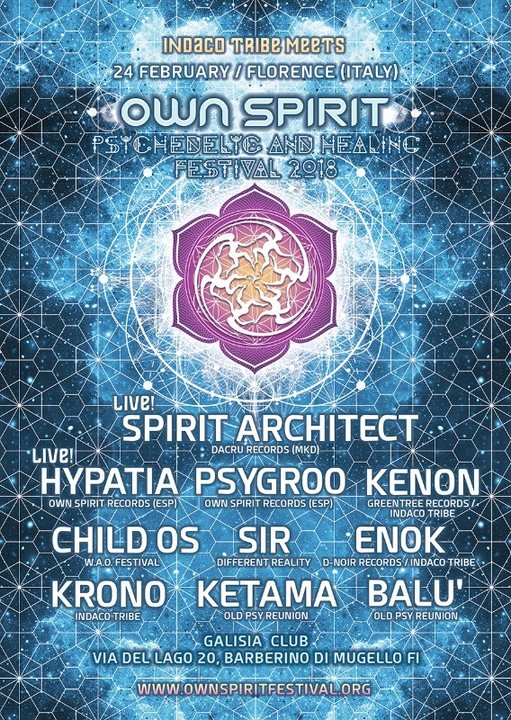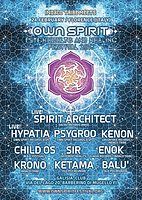 Line Up
Siamo lieti di presentarvi lo OWN SPIRIT FESTIVAL 22-27/06/2018 SPAGNA
Il festival pone le sue radici all'interno della parte più incontaminata e selvaggia della Spagna, sperduto in una location mozzafiato lo OWN SPIRIT Festival si carica di tutto il calore e l'energia della natura che lo circonda, divenuto negli anni un punto di riferimento all'interno della scena Europea rappresenta un punto di incontro per migliaia di dancer provenienti da tutto il mondo.
Celebreremo insieme il Solstizio d'Estate per pulire ed espandere le nostre anime, impegnate nel cambiamento che vogliamo vedere nel mondo.
Lasciamo che musica, arte e creazione ci travolgano che gli elementi ci guariscano, diamo modo ai nostri piedi di danzare ed ai nostri cuori di battere forte all'unisono, ed assaporiamo il sublime piacere di stare insieme!
WELCOME TO THE NEW AGE OF OWN SPIRIT
[ownspiritfestival.org]
[facebook.com]
youtube
....................::::::╰დ╮LIVE╭დ╯::::::.....................
_ SPIRIT ARCHITECT [ Dacru Records ] MKD
[dacru.be]
soundcloud
[facebook.com]
_ HYPATIA [ Own Spirit Records ] ESP
soundcloud
[facebook.com]
....................::::::╰დ╮DJ SET╭დ╯::::::....................
_ PSYGROO [ Own Spirit Records ] ESP
soundcloud
[facebook.com]
_ KENON [ GreenTree Records / Indaco Tribe ]
soundcloud
[facebook.com]
_ CHILD OS [ W.A.O. Festival ]
soundcloud
[facebook.com]
_ SIR [ Different Reality ]
soundcloud
[facebook.com]
_ ENOK [ D-Noir Records / Indaco Tribe ]
soundcloud
_ KRONO [ Indaco Tribe ]
soundcloud
_ KETAMA [ Old Psy Reunion ]
_ BALU' [ Old Psy Reunion ]
Location
Location
.
GALISIA CLUB

Via del Lago, 20, 50031 Barberino di Mugello FI


::: PER CHI SI MUOVE IN MACCHINA ::...

A1 uscita Barberino del Mugello, alla rotonda prendi la 2° uscita, fai 100m e ti trovi il locale sulla sinistra ( Entrata laterale SX )