Backend
OrganiK Circus presents : OrganiK Circus Launch Party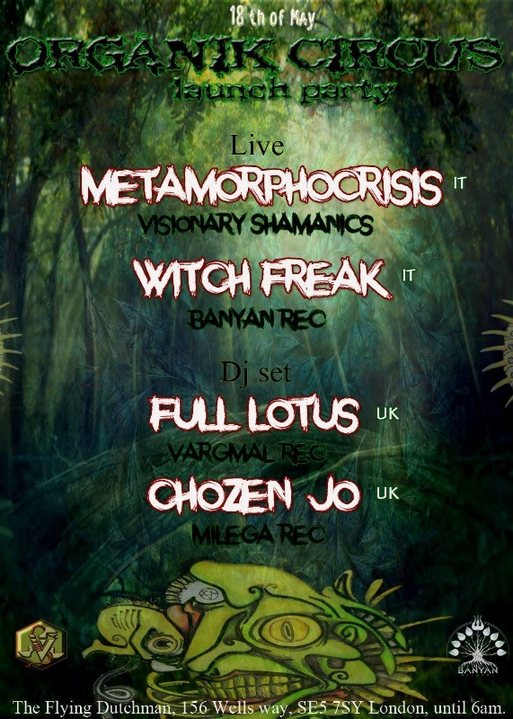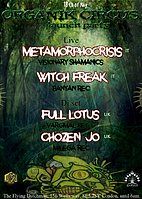 Line Up
LIVE SETS ☽
☾ WITCH FREAK feat. METAMORPHOCRISIS (IT/EST) ☽
Witch Freak and Metamorphocrisis met in 2008 in underground forest parties in Central Italy, for the first time ever in the globe they will be displaying their musical journey together, experimenting their way of uniting sounds together, with two different laptops and two different visions united into one.
☾ WITCH FREAK (Banyan Records) IT/EST ☽
This striking artist made his first steps in a little Underground studio in Italy back in 2008; soon after he spent 8 years crafting his own sound while living in the vast uncontaminated forest areas of Estonia. Since then his music has intoxicated hedonist minds across the Globe, playing in festivals such as Yaga Gathering, Kosmos Festival and Chillout Planet. His live sets are a powerful, twisted fury of groove layered with a deeply organic soundscape.
>
soundcloud
<
☾ METAMORPHOCRISIS (Visionary Shamanics Records) IT ☽
Metamorphocrisis's musical project was born in 2007, after participating in several psytrance parties in central Italy, decides that he belongs to this world and wants to contribuite to it by sharing his visions and producing new music. Around 2008/2009 with the supports of his friends he starts to share his music and play in parties all around Italy. In 2013 he becomes a member of Visionary Shamanics Rec. (UK) a label founded by Mystical Voyager, where he participated in several releases. Prepare for a journey of deep dark underground sounds.
>
soundcloud
<
DJ SETS
☼ FULL LOTUS (Vargmal Records) UK ☼
Psychedelic DJ for nearly 3 decades. Currently spinning lots of dark/forest psychedelic trance but not averse to spinning sets of 60's and 70's psychedelia, down tempo chill out tunes, goa/psychedelic/progressive trance, or a mixture of all if the set is long enough:D
>
soundcloud
<
☼ CHOZEN JO (Milega Records, Temple Twister Recs) UK ☼
Dj ChoZen Jo, who is Jo Faull, has always loved music. Growing up in London, she was a founding member of the legendary punk band "The Flowers of Romance". Moving to New York, Jo worked as a film editor. A documentary film editing project brought her to Goa, India where she discovered psychedelic trance, started collecting and following the music, and in a natural evolution she started to dj.
Chozen Jo is best known for her deep atmospheric style, with strong percussive elements and melodic influences, and an attention to the sonic story.
In 2011 Chozen Jo became label dj for Tremors Underground Records. In March 2012 Jo was invited to play also for Mighty Quinn Records. In May 2014 Jo joined Temple Twister Records. May 2015 Jo started to play for new Japanese label MIlega Records. In 2016 Jo started also to play psychedelic chillout, and plays for Sonic Loom Music.
Currently Jo is co-compiling Milega Record's third VA.
ChoZen Jo has been moving the dancefloors worldwide, this year at Universo Parallelo and Ressonar Festivals (Brazil), Masters of Puppets (Czech republic), Antaris Project (Germany), 7 Chakras and Festival For Life (Italy), before at Modem Festival (Croatia), Human Evolution, (Italy) Atman Festival, (Sri Lanka).
>
soundcloud
<
Location
Location
The Flying Dutchman, 156 Wells Way, SE5 7SY London.
Added

3y 4m

· Update

3y 1m

· 1