*ORGANIC DREAM present "The dream of time travel v2"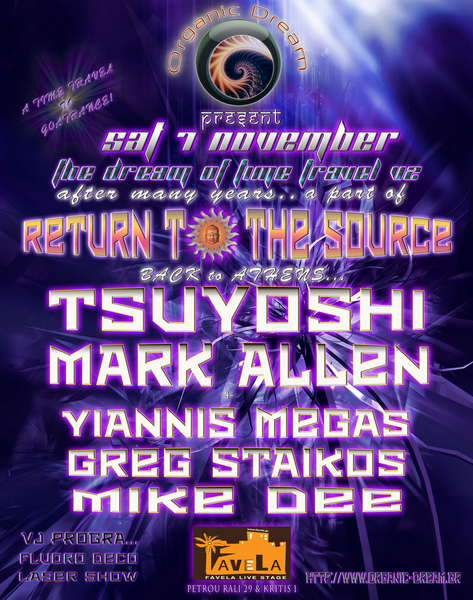 DJs
> TSUYOSHI SUZUKI - Matsuri Production - dj set

> MARK ALLEN - Matsuri Production - dj set

> YIANNIS MEGAS - Genejoke - dj set

> GREG STAIKOS - dj set

> MIKE DEE - dj set
Info
ORGANIC DREAM present on Saturday 7 November..
"The Dream Of Time Travel v2" .. a time travel to Goa Trance!
After many years, a part of "RETURN TO THE SOURCE" back to Athens!
> TSUYOSHI SUZUKI / Matsuri Production - dj set
[myspace.com]
DJ TSUYOSHI is co-founder of the legendary trance label Matsuri Productions. London ( '94-'99 ): You probably know him more as an international techno-trance dj. He was the resident DJ at the Return to the Source in England in 94, and has played some of the biggest electronic events in the world including the Berlin Love Parade, The Sydney Mardi-gras, Fuji Rock festival, Tribal Gathering, Fenix festival, Rainbow 2000, Earthcore and Return to the Source. He has also released some his own albums and singles and various mix CD's and was the musical director for ISSEY MIYAKE and VERSACE. In 1999 he started the monthly night at NYfs ARC(ex-VINYL,TWILO). He returned to his home town of TOKYO in 2000 and started his own regular party TOKIODROME (www.tokiodrome.com).
> MARK ALLEN / Matsuri Production - dj set
Mark first got into psychedelic electronic dance music in 1991 , during his first visit to Goa . Many travellers from all over the world converged on the palm fringed beaches to relax and to dance to music that people had brought with them on cassette .
He returned to London after 6 months in India to start training as a solicitor , but the mission closest to his heart was to collect all the music that he had been inspired by in Goa He bought himself some Technics turntables and together with a small group of friends , started putting on small private parties in friends flats. These events evolved into the renowned "Pagan" parties , which are still going strong on the London underground scene .
In 1993 , after qualifying as a solicitor , he spent another 6 months in India , during which time I decided that he had to make Djing and creating music his main thing . The double-life was not going to work and he had to pursue what he enjoyed most .
Meanwhile , Mark hooked up with fellow Pagan DJ Chrisbo and producers
Simon Maine and John Ford to form the techno outfit "Mindfield". The next year gave Mark his first taste of live gigs and record releases but his DJ career really took off when "Return to the Source " started in the summer of '94 at North London's Rocket Club.
The success of the early parties confirmed that the time was right for psychedelic trance music to reach a wider audience. Too many people had been inspired by the music for it to remain exclusive to a small tribe of travelling party people.Having changed venues several times, following the closure of the Rocket, from 30th April, RTTS will once again be there on a monthly basis.
The Trance community continues to grow steadily throughout the world and Mark has been making the most of the travel opportunities this has provided. 1996 and 1997 included many trips to Greece , France and Switzerland , gigs in Germany ,Spain , the Burning Man Festival in the Nevada desert and two Source parties in New York , Israel , Italy , Berlin (on Love Parade day) and Belgrade for open air parties, Guadeloupe and to Japan for the incredible outdoor Return to the Source party at the foot of Mount Fuji, Ibiza, San Francisco and the three day 'Boom' trance festival in Portugal .
Mark has been involved in musical collaborations with The Green Nuns of the Revolution , Nick Taylor from Prana , Andy Guthrie (AKA "Funkopath") from Medicine Drum and two of the guys from O.O.O.D. The new Quirk album with Tim Healey was released on Matsuri Productions in mid-January, preceded by a 12" single titled 'Dance with the Devil e.p.'Quirk began promoting the material with PA appearances at 'Science Fiction in London, Sunrise Zone in Athens, the Locomotive in Paris and Natraj Temple in Munich. Throughout January and February, Quirk did a highly successful mini-world tour, including Japan, Australia, New Zealand and Germany. (See April edition of "Wax" magazine, p56 for a report.)
The first CD Mark mixed and compiled was in 1995 , being the first in the "Deck Wizards" series on Psychic Deli Records. This was followed by 'Sonic Initiation' on Kickin' records. Mark recently finished his third CD mix, the second volume in the 'Shamanic Trance' series from Return to the Source. This was released on the Positiva record label in March 1998.
> YIANNIS MEGAS / GENEJOKE - dj set
[facebook.com]
Yiannis start his journey in music business back in 1995 with making with his friend and partner Sarados the biggest rave organization that Athens ever had....TRANCEMEDIA....before start djing he was the promoter of the party and he brought to Athens names such as Astral Projection,Miko+Har El,Mystika,Transwave,Oood,Man Made Man,Sandman,Elysium,Aril Linker,Paul Van Dyk,James Monroe,Sid Shanti,Jean Borelli,Dinos Psaras,Avi Nissim,Mfg,Ux,Tristan,Chris Organic,Indica,Eliad,,Christian Thinning,Tommer,Orion,Kristian,Sheyba,Gene Joke,Joti Sidhu,Kit,Sangeet,Holymen,California Sunshine,Luminus,Sonichaos,Infected Mushroom,Shidapu,Asia 2001,Chemical,Ronnen,,Xerox+Freeman,Destination,,Charly,Kailhum,Ofori
a,,Psycho Meditation,Andre,Cherouvim,Frank E.,,Eyal Barkan,Shakta,Darma,,Space Odyssey,,Allien Project,Goa Gil,G.m.s.,Kox Box,Cristof,D.Jagger,Cyan,Max,Etnica,Mark Allen,Mike Maguire,Naga,Amico,Injector,Miss T,Dara Lee ,Miranda , Green Nuns of
the revolution ,John om ,Yazz, Lol, Tony Puglia, UNION JACK and many others.......soon after a meeting with his very good friend and owner of Symbiosis records Tony Puglia he spent some time in Brighton UK and he brought back with him all the psy releases and soon became the leader dj of his organization and soon of all Greek sceene....
> GREG STAIKOS - dj set
[myspace.com]
" Dont need words to pronounce the oldest psytrance radio producer and dj in greece"
> MIKE DEE - dj set
[myspace.com]
"...no comment about this monster!"
Location
Location
FAVELA live stage - Petrou Ralli 29 & Kritis 1
Entry fee
Location: FAVELA live stage (Petrou Rali 29 & Kritis 1)
Capacity: 2000 peoples
VIDEO PROJECTOR - LIGHT SHOW - LASER SHOW
VJ PROGRA
Doors open 23:00
Admission: 25 euro
(part of incoming will go to charitable foundation "Floga"
[org.gr]
Added

11y 1m

· Update

11y 1m

· 8 Parties ·

/ 1