ॐ Organic Atmosphere ॐ Rinkadink (FutureMusic Records / Spanien)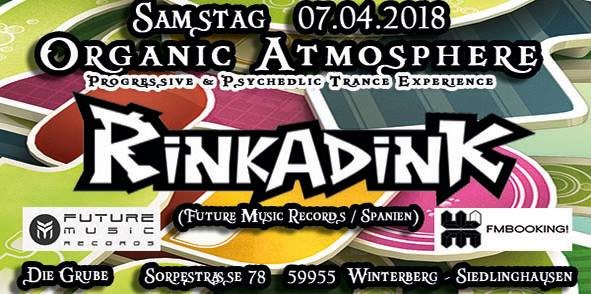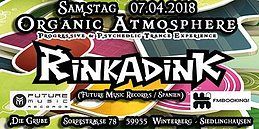 Line Up
Hallo ihr Lieben,
wir laden euch zu unserer nächsten Organic Atmosphere ein.
Ja, ihr habt richtig gelesen, wir konnten für euch keinen
geringeren als "Rinkadink" für dieses Event verpflichten. Wir schöpfen wieder mal aus dem Vollen um auch diese Nacht wieder zu etwas Besonderem werden zu lassen.
Liked bitte unsere Veranstalter und Party Seiten, falls ihr es nicht schon getan habt. Denn so werdet ihr in Zukunft immer über
unsere Events und Neuigkeiten informiert.
Ladet alle eure Freunde ein damit wir die Grube wieder richtig zum beben bringen.
Liebe Grüße euer
Chemieraum Team
ॐ LIVE: ॐ
❁❁❁❁ Pandoy (Anubis Records / Italien) ❁❁❁❁
[facebook.com]
soundcloud
Pandoy was born in Bologna on August, 27th,1988. At the age of 12 he was involved in the world of music learning to play the guitar and later the bass. He was conditioned by different kinds of music and culture. In addiction, he was really interested in all kinds of art, so much so that he made graffiti/writing and professional photos to express himself and his inner world for a lot of years. However, at the beginning of 2015, discovering the power of the sequencer, he decided to follow a new evolving way, so he has started to produce his own goa minimale/progressive music. In June, thanks to Leads and Drastika, he begins his adventure as Producer and Dj, playing in the best Italian clubs, such as RockPlanet, Matis Club, Ecu Club, Prince, Magic Club, Mu and Club Charlotte (Germany) and for relevant sound events too, like to Goaland, Starfuckers, Magnetik Festival and many others. In the first half of 2016 he released his first track under "Sinai Records". Some months later Leads realized "Anubis records" and Pandoy entered in this label. 2017 was a year full of musical work, projects and personal growth.
Now in Februray 2018 will come a new release bomb from him.
ॐ DJ´s: ॐ
Location
Location
Musik- und Kulturfabrik "Die Grube"
Sorpestraße 78
59955 Winterberg
Organizer
Organizer
Chemieraum Events
Added

3y 7m

· Update

3y 7m

· 8 Parties ·

/ 18