Backend
ॐ Organic Atmosphere ॐ Live: KRAMA (Spintwist / Griechenland)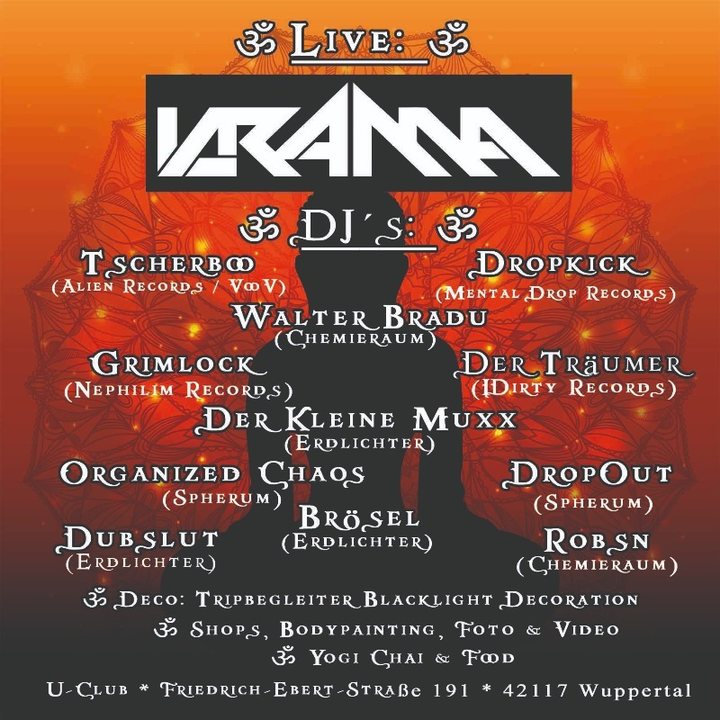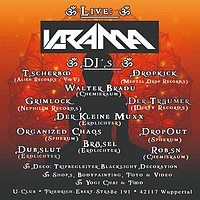 Line Up
ॐ LIVE / DJ´s: ॐ
🌟 Mainfloor: 🌟
❁❁❁❁ KRAMA (Spintwist Records / Griechenland) ❁❁❁❁
[kramamusic.com]
[facebook.com]
soundcloud
Years of dedication have resulted in 4 albums, 1 mini album and many EPs and countless tracks in compilations and re-prints released by one of the top labels in scene, Spin Twist Record, numerous shows at top festivals all over the world and support upon in his tracks from legends like: Armin Van Buuren, Paul Oakenfold and Christopher Lawerence to name a few.
During "Krama: A Decade on Stages" world tour, he was playing tracks from the biggest part of his career. The tour ended at the legendary festival, Universo Parallelo in Brazil.
......Power Progressive Trance as he likes to describe it.
❁❁❁❁ Tscherboo (Alien Records / VooV) ❁❁❁❁
[facebook.com]
soundcloud
❁❁❁❁Dropkick (Mental Drop Records)❁❁❁❁
[facebook.com]
soundcloud
❁❁❁❁ Der Träumer (IDirty Records) ❁❁❁❁
[facebook.com]
soundcloud
❁❁❁❁ Walter Bradu (Chemieraum) ❁❁❁❁
[facebook.com]
soundcloud coming soon..... 😜
🌟 Psy / Darkpsy Floor: 🌟
❁❁❁❁ Grimlock (Nephilim Records) ❁❁❁❁
[facebook.com]
❁❁❁❁ Der Kleine Muxx (Erdlichter) ❁❁❁❁
[facebook.com]
soundcloud
❁❁❁❁ DropOut (Spherum) ❁❁❁❁
soundcloud
❁❁❁❁ Organized Chaos (Spherum) ❁❁❁❁
soundcloud
❁❁❁❁ Robsn (Chemieraum) ❁❁❁❁
🌟 Chill Out: 🌟
❁❁❁❁ Brösel (Erdlichter) ❁❁❁❁
[facebook.com]
❁❁❁❁ Dubslut (Erdlichter / Radio Rheinwelle) ❁❁❁❁
[facebook.com]
[hearthis.at]
❁❁❁ & Friends ❁❁❁
Info
Hallo ihr Lieben,
was war das den für ein Sommer, das perfekte Festivalwetter.
Wir laden euch zu unserer "Organic Atmosphere" ein und freuen uns das die "Organic Atmosphere" nun im "U-Club" in Wuppertal, einem der Besten Underground Clubs in Deutschland stattfinden kann. Diese Location ist wirklich außergewöhnlich und hat einen ganz besonderen Charme.
Wir freuen uns sehr, dass wir als Headliner "Krama" aus Griechenland bei uns begrüßen dürfen, der bereits auf vielen großen Festivals für Aufsehen sorgt.
Ladet alle eure Freunde ein, lasst uns zusammen lachen und tanzen, damit wir den U-Club gebührend einweihen.
Gefeiert wird auf allen 3 Floors!!! :-)
Wenn ihr in Zukunft über unsere Partys und Neuigkeiten informiert werden wollt, abonniert unsere Seite und gebt uns ein Like. :-)
Liebe Grüße euer
Chemieraum Team
ॐ Chaistand :ॐ
Yogi Chai & Food
[facebook.com]
Auch dieses mal wird uns Patrick eine bunte Auswahl an Tees, frische marokkanische Minze mit grünem Tee, sowie Chai nach hauseigenem Milchrezept anbieten.
Außerdem wird er euch verschiedenes Obst, Süßigkeiten, Donuts, seine sehr leckeren Fittnessbrote normal und vegan sowie diverse Snacks zu fairen Preisen anbieten.
So könnt ihr eure Energiereserven wieder auffüllen um die Tanzfläche wieder zum beben zu bringen.
ॐ Tirnanog Shop:ॐ
Linda und Roseanne sind nicht nur Party sondern auch Festival erfahren und reisen für unsere Party extra aus Belgien an.
Linda steckt in Ihren Shop sehr viel Liebe und Herzblut und schaft dadurch ein kleines Universum. Ihr ist es wichtig
vielen Leuten zum Lächeln zu bringen und glaubt uns, dass schafft sie.
Roseanne wird dabei die Shoplandschaft durch ihre zauberhaften Kreationen in Licht und Farbe tauchen.Angeboten wird über Kleidung, Schmuck und Kleinigkeiten alles was das Herz begehrt.
ॐ Bodypainting:ॐ
Die Künstlerin "RoseBed" ist auch wieder mit an Bord und bietet euch eine Gelegenheit, einfach mal ein Bodypainting auszuprobieren oder euren Look entsprechend unserer Party zu einem Kunstwerk werden zu lassen. :-)
Dies wird für euch selbstverständlich völlig kostenlos sein.
ॐ World Wide Wurm Shop: ॐ
ॐ Foto & Video:ॐ
Auch auf dieser Party wird Thomas Pera wieder wundervolle Bilder für uns schießen und kommt dieses Mal wieder mit Roberto einem Videokünstler, der für uns ein kurzes After-Partymovie erstellen wird, welches ihr bald auf unserer Seite bewundern könnt.
Und zu guter Letzt haben Geburtstagskinder auch dieses Mal wieder freien Eintritt, also denkt bitte an euren Personalausweis.
Location
U-Club
Friedrich Ebert Str. 191, 42117 Wuppertal
Organizer
Organizer
Chemieraum Events