OPEN YOUR MIND VOl. 2 Psychedelic Rock meets Psychedelic/Hi-Tech PARANDROID LIVE
Böllerbauer, Stadt Haag (Nö) ·
Austria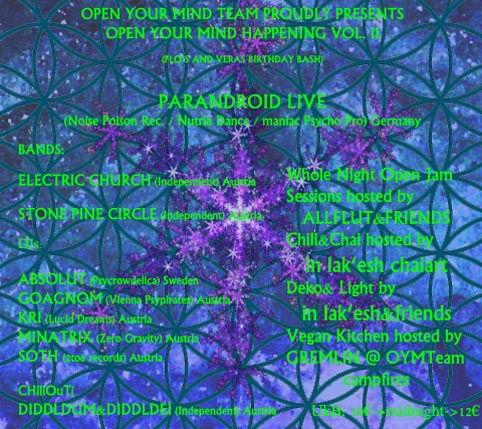 Line Up
Open Your Mind Team PROUDLY PRESENTS
OPEN YOUR MIND VOL. 2 Psychedelic Rock meets Psychedelic/Hi-Tech PARANDROID LIVE
(Flo's and Vera's Birthday Bash)
Psychedelic/Hi-Tech Liveacts:
Open Your Mind Team is proud to present the first International Liveact on our eventseries:
★PARANDROID★ (Noise Poison Rec / Nutria Dance / maniac Psycho Pro) Germany
[Hi-Tech]
soundcloud
Parandroid is the Psychedelic Trance project by Samuel Z. from munich, germany .
Born in 1987 the multi-facetted artist, who grew up in several different countrys, had his first mind blowing experiences with psychedelica in 2004.
The following years where marked by traveling and experiments with programming his own mind to create art.
Shortly After imatriculating on the academy for art in munich in 2008 the project Parandroid came to life. Fascinated by the possibilities of altering our mind by sonic waves he is stuck in production-mode since then.
Parandroid is part of Noise Poison Records since december 2012 and is now working on his debut album.
Bands in alphabetical order:
★ELECTRIC CHURCH★ (Jazziger Bluesrock)
★STONE PINE CIRCLE★ (Psychedelic/Stoner-Rock)
soundcloud
-
-
DJs in alphabetical order:
★ABSOLUT★ (psycrowdelica) Sweden
[Psychedelic/Dark]
★DARKRUSS★(Electricmoon Rec./Optix Tribe) Germany
[Hi-Tech/Dark]
soundcloud
★GOAGNOM★ (Vienna Psypirates) Austria
[Hi-Tech/Dark]
soundcloud
★KRI★ (Lucid Dreams) Austria
[Hi-Tech/Dark]
soundcloud
★MINATRIX★ (Zero Gravity) Austria
[Dark/Psychedelic]
★SOTH★ (2to6 records) Austria
[Dark/Psychedelic]
LINEUP CLOSED, further requests will be considered for the next events
-
Chill and Chai im beheizbaren Zelt by ★in lak'esh-chaiart★ and friends


Chillout-DJs:

★DIDDLDUM & DIDDLDEI★ (Independent) Austria


Open Jamsession im Sessionhaus by ★ALLFLUT★ and friends...

Vegan kitchen by ★Gremlin @ Open Your Mind Team★
-
-
-
Deco
Deco
Deko and Light by ★In lak`esh★ and friends

Visuals by

Venus Visual Art (Austria)
Info
Das Open Your Mind Happening geht in die zweite Runde und wir haben uns die Freiheit genommen, es ein wenig auszubauen:)

Open Your Mind steht auch diesmal und für immer für die Kombination aus instrumentalem Psychedelic-Rock Konzert und Full Power Hi-Tech/Psychedelic Party!

Allerdings werden diesmal auf speziellen Wunsch der Geburtstagskinder nur zwei Bands spielen, so dass mehr Zeit für die DJs bleibt. Es gibt einen Mainfloor, einen Chilloutfloor im beheizten Zelt, Jamsessions im Sessionhaus, eine Afterhour mit Frühstücksbuffet und zwei Lagerfeuer.

BANDS werden uns von ACHT BIS ZEHN mit feinstem Psychedelic Rock versorgen, diesmal mit eher Bluesigem Einschlag=) währenddessen gibts für die Psyheads PROGRESSIVES VORGLÜHEN IM SESSIONHAUS.

AB ZEHN lassen dann die PSYCHEDELIC/HI-TECH ACTS am Mainfloor mit FEINSTEN PSYCHEDELISCHEN VIERVIERTELTAKTEN die Fetzen fliegen und in Mastermanier die Puppen tanzen.
Zeitgleich gibt es die ganze Nacht OPEN INSTRUMENTAL JAMSESSION IM SESSIONHAUS by ALLFLUT and friends.
Dabei werden ein paar Instrumente zur Verfügung stehen, es wär aber trotzdem gut wenn ihr noch eigene mitbringt.

Im Chilloutfloor werden uns "DIDDLDUM&DIDDLDEI" mit musikalischen Leckerbissen versorgen. Ausserdem gibt es im Chillout Chai, Fruits und Süßigkeiten by "in lak'esh-chaiart" and friends.
Natürlich alles optional Vegan.

Wenn die DJs am Mainfloor fertig sind wird es noch eine entspannte ATERHOUR (open end) mit ALL YOU CAN EAT VEGGIE FRÜHSTÜCKSBUFFET by "in lak'esh chaiart" im Zelt geben.


TIMETABLE im MEETING POINT

Geburtstagskinder vom 05.04. und 12.04. mit Ausweis for free

Wir freuen uns auf euch!!!

ONLY HUMANS, ALIENS and ADULTS, NO DRUGS, NO VIOLENCE, ONE LOVE, RESPEKT THE NATURE!

THX TO ALL SUPPORTERS!!!

Stay tuned!!!
Location
Location
Böllerbauer, Haag
Entry fee
Entry fee
10,- >Mitternacht< 12,,- € UKB (kostendeckend, daher leider keine Gästeliste)
Organizer
Organizer
Open Your Mind Team
From
Open Your Mind Team ·
3,513