Open Air Psychedelic Gathering: Ka-Sol live!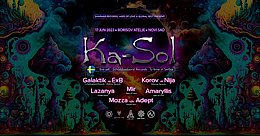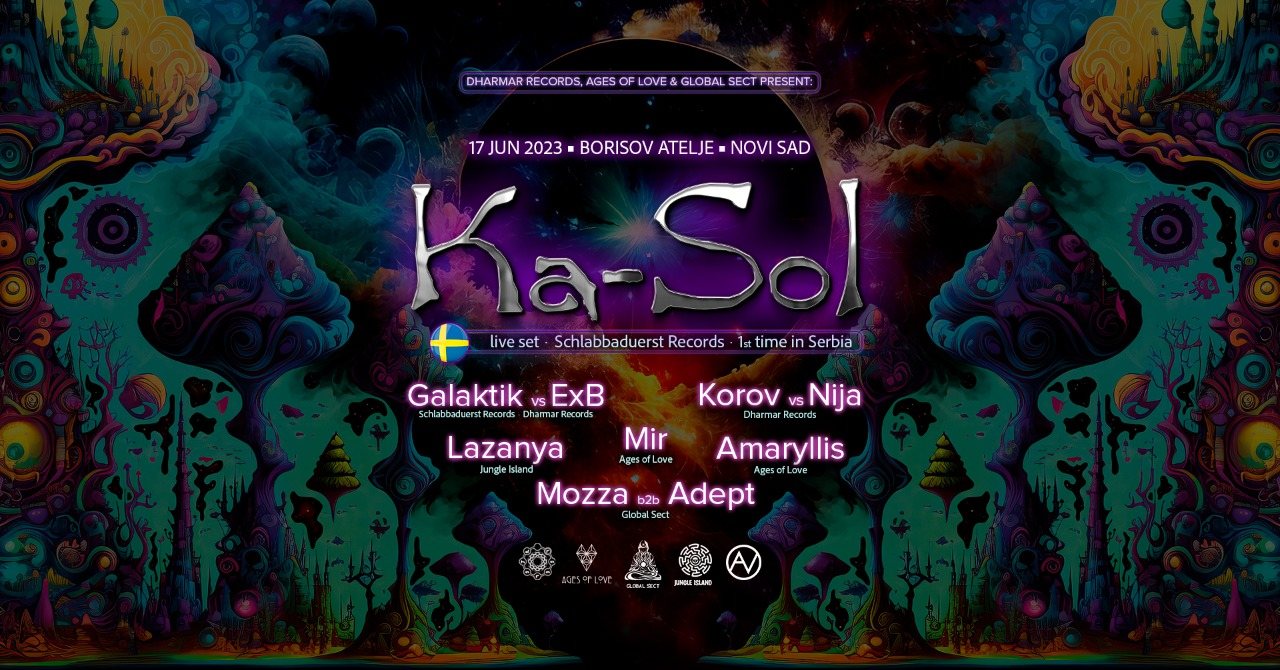 Line Up
Line Up
∎ 𝗞𝗮-𝗦𝗼𝗹 [𝘚𝘤𝘩𝘭𝘢𝘣𝘣𝘢𝘥𝘶𝘦𝘳𝘴𝘵 𝘙𝘦𝘤𝘰𝘳𝘥𝘴] 𝙎𝙬𝙚𝙙𝙚𝙣 | live set
∎ ExB vs Galaktik [𝘚𝘤𝘩𝘭𝘢𝘣𝘣𝘢𝘥𝘶𝘦𝘳𝘴𝘵 𝘙𝘦𝘤𝘰𝘳𝘥𝘴, 𝘋𝘩𝘢𝘳𝘮𝘢𝘳 𝘙𝘦𝘤𝘰𝘳𝘥𝘴] producer set
∎ Korov vs Nija [𝘋𝘩𝘢𝘳𝘮𝘢𝘳 𝘙𝘦𝘤𝘰𝘳𝘥𝘴] producer set
∎ Lazanya [𝘑𝘶𝘯𝘨𝘭𝘦 𝘐𝘴𝘭𝘢𝘯𝘥] DJ set
∎ Mozza B2B Adept [𝘎𝘭𝘰𝘣𝘢𝘭 𝘚𝘦𝘤𝘵] DJ set
∎ Amaryllis [𝘈𝘨𝘦𝘴 𝘰𝘧 𝘓𝘰𝘷𝘦, 𝘎𝘭𝘰𝘣𝘢𝘭 𝘚𝘦𝘤𝘵] DJ set
∎ Mir [𝘈𝘨𝘦𝘴 𝘰𝘧 𝘓𝘰𝘷𝘦, 𝘋𝘈𝘛 𝘜𝘯𝘪𝘷𝘦𝘳𝘴𝘦, 𝘎𝘭𝘰𝘣𝘢𝘭 𝘚𝘦𝘤𝘵] DJ set
Info
Info
DharmaR Records, Ages of Love & Global Sect present:

Ka-Sol live [1st time in Serbia]

The legendary Swedish duo is coming to the Petrovaradin Fortress as part of a psychedelic spectacle prepared for you by three organizations with many years of experience on the domestic scene.

12 hours of music under the starry sky, the fantastic ambiance of Boris Atelje and exclusive decorations by the visual artist Andrei Verner await you.
tickets: more info soon!
Location
Borisov Atelje
Petrovaradinska Tvrdjava 21000 Novi Sad, Serbia
Novi Sad
Organizer
Organizer
DharmaR Records, Ages of Love & Global Sect