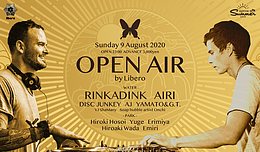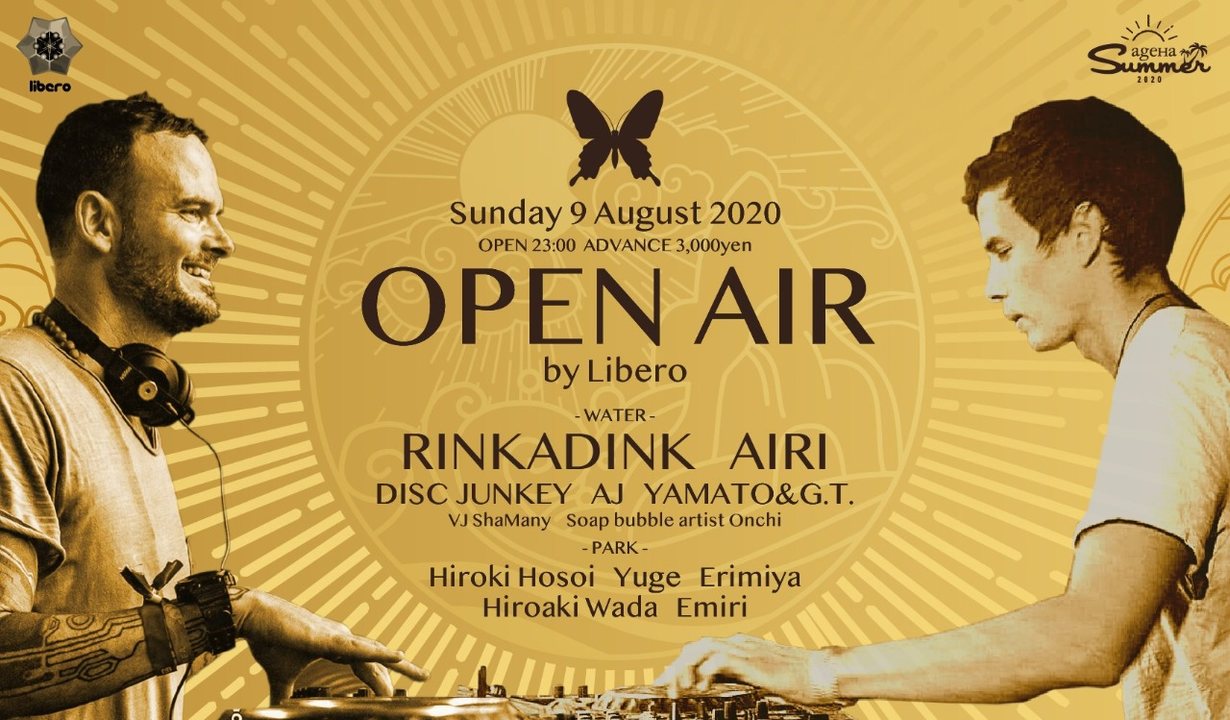 Line Up
【WATER】
□ TITLE
Libero

□ GENRE
PSYCHEDELIC TRANCE

■ GUEST
RINKADINK (Future Music / South Africa / Japan)
AIRI (Zenon Records / Swiss / Japan)

■ LINE UP
DISC JUNKEY (Grasshopper Records)
AJ (Ligaya / THE CHURCH OF TRANCE)
YAMATO & G.T. (Libero)


【MUMM LOUNGE @PARK】
□ TITLE
Libero

□ GENRE
HOUSE / TECHNO

■ LINE UP
HIROKI HOSOI (ELEC-TION / rapture sounds)
YUGE (rapture sounds / ELEC-TION)
ERIMIYA (Akachochin Crew)
HIROAKI WADA (SPACE SEEDS)
EMIRI (Libero)
Info
Info
Invite you to an event "Open Air" on 9th Aug for experience the world-class psychedelic trance music at open air space of ageHa,World-famous act " Rinkadink" from South Africa, and "AIRI" who just released a fresh track from popular label "Zenon Records" play as the double headliner.

the main organizer of this event YAMATO from Libero, and DISC JUNKY from Grasshopper Records and many domestic artists who have both popularity and ability gather to ageHa.

Do not miss a precious party where you can enjoy the best sound and space in the open air!!
Location
ageHa Tokyo
2-2-10 Shinkiba Koto-ku Tokyo 1360082 Japan
[ageha.com]
TEL : +81-3-5534-2525
Entry fee
Entry fee
ADVANCE・通常前売
¥3,000 (300 Limited, 23rd July 12:00~ on sale, 7/23 木 12:00〜 300枚限定)
[zaiko.io]
On the DAY
TBA