OMNISONIC presents(ETNICANET label party)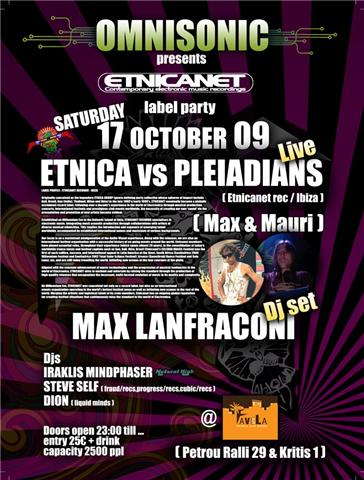 Line Up
ETNICA vs PLEIADIANS (Etnicanet rec/ Harmonia Rec)

LABEL PROFILE : ETNICANET RECORDS – IBIZA

Originally conceived as the legendary ETNICA GROUP (genre-defining party collective whose spheres of impact include Bali, Brasil, Goa (India), Thailand, Milan and Ibiza) in the late 1980's/early 1990's, ETNICANET eventually became a globally acclaimed record label. Following over a decade's experience in the world of Electronica through musical production, concerts, international festivals and prestigious club events worldwide, the necessity of creating our own 'sound' via the presentation and promotion of new artists became evident.

Established on Millennium Eve in the Balearic Island of Ibiza, ETNICANET RECORDS specialises in electronic music, integrating much acoustic production through collaborations with artists of diverse musical ethnicities. This implies the introduction and exposure of emerging talent worldwide, accompanied by established international names and musicians of various backgrounds.

Our focus is on a maximised amalgamation of the Audio-Visual experience. Along with the releases, we are also an international festival organisation with a successful history of on-going events around the world. Etnicanet members have played essential roles, throughout their experience (which spans almost 20 years), in the consolidation of today's worldwide trance music and festival capitals such as Goa, Bali, Ibiza, Brasil (Etnicanet's CELEBRA BRASIL Festival was the first of such calibre, success, and international appeal in Latin America at the time), South Africa (Southafrica 2000 Millennium Festival and Southafrica 2002 Total Solar Eclipse Festival), Greece (Samothraki Dance Festival and Sola Luna), etc, and are still today travelling the world, initiating new scenes at the four courners of the globe.

Aligned with the constant advancement of music technologies and the progression of musical tendencies in the world of Electronica, ETNICANET aims to enchant and entertain by raising the standard through the production of high-quality releases that encapsulate the incessant, multi-faceted evolution of music in its quality and complexity.

On Millennium Eve, ETNICANET was conceived not only as a record label, but also as an international events organization operating in the world's hottest festival zones as well as initiating new scenes to the rest of the world. Merging the artistic and logistical talent of its crew members, Etnicanet has an ongoing global reputation for creating festival situations that continuously raise the standard in the world of Electronica.
DJs
MAX LANFRANCONI(Head of etnicanet Rec.)

iraklis mindphaser
dion(liquid minds)
steve self(uk london)
Deco
Deco
lazer show/deco/visuals
Location
Location
FAVELA live stage(petrou palli29&kritis1)
Entry
Entry
20e till 01:00
25 e after