OLIVE TREE DANCE - 2013 Ireland Tour
Galway, Cork, Dublin & Belf… ·
Ireland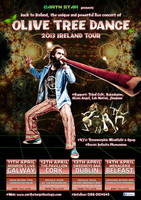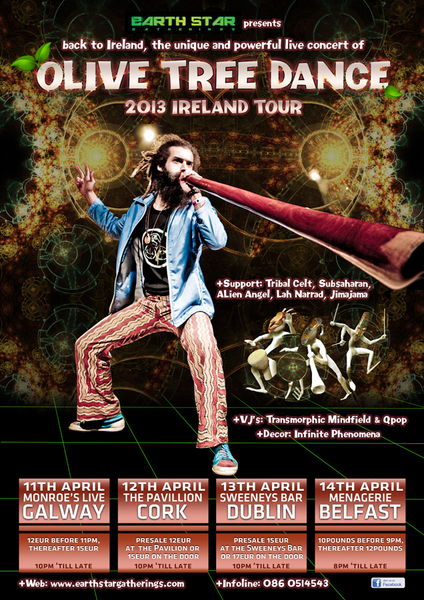 Line Up
Line Up
OLIVE TREE DANCE - Live concert
Info
Dear cosmic friends,
*** Earth Star family are very excited and honoured to be bringing to you ALL, the amazing talents of this high energy, organic, tribal spirited live band... OLIVE TREE DANCE!!!... Our Portuguese brothers will be joining us here on our green isle for a 4 day tour... we are sure this will be a journey like no other before... ***
Journeying throughout the country we begin our trip in Galway on April 11th 2013 and will be playing in the following venues...
>>> Monroes live, GALWAY Thurs 11/4/13
>>> The Pavilion, CORK, Fri 12/4/13
>>> Sweeneys Bar, DUBLIN, Sat 13/4/13
>>> Menagerie, BELFAST, Sun 14/4/13
Each night will have 2-3 supporting dj acts from; Tribal Celt, Subsaharan, Alien Angel, Lah Narrad, Jimajama who will be bringing more psychedelic sounds to you all... The venues will be transformed with Infinite Phenomena magic and live visuals from Transmorphic Mindfield & Qpop.
**************************************************************
.::OLIVE TREE DANCE::.
ROOTS
Created in 2003 by Renato Oliveira (Oliver), the group emerged in the following of Liverpool's recording of it's first solo album entitled "Deep Inside the Organic." Then came the jam's in 2005, at "Andanças" Festival, where he started the band with drums and percussion. It was a leap to the manifestation of a cohesive repertoire and at the same time exciting. There will be some important invitations, such as the Australian Embassy invitation for the band to perform live on portuguese television, in the "Seven new wonders of the world and Portugal". Meanwhile, comes the first EP - "Urban Roots - Explosive energy in dance music 100% organic" by Optimus Records.
INFLUENCES
OliveTreeDance fuses dance music, all-acoustic, with the tribal sounds of indigenous instruments, creating an unforgettable experience that has attracted a diverse audience interested in world music, dancemusic and playing the Didgeridoo, the aboriginal musical instrument from Australia. It has therefore been classified as bio natural dance music: the group can be innovative in introducing real instruments on dancemusic stage usually produced by machines.
**************************************************************
.::We Dance This Dance Together::.
**************************************************************
PRESALE TICKETS - available from 28th February for:
> CORK from The Pavilion- 12euros
> DUBLIN from Sweeneys Bar - 15euros (limited capacity of 150)
TICKETS ON THE DOOR:
> GALWAY, Monroes Live - 12euros before 11pm, 15euros thereafter
> CORK, The Pavilion - 15euros (if available)
> DUBLIN, Sweeneys Bar - 17euros (if available)
> BELFAST, Menagerie - 10pounds before 9pm, 12pounds thereafter
>>> DOORS OPEN 10PM EACH VENUE EXCEPT MENAGERIE, BELFAST @ 8PM >>> TILL LATE <<<
*************************************************************
Web:
[earthstargatherings.com]
[facebook.com]
Infoline: 00353 (0) 86 051 4543
00353 (0) 86 348 0697
Email:
earthstar.info@gmail.com
Links:
[youtube.com]
www.facebook.com/pages/OliveTreeDance/179618836814
**************************************************************
Earth Star blessings ***
Boom Shankar
Added

9y 11m

· Update

5m 17d

·