Backend
OHRBASSMUSS-The Easterrave Siegen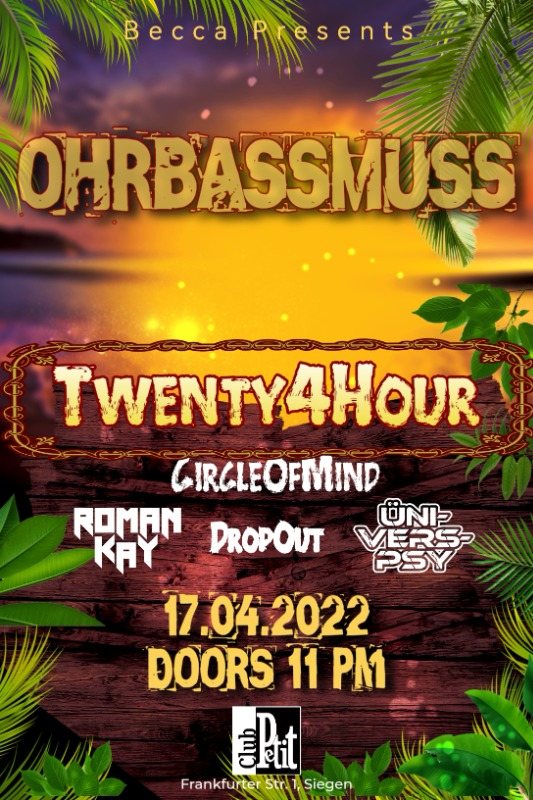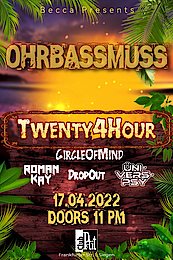 Info
The Day After Corona und wir wollen wieder im Club Petit zusammen feiern...
❤🕉 New Sound System - Function One..🕉❤
Diese Nacht steht endlich wieder ganz im Zeichen des Goa...
ABER... Heute unter dem Motto:
OHRBASSMUS - with Special Guest Twenty4hour 🕉
Bunte Deko, Treibende Bässe und liebliche Klänge haben unsere Musikanten und Dekorateure für euch im Petto..
Psyshop ist diesmal wieder PsyStyle by Patze...Sie freut sich riesig auf euch...
Lineup Closed... Alle anderen, die angefragt haben, haben fürs nächste mal ne Chance..😁
Dekopartnerschaft: by Bhangra Vision
[facebook.com]
Faire Preise inkl.
Bei uns ist absolut kein Platz für Gewalt, Sexismus oder Menschen mit gestörtem Eigentumsverhalten(Diebe)...!!!
🕉 Goa kann nur P.L.U.R.!! 🕉
Geburtstagskinder 🎂🎁 haben natürlich freien Eintritt.. Denkt auch bitte an euren Perso..😊
Kommt lieber mit den Öffis.. Wir haben ne Top Anbindung..🚎🚉
-----------------------
🇩🇪 COVID INFO !!!
!!!!! KEINE ZUGANGSBESCHRÄNKUNG MEHR !!!
Trotzdem möchten wir euch bitten...
Wenn ihr euch krank fühlt, bleibt bitte Zuhause..
Location
Location
Club Petit
Frankfurter Str. 1
57074 Siegen