ODYSSEE 2003 (Psy/Progressive Trance NewYearsCelebration)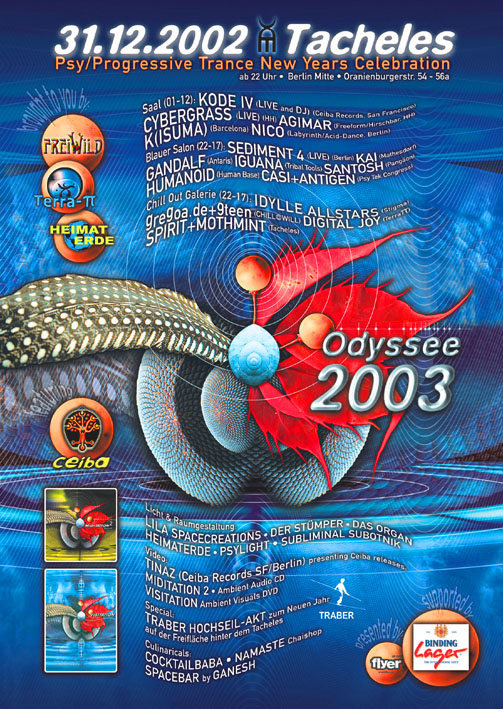 Live
Line Up
KODE4 (Ceiba-Rec., San Francisco)
CYBERGRASS (Hamburg)
SEDIMENT4 (Berlin)
SAAL (01:00-13:00):
Agimar (Hirschbar, Hamburg)
K-Isuma (Barcelona)
Nico (Labyrinth/Acidance, Berlin)

BLAUER SALON (22:00-OpenEnd):
Kai (Mathesdorf)
Gandalf (Antaris)
Iguana (Tribal Tools)
Santosh (Pangäon)
Humanoid (Human Base)
Casi & Antigen (Psy Tek Congress)
Reikja (Human Base)
Chill
CHILL-GALERIE (22:00-OpenEnd)
Idylle Allstars (Stigma)
Gregoa.de + 9teen (CHiLL@WiLL)
Digital Joy (Terra-*)
Spirit + Mothmint (Tacheles)
Deco
Deco
+ LIGHTS + ARTWORKS:
Lila Spacecreations (Berlin)
Der Stuemper (Berlin)
Das Organ (Berlin)
Heimaterde (Berlin)
Subliminalsubotnik (Berlin)
Psylight (Berlin)
Info
Diese Special-Sylvester-"uplifting"-Trance-Party findet auf 3 Floors statt. Das TACHELES stellt uns mehrere Etagen zur Verfügung, auf denen wir uns austoben können, den Theatersaal (in der 1.Etage) und den blauen Salon, sowie die Galerie (in der 5.Etage). Neben 2 Dancefloors gibts in der Galerie auch noch einen schnuckligen Chill-Out mit NAMASTE-CHAI-SHOP und Cocktails bis zum nächsten Abend...

LILA´S SPACECREATIONS werden
das Tacheles verzaubern, sodaß wir gemeinsam die Reise in die nächste Dimension antreten können, außerdem stellt TinaZ das visuelle Konzept der neusten Ceiba-Rec.-Releases vor...

Besonders freuen wir uns auf KODE 4 aus San Fransisco. Das Trance-Urgestein ist einigen Berlinern sicherlich noch durch seine kultigen, energie-geladenen Auftritte bei "the Moon and the
Sun" und den Hirschfestspielen (ende der 90er) ein Begriff. Als Gründer und Manager von "Ceiba-Records", ist er seit über 15 Jahren innovativ tätig und einer der Vorreiter des frühen Psy-Trance. Er hat in den letzten Jahren diverse Alben und Compilations veröffentlicht und
arbeitet derzeit an seinem neuen Solo-Album. Nach unserer Party fliegt er für 2 Open-Air-Bookings direkt in die Sonne Australiens...

Als Special präsentieren wir den TRABER-HOCHSEIL-AKT auf der
Freifläche hinterm Tacheles. Matthias Traber stammt aus der bekannten Artistenfamilie und wird auf dem Seil ins neue Jahr laufen. Seit 1976 ist Matthias Traber weltweit für seine alljährlichen, spektakulären
Aktionen bekannt (u.a.: ´88 Weltrekord - Auto auf dem Hochseil, ´93 Weltrekord am Europacenter, ´94 Fernsehturm-BerlinerDom zur UN-Klimakonferenz, ´02 Bautzener 1000Jahrfeier in 30Meter höhe vor
50.000Leuten, e.t.c.), also lasst Euch überaschen..

See you on the Dance-Floors.....
Location
Location
TACHELES (Thatersaal + Blauer Salon + Chill)
Oranienburger 54-56, Mitte
Tram 1, 13, 50
U-Bhf Oranienburger Tor
Organizer
Organizer
Heimaterde + Terra Pi + Freiwild
Hotline
+49 -30 -48 62 44 62