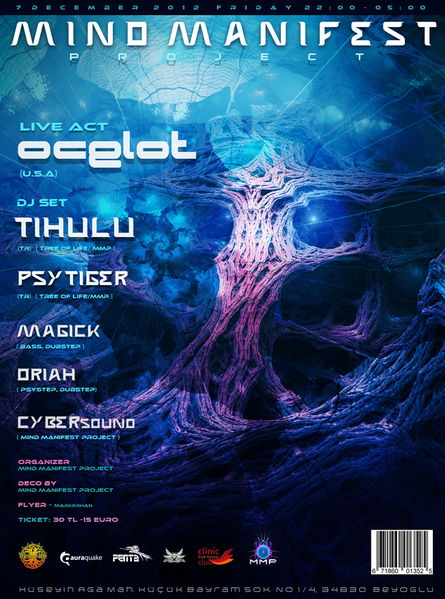 Info
BIOGRAPHY

♣OCELOT
Aaron Peacock has produced electronic music since 1993. The oCeLoT project began in the year 2000 and has been heard rocking dancefloors in over 50 countries on festivals and parties worldwide. A discography of 8 albums and over 100 singles ranges from chillout and ambient music through all stages of trance from daytime and morning sounds until the deepest night. oCeLoT music is characterized by a driving energy, a rich range of sounds, intelligent progressions, and a constant evolution in themes. Never boring, often iconoclastic, it pushes you into a higher state of consciousness.

_ _ _ _ _ _ _ _ _ _ _ _ _ _ _ _ _ _ _ _ _ _ _ _ _ _ _ _ _ _ _ _ _ _ _ _ _

♣ TIHULU

Tmx Mind (Dj Tihulu) has met Psychedelic Trance in 2006. He turned a hand to music in 2007 and before that he started to get going into Psy-Trance culture with designing and making decorations. After a short while, he gathered a team called Mind Manifest Project and with this team he achieved so many organizations, club parties and open air festivals which took place many different places in Turkey in favor of progression of Psychedelic Culture in Turkey.

After the first open-air festival called Transparent Dimension in 2008, the team has proved that Mind Manifest Project is the most active group between Psy –trance parties and groups in Turkey by organizing festivals as 2008 – The Circle of Positive Feedback, 2009 – Back to the Nature, 2009 – Elemental Evolution, by traditionalizing Back to the Nature and Elemental Evolution festivals and by organizing 10 festivals, 5 open-air party and more than 200 club parties and boat parties which took place all around the Turkey until 2011 (İstanbul, İzmir, Eskişehir, Ankara, Aydın,Denizli) Additionally the team is organizing mutual events with Psyleb team in Lebanon.

Mind Manifest Project is an active group which restores itself non-stop with its Dj's and decoration team and it continues its work on the purpose of presenting this culture in a right way. While Mind Manifest team was carrying on the work, Tmx Mind (Dj Tihulu) improved himself in music by creating many chances of performing and having the opportunity to work with best producers of the world. He brought many world famous producers as Urecken, Whiptonique, Xpirall, Sychotria, Bilisargon Demagorgon, Yudishitra, Parahalu, Paramatma, Phobos Azazel, Samadhi, Kalilaskov, Ephedrix, Psymatrix, Dust, Foam, Assoult Junkies, Nitro, Basic, Atma, Talpa, Talamasca, Durty Safi, Ethnogenic, Yahel, Trippy Trail, Digicult, Atomic Pulse, Echoteck, into Turkey and had the opportunity to work with them. On the other hand, he brought many Dj's from Lebanon, Iran, Morocco, Jordan and many different places from Europe and he also supported new-beginner, interested but amateur Dj's in Turkey, by giving the opportunity to perform and improve themselves.
He now, caries on with his work with Urecken in an international festival called Tree of Life Festival 2012 which will host more than 100 Dj's and producers.

He is also reflecting his talent and his success in DJ Performing to his continuing producing projects. His ultimate dream is to spend more time to music and share the inner melody he has with the whole world.
Location
Location
Club Clinic
[facebook.com]
Hüseyin Aga Mah. Küçük Bayram Sok. No 1/4, Beyoğlu