Obscura - D noir Label night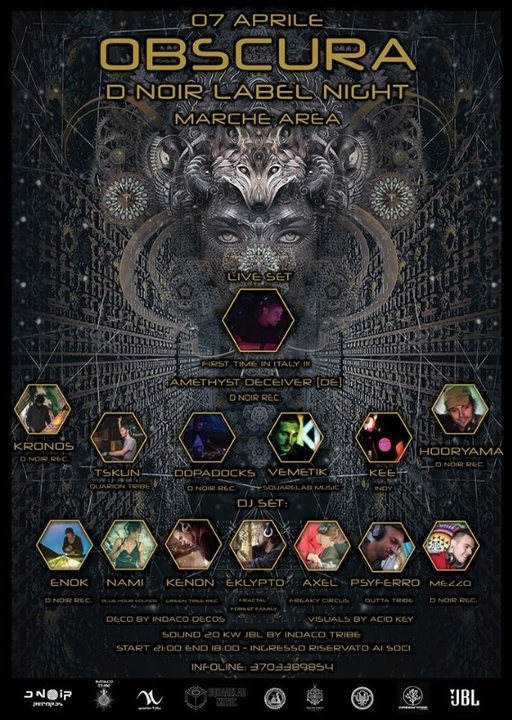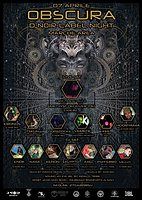 Line Up
D noir Records presents
Obscura - The dark way to psychedelic experience.
......Live.......
D noir Team:
AMETHYST DECEIVER [DE] - First Time In Italy !!!
"Amethyst Deceiver is a dark psytrance producer based in Bavaria, Germany
His first encounter with this music was in 2001 when he travelled with his father to a psytrance party in the Sahara Desert.
"The basic concept of Amethyst is to generate a unique atmosphere in the presence of the music. Forming and creating a present-time universal web of listeners connecting through multiple forms of senses."
Amethyst Deceiver joined D Noir Records in 2017 ,releasing for the label 2 EPs .
He expresses a streamline of cinematic dark psychedelia,
Highlighting a sense of floating between the atmosphere and leads, intimately crossing the space of listening."
[bit.ly]
[bit.ly]
[bit.ly]
[bit.ly]
DOPADOCKS [IT]
Alberto Pado aka Dopadocks born in 1990, lives in Vicenza (Italy).
He approaches the world of music for the first time ,playing at home his sister's piano.
After he took lesson, that piano became a keyboard and he moved from classical to electronic music, 'till 2010 with the first dj-console that he recieved as a gift by a close friend. Dopadocks started a psychedelic trance music project building a studio step by step with drum machines ,monitor speakers and various synthesizers (Korg Ms20,access synths ), to reach a clear sound quality .
In 2016 Dopadocks joined the D-NOIR Records giving psychedelic tunes for many compilations. His matter is a twilight / dark psytrance where arped leads jump on groovy basslines and everything is syncopated by a modern soft punch of the kick .
[bit.ly]
[bit.ly]
[bit.ly]
[bit.ly]
KRONOS [IT]
Kronos live was born , as project, on the hills above Florence - Italy
After 20 years of dj sets around the subgenres of Electronic and many others in event organization - Kronos decides to move also to production of Psytrance and downtempo music.
In February of 2015 he released for free his first EP "Poseidon",
4 peculiar tunes belonging to the world of psychedelic twilight / forest
The same year ,in August, after some time spent in other labels and visiting some international scenes, he founded D Noir Records, with a new idea of spectrum in its music production.
In January 2016 the collective finely selected the first compilation with Kronos' track "Monogram".
K's psy-matter is made by elements which are melted to build a hybrid enveloping in time with free choices and some unconventional sounds: Most of arpleads come from hardware and they are handled to allow the listeners a natural absorption of the frequencies and an inexplicable excitation at the same time.
[bit.ly]
[bit.ly]
[bit.ly]
[bit.ly]
HOORYAMA [PL]
Lukasz aka 'K' was born near Krakow (Poland)
In the beginning of this millenium he moved to Tuscany (Italy), In the beautiful Chianti. At the age of 16, with a group of friends, he frequented a Social Centre, called CA.CU.BO, The big TAZ, in the city of Bologna ,hosted many international events of electronic music ,between 2005 and 2006
There he discovered for the first time, Psytrance. Since that moment, he has been involved exclusively in the ambiences of psychedelic trance.
In 2015, after a boredom and for curiosity, he started experimenting with various DAW's and he create the project Hooryama; with the idea to dwell deep into dark subgenres.
Belong this process he managed to produce a sort of a Futuristic Dark Psy: a glitchy-tribal sound, made out of percussions and organic sounds rolling on a groove where the bass is filtered to get the taste of ancient in the ritual. A part of D Noir management since 2016 .
[bit.ly]
[bit.ly]
[bit.ly]
Guests:
TSKUN [IT]
[Quarion Tribe]
Tskun aka Tommy Vecchiarelli is a musician, sound designer and producer born in Italy in 1984.
In 2009 Tommaso founded his first trance music project Psynetika (in collaboration with Dj Dayalix) and he was introduced in the psytrance scene with Quarion Tribe. Simultaneously he attended the Music and New Technologies course at the Conservatory realizing many works like electronic and pop productions, music for theater and soundtracks, developing his personal production techniques.
After many parties and live sessions in Italy and Europe, Tommaso gave life to his solo project Tskun, first time live in 2015, with the aim of bringing a new danceable, psychedelic, high bpm sonic experience in the psytrance music scene.
[bit.ly]
[bit.ly]
[bit.ly]
VEMETIK [IT]
[Square Lab Music]
"My name is Luca Vescioli AKA Vemetik, i'm a producer from Italy and i started to get into the world of Psy trance since 2008 in my small bedroom with my neighborhood knocking on my door for the noise; In 2011 i've signed up at the Music Academy to improve my skills while keeping on making tracks
After performing a few live in local parties close from where i live, i've participated at various compilation with some Label records such as BACKFLIP RECORDS - MMH RECORDS and more…the last one allowed me to perform at the Blackmoon festival.
My musical influence come from different type of music, with a combination of many line of groove and electric sounds, trying to maintain always the track like a Luna park." By Vemetik
[bit.ly]
[bit.ly]
.....DJS.....
D noir Team:
ENOK
Enok a.k.a. Cosimo lives on the green hills of Mugello - Florence (Italy)
As teenager he immediately felt in love with music and he studied guitar and bass guitar.
After some years of experience in Germany ,being contaminated and inspired by the listening of that local electronic music ,he started djing playing psytrance in parties ,as he got back in Italy ,in 2015, took part in his first active psytrance experience, called Psycho:path Crew.
Getting skills in the italian scene , Enok founded Indaco tribe with dj Kenon (Green Tree rec), in 2016. The intent is to purpose powerful and modern sets and managing international events .Harmonic Vision is the gathering the tribe releases every NYE in Italy.
In 2017 joined the D-Noir rec Team as Label dj and web editor .
In few years Enok has performed with a lot of italian crews in festivals and gatherings such : Harmonic Vision , WAO festival, Human Evolution , Atlas Gathering, and many label parties.
His style is a groovy Psychedelic trance with shades of its underground subgenres.
[bit.ly]
[bit.ly]
[bit.ly]
MEZZO
Born in Cagli (Italy) in 1995, he starts to learn the art of djing playing music with cdjs, since he was 11.
At first he treated genres like Techno and Afro 'till 2012 when he felt in love with Psytrance .
Active in eastern italian scene, he met his friend dj Makintosh (Quarion Tribe) who became a perfect spalding partner for back to back.
After visiting bush parties in Australia, in 2015, Mezzo focused on night-time subgenres .
In 2017 he joined Quarion Tribe where, with his mate Michelangelo aka Psyom, a project called ORIGINAL SPHERE was created.
Considering the ability in dj set and digital set of this young performer ,D Noir records chooses him as promising label dj, in 2018.
[bit.ly]
[bit.ly]
[bit.ly]
Guests:
KENON
[Indaco Tribe/ Green Tree Rec.]
[bit.ly]
[bit.ly]
[bit.ly]
NAMI
[Blue Hour Sounds]
[bit.ly]
[bit.ly]
[bit.ly]
EKLYPTO
[Fractal Forest Family]
[bit.ly]
[bit.ly]
AXEL
[Freaky Circus]
[bit.ly]
PSYFERRO
[Outta Tribe]
[bit.ly]
and more....
....Deco....
INDACO DECO
[bit.ly]
....VISUAL....
Acid Key
[bit.ly]
SOUND SYSTEM:
20 KW JBL BY Indaco Tribe
....LOCATION....
La location sarà comunicata tramite sms o whatsapp il giorno del party......Infoline Soon......
Ingresso RIservato ai Soci.
Info
Info
SOUND SYSTEM:

20 KW JBL BY Indaco Tribe

....LOCATION....
La location sarà comunicata tramite sms o whatsapp il giorno del party......Infoline Soon......

Ingresso RIservato ai Soci.