...o0O--->ExtReMe AfteR B-Party-Vol.2<---O0o...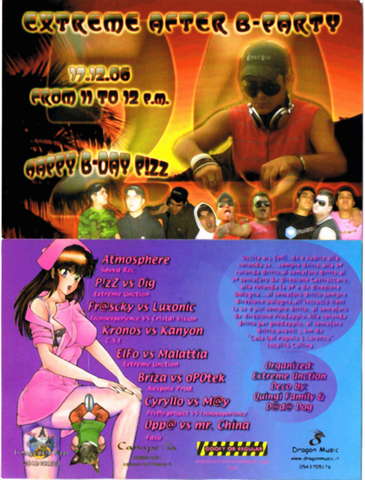 Live
Line Up
-->Atmosphere (Savva Rec.)<--
I Migliori del momento....

FRom 11 to 12:30 FreE console....

12:30-14:00----->Opp@ vs China (FASù)


14:00-15:30---->Briza vs oPOtek (Nespole Prod.)


15:30-17:00---->Kronos vs Kanyon (C.S.I)


17:00-18:30°°°FraScky vs Luxonic ( T3KN03XP3R13NC3 VS CrisTaL VisioN)


18:30-19:30-->Atmosphere-LIVE (Savva Rec.)


19:30-21:00----->P!zZ vs DiG (ExtreME UNkTion)


21:00-22:30°°°ElFo vs Malattia (ExtrEME uNKtiON)


23:00 to End...°°°Cyryllo vs M@y@ (PsyFly-Project VS T3KN03XP3R13NC3)



Una Guerra senza esclusioni di Colpi!!!!!!!!!!!!
Chill
!!!!!!Non ne abbiam bisogno....ma avremo la compagnia della JoCkEr's FaMiLy !!!!!
Deco
Deco
---Quingi Family & D@do Dog---
Info
Info
Happy Birthday P!zZ!!!!!!!!!!!!!!!!!
Happy Birthday P!zZ!!!!!!!!!!!!!!!!!!!!!!!!!!!!!!!!
Happy Birthday P!zZ!!!!!!!!!!!!!!!!

IN COLLABORAZIONE CON: ""=ADRENOKROMO= "KINDZADZA"live set"" by psy fly project

Un solo regalo vi chiedo,rega....cercate di rispettare il posto,e di essere piu indiscreti possibili all' interno del locale...cerchiamo di nn farci riconoscere!!!RISPECT CALL RISPECT!!
THX
Location
Location
Uscita A14 FORLI...DX e subito alla rotonda a SX...sempre dritto,alla 2'rotonda dritto,al semaforo dritto,al 2' semaforo DX direzione Castrocaro,alla rotonda la 2' a DX direzione bologna...al semaforo dritto sempre direzione bologna,all'incrocio tieni la SX e poi sempre dritto,al semaforo DX direzione Predappio.Alla rotonda dritto per Predappio,al semaforo dritto,avanti 4Km DX "Casa del popolo S.lorenzo",localita Collina!!!BooooooMM!!!!!!!!!!!
Entry fee
Entry fee
I 5 N£urì che vi son rimasti!!!!
Chi avesse la tessera ARCI se la porti in saccoccia comunque!!!!Non si sà mai.....
Organizer
Organizer
"==--->ExtreMe UNcTion<---=="
Hotline
3409343928-3391454188