NYE with LOONEY MOON rec.
Nicosia - Klirou village ·
Cyprus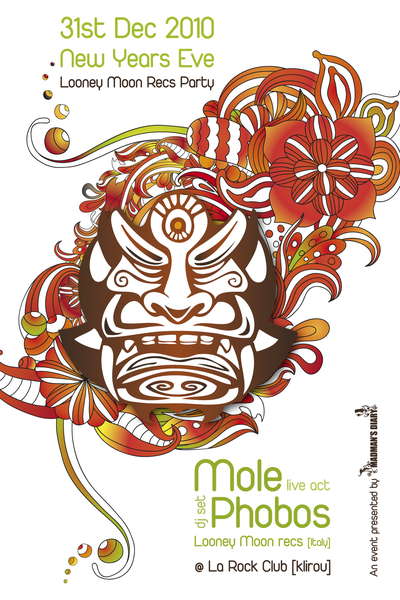 Live
Line Up
Guest artists:

Mole - Looney Moon recs (Italy) (live act)
Phobos - Looney Moon recs (Italy) (dj set)
DJs
Local djs:

Acid Bubble - Soleluna Dynastia
Johnny Blue - Psylent Harmony.net
Mojo - Madman's Diary Crew
Psychosis - Noize Conspiracy recs
Psyclops - Madman's Diary Crew
Zen - Azteka productions
Hares
Deco
Deco
Amazing UV and artwork by Madman's Diary art crew
Info
Info
After promoting Psychedelic parties in Italy and Europe for many years, with 3 killer albums which bombed the dancefloors around the world, the illustrious crew of Looney Moon eventually decided to send Phobos and Mole to spread the vibe of their events to the Island of PSYPRUS and collaborate with Madman's Diary Crew for an awesome New Years Eve ....... Surrounded with Dj's from the local scene to celebrate the start of new year with a lot of dancing , colours and high quality music.. so join us to make the New start for 2011..... cheers..!..!..!..!

more TBA

stay tunned guys!!!!!!!!!!!

love and light!!!
Location
Location
After Nicosia pass KLIROU towards PALECHORI and the club is on the Right hand side 2 km after Klirou's military camp . its on the main road there so no turns required.
Klirou, Cyprus