Backend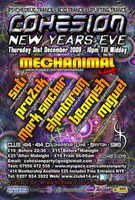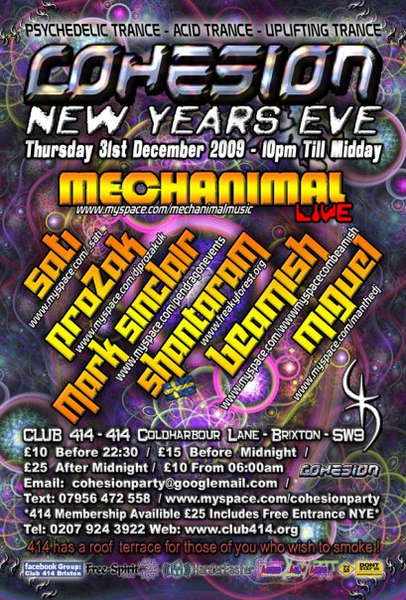 Line Up
Mechanimal (Live) - (ElecTribe)
[myspace.com]
Nick & Junior have teamed up to form MECHANIMAL bringing you upfront sounds of groovy psychedelic trance.
Nick Sagar-House
At the age of 13, he was Living in Paris where he learned to play the bass and guitar. Over the years he participated in numerous bands in the live music industry covering genres from rock, metal, jazz, new age and urban music. After finishing school, he considered pursuing his passion in music as a full time career by moving back to London to study a music degree. Here he networked with numerous producers, performers, songwriters and musicians from all sorts of genres. Because of the exposure to diverse talent and variety in music, he was able to develop his skills and open his mind to many new avenues in the music industry. Shortly after moving to London he was acquired in the dance music scene playing in the Greg Brookman A.L.I.V.E. act along side dj Hypnosis. Through experiencing and playing at events such as Supernova at The Brixton Academy, Tidy Weekenders, Timeless & Heat, Storm and Escape Into The Park he was inspired to explore the world of music production. From that point he is now engineering music and sound for a vast array of media types and music genres
Junior Olivier
Junior has been involved with psytrance for about 5 years, having come to London to do his university, while at his studies discovered the music and since then it has been active part of his life. Soon after going out to parties he met some guys that were already involved in party organization, and then was invited to be part of the team called Psy Invasion, that is considered one of the best party organizations in London, bringing always the best artists in the scene, international and local. Always had a great ear for music and it was a question of time before he decided to dj aswell, so by a big coincidence he met Nick and they decided to make a track together, the Mechanimal project had started and since then they have been making full on groove psychedelic music, full of powerfull atmospheres and great synths! Junior also has a party org called ElecTribe, that also aims to make great events.
Sati (Cohesion - Oneness)
[myspace.com]
Sati has been playing in and around the London scene for the past 3 years. Her styles vary between progressive, driving Psytrance and tough Breaks and Techno somethimes mixing up many different genres in one set.
Resident with Carnage, Oneness & Tribal Dance and now Cohesion!
She has played alongside the likes of Infected Mushroom, Astrix, John OO Fleming, Sterling Moss, Prozak, Chris Liberator, Breakfastaz, Beamish, Sutekh, to name but a few. Venues such as indigO2 (Infecting the UK), Brixton Academy (Psychedelic Academy - Antiworld), Turnmills (Antiworld), The Fridge (Colours, Logic), Aera (Contrast), The Medussa, 414 (Cohesion) & Grand Junction Arms (Torque).
Last year her psytrance took Sati to Lake Deczno in her homeland Poland, where she was the only female artist to play at the Ramada Festival.
Prozak (Cohesion - Free-Spirit)
[myspace.com]
DJ Prozak has been in and around London scene for the past 14 years and is undoubtedly one of the UK's finest Psychedelic DJs, with experience within dance music for nearly a decade now, Prozak has performed alongside most of the worlds largest and most respected DJ's and live acts at events in countries such as the UK, France, Israel, Italy, Poland, Russia, Bulgaria, to name a few. . He has rocked dance floors across the country with both full-on and progressive psychedelic sounds sometimes mixing up many different genres in one set. A true veteran of the psychedelic scene with an ear for tunes that clean one's head and compel the body to dance, Prozak's versatility, seamless mixing technique, and energetic track selection have combined to make him a crowd favorite. Smooth, yet crunchy, raw yet refined, psychedelicious and immensely satisfying. DJ Prozak produces, engineers & re-mixes tracks & dj demos at his studio (LG4) in London. Member of FREE-SPIRIT RECORDS (www.free-spiritrecords.com ). Resident with Cohesion (www.myspace.com/cohesionparty) have played alongside the likes of Infected Mushroom, Astrix, Juno Reactor, Tiesto, Journey, Tron, Talamasca, Chris Liberator, James Compressor, Scoorb to name but a few... Productions are well under way now, and this year should see the secret production projects getting closer to being unleashed on the world. Keep the ears peeled for this one; if he puts as much effort in the studio as he has in his DJ career then we are in for a real treat in the years to come.
DJ Prozak Mixes:
[myspace.com]
Free-Spirit Web:
[free-spiritrecords.com]
Cohesion Web:
[myspace.com]
Mr. Mush (Free-Spirit)
[myspace.com]
Beamish (Escape From Samsara)
[myspace.com]
Miguel (Cohesion -Gathering)
[myspace.com]
Mark Sinclair (Pendragon - Earth Dance)
[myspace.com]
Shantaram
[freakyforest.rg]
Info
**********Members Free New Years Eve************
Club 414 Membership Available
Membership is now available for Club 414.
The cost is only £25 PA which also grants you FREE access to New Years Eve.
Members will pay no more than £8 at any time when entering the venue.
Watch out for Members free and reduced priced notecases on website listings.
Guaranteed entrance on arrival.
A Free drink for any member visiting the club more than two times for the weekend.
Free birthday party with cake and balloons plus choice of club dj.
Members only pickup and take home Taxi service.
A Club 414 membership will save you hundreds of pounds as a regular visitor to the venue over 2010.
You can purchase your membership below...
[club414.org]
**********PEACE**************
Location
CLUB 414,
414 Coldharbour Lane,
Brixton, SW9
Entry fee
Entry fee
£10 Before 22:30
£15 Before Midnight
£25 After Midnight
£10 From 06:00am
Added

12y 11m

· Update

3m 24d

·