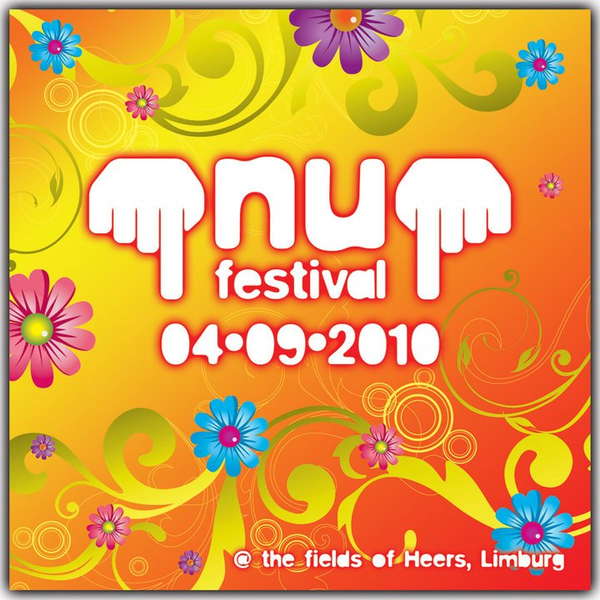 Live
Line Up
ANTIX (New Zealand - Iboga Records)

MK ULTRA (Judi records, Roots of Minimal, Belgium)
FIORD (Audio Therapy, New Zealand)
MARCUS MEINHARDT (Upon You records, Germany)
ROBAG WRUHME (Wighnomy Brothers, Kompakt records, Germany)
SQL (MBF/SK Supreme, Netherlands)
MASSIMO GIRARDI (Daytona, Belgium)
JITTER (Down Under, Belgium)
GOLS & DEEJAMES (Feestgedruis, Dreielf, Push It, Belgium)
ISHTAR & LAMAZ (Tribal Vision records, Feestgedruis, Belgium)
WHIZZ (Feestgedruis, Smiley Tribe, Begium)
METON & MRD (Sun City, Belgium)
NEOK & DENNLAV (Nomathic, Belgium)
DIE CLIQUE & KOODOO (Feestgedruis, Putzen, Belgium)
Chill
Chill-out area, Coctail- & Champagne bar, Shops…

live rockband + chill out dj's
Deco
Deco
Deco by Jamin Murphy (SWE/USA) !!!
Info
'The ingredients of a health and long life, are great temperance, little care…and above all, open air!'
(Sir Philip Sidney, English Statesman, 1554-1586)

In September, the undoubtedly wrecking and hopefully warm summer will blow his final whistle.

But, before we say goodbye to our everlasting friend Mr. Sun and lock ourselves up in dark stinking dungeons again, we want to offer you one last musical adventure.

Five organisations (Feestgedruis, Sun City, Nomathic, MiniMec and Putzen), notorious for their party riots anywhere in Belgium, bundled their forces and came up with a brand new open air experience: NU-festival!

On the 4th of September NU will serve you a day of outdoor pleasure and laughter; a mash up of quality music and cosy atmosphere, held in a unique environment. Therefore NU found spacious land, somewhere in the stretched out and desolated fields of Limburg. This will be the scenery of a intimate festival, a laid-back alternative to the larger, more commercial festivities.

During this day NU will surprise you with a combination of well known international artists and promising local talents. They will turn the grassrooted playground into a tasty beat buffet…

The playground itself will be divided into three stages. Two stages will provide flourishing progressive, tech house and minimal tunes; while a third stage takes you back in time with good old jazz & blues music, played by a twisted live band. NU is dance music of today combined with classics from yesterday.

Come on over and embrace the summer one last time!

Join us in this concated orgy of breated grooves and fellated snares…dance and multiply! NU!

Open air stage and big indoorstage!!
Location
Location
Heers - Herckenrodestraat
Entry fee
Entry fee
presale @ all Free Record Shops in Belgium: 15 euro
@ the gate: 20 euro
Organizer
Organizer
NU

more info on facebook eventpage