NPC's 1st Progressive Bash BRAINFUCK@Neugi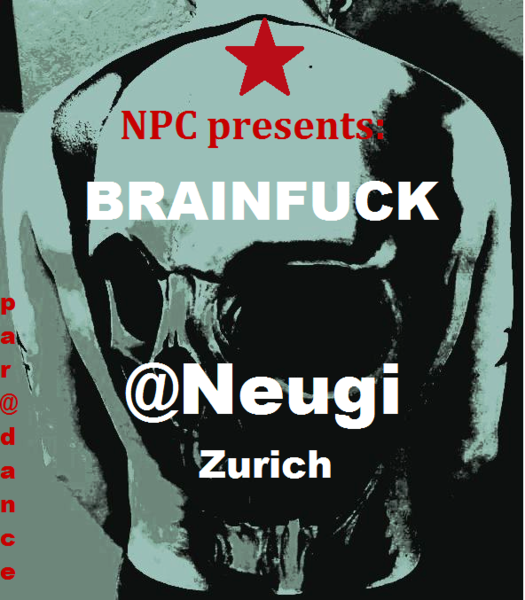 LINE-UP IN THE END in friendly collaboration with these exceptional spacy people:
DOWNSTAIRS::
WARM-UP with Lolo begins @6 pm Friday
20.00 - 22.00 Dj Lolo & SirG (NPConnection.) ESP/SUI finest PROGRESSIVE!
22.00 - 23.30 Dj Upspace ( NPConnection.) freaky PROGRESSIVE tunes...
23.30 - 01.00 Ludo Solnight (les enfants de la techno) FRA ELECTRO & PROGRESSIVE from France
[myspace.com]
01.00 - 02.30 DJane Regushka PROGRESSIVE ladylike
02.30 - 04.00 Dj CYTRIC (Hexadez) ACID-TECHNO fast & energetic vibes!
04.00 - 05.30 Dj Substance (Clone 2.1 Records/Sigma Rec./Drizzly Rec.) uplifting TRANCE
[djsubstance.ch]
05.30 - ? Tekimo und Kido ( Disco Chicks) MINIMAL&TECHNO
? - Upspace, Lolo. Ludo, Cytric
O
P
E
N
E
N
D
for the 1st time:
Dj SirG (New Prog Connection) Minimal
..
..
Chill
UPSTAIRS::


Dj Lolo & SirG with deep, AMBIENT vibes & relaxing sound
Dj Upspace
..
..
Info
ACHTUNG: elektronisches Musikexperiment!

pilot project in the crazy inner city of Zurich: OPEN END we'll keep on trucking as long as we like!

just for fun..klein aber fein! diesmal ohne Dark zwar, aber dafür ein progressiver "Birafigg" der sich gewaschen hat, no worries.. ..




love, light & so much more (different) fun!
..
..
Location
Location
Neugasse 35
8005 Zürich
Entry fee
Entry fee
never mind, as much as you like!
Organizer
Organizer
New Prog Connection