Nova's Incident VIII open air
Ardennen (+/-Liège, Aachen… ·
Belgium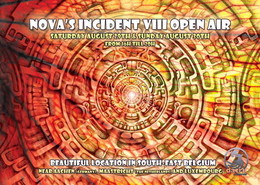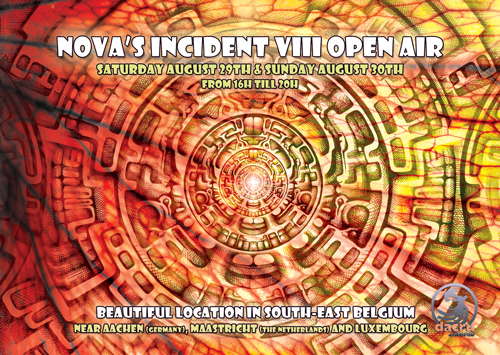 Line Up
°° KHETZAL °° (Suntrip recs - France)

°° CHRONOS °° (Dacru recs - Mexico)

°° DIGICULT °° (Dacru recs - Belgium)

°° EPHEDRIX °° (Dacru recs - Belgium)

°° AQUILA °° (Dacru recs - Belgium)

°° SUFI °° (Dacru recs - Belgium)

°° AGNETON °° (Phototropic recs - Belgium)
° KRISTIAN ° (Transient recs - Dacru recs - UK)

° NEMESIS ° (Dacru recs)

° CRISPOD ° (Ataytimega - France)

° HESSELL ° (Dacru recs)

° INADA ° (Cronomi recs)

° BONAS vs OONAH ° (Dacru recs)

° INSULA vs SUNSTRA ° (Escape recs)

° CHAKRAS ° (Kagdila recs)

° BOR vs YUCKA ° (Cosmic Combination - The Netherlands)

° GNOME vs SJAMA'DAN ° (Amanita Muscaria)

° SMOKONUT °

° APO °
PROGRESSIVE BUNKER powered by Purple Snow
°° LOOP GENERATION °° live
° ISHTAR vs RAMSES °
° R'DEEM °

CHILL OUT powered by Mindmelt (NL)
KHETZAL ambient set
DI'JI
AIDA
DJ MOP
Flowcopter
Aqualung
DiMiTri
Deco
JoTho (Amanita Muscaria)
Omicron

visual arts by Fatalia (Germany)
Info
Info
28 hours of party
free camping!!
bonfire
fire jugglers
food, drinks, clothes, cd's and more
shops can still send an e-mail to
eskimo@dacru.be
Location
Rue de Bonalfa
Vielsalm
see
[dacru.be]
for more detailes
same magnificent location as in the last years!!
close to Liège (Belgium), Aachen (Germany), Maastricht (Nederland) and Luxembourg
most beautiful part of Belgium !!
@ only 2km from the local trainstation of 'Vielsalm'!
There will be arrows from the station.
Entry fee
Entry fee
15 euro
(no presale)
Added

14y 3m

· Update

13y 5m

·

/ 52