Backend
* * *NORTHERN LIGHTS 5th anniversary* * *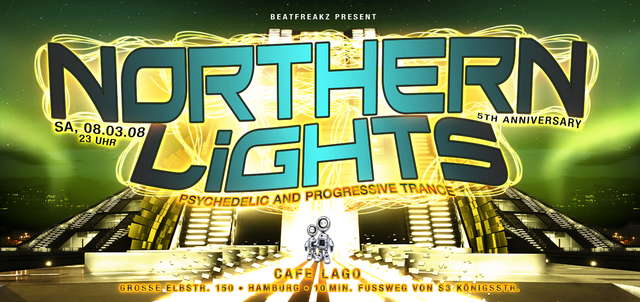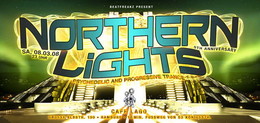 Line Up
KULARIS (spintwist)
presenting new album "Technical Progress"
[myspace.com]
FEUERHAKE (synergetic)
[myspace.com]
SLACKJOINT (millennium)
[myspace.com]
********************************************
MASTER MARGHERITA (Peak Records)
Tranchillizing Hamburg
Germany is not really well known for first class chillout venues but now it is getting closer to the first highlights this year. Moreno the "Tranchillizer" from Switzerland has a few stops in Northern Germany to present his current, same-named release.
[mushlink.com]
DENSE & DIE LINKEN HÄNDE (Freakplanet)
Dense, the ambassador of Kondensmilch, resident DJ and Spirit at Planet Subotnik's Thursday in Trance could also be convicted to hook up with Agent Red and prepare a pleasant and psycho-elastic ambience for you.
[freakplanet.org]
FAT HOTZ CHILL E DIPPERS (psyngroove)
Last but not Least, mighty Ottmar Hotzfeld, the "Man with 1000 Names", respectably coach and sensei of Hamburg Psychedelics will show up later to cool us down with one of his famous After-After-Hour sets.
[myspace.com]
********************************************
Info
Lasershow
Kularlights
2 Etagen:
Dancefloor
Ambientfloor
Lounge
**********
NEXT BEATFREAKZ EVENT
goabase
**********
Location
Location
Café Lago
Große Elbstraße 150
10 Min. Fußweg von S3 Königstraße
Added

14y 11m

· Update

14y 3m

· 44 Parties ·

/ 518