NINESENSE 1st time in Barcelona!!!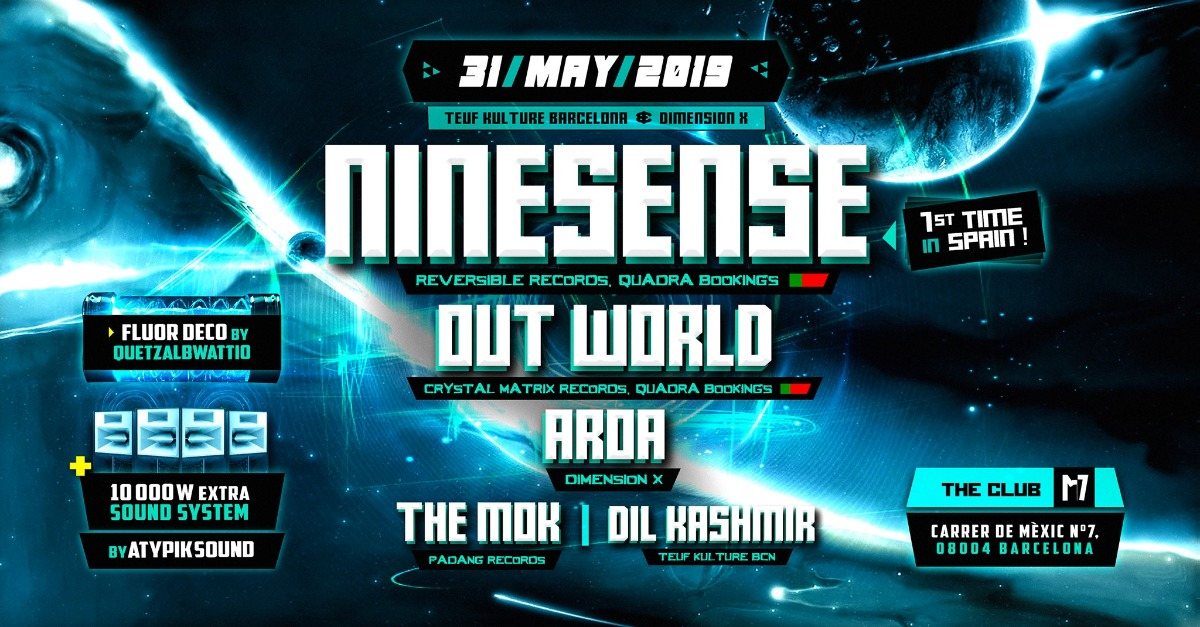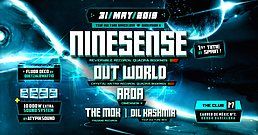 Line Up
NINESENSE
(Reversible Records) pt.
Ninesense is a Psytrance project by Nuno Cabral, raised in the Azores Islands. He started developing an early taste for psychedelic music after receiving a Goa cassette tape as a gift from a friend, and he soon realized how powerful and live changing it can be. The passion as listener turned into several years of focus and dedication, and eventually into an intensive research about Mixing and Producing techniques. Nuno's first project, Manipulation, fascinated many people on the scene because of it's innovative sound and energetic production on his releases. Among them, Manipulation best fostered a stable collaboration with Kinematic Records and Zero 1 Music. In 2015, Nuno refreshed his project, changed the name Ninesense, and in 2016 joined the Blacklite Records' crew where his debut Album, "Spectrum", was released on Blacklite Reccords in April 2016 and was surfing the top of the charts for weeks. His music is always intended to lead the listener in a full sensorial journey - 5 senses is not enough - ranging from groovy morning psytrance to fast night-time sounds. Ninesense's music isn't restricted to any style. It can go from daytime Psychedelic to night-time Forest Psy Trance. It's music without limits and guided by the imagination of the listener. You may have heard his sound in many countries of the world in North and Central America, Europe, Asia and Australia. In 2017 Nuno created Reversible Records and now the plan for the future is to expand the music to other planets.
soundcloud
[facebook.com]
[bandcamp.com]
Reversible Records Links:
[facebook.com]
soundcloud
[bandcamp.com]
..........................................................................
OUT WORLD
(Crystal Matrix records) pt.
Out World is Rodri Andrade from Portugal but living in Bcn . After finishing his degree in Electronic Music Production and 2 years after in Audio Engineering he decided to stay. His musical journey started with guitar classes and music theory at 12 creating even a rock band with some friends. After a while he discovered electronic music and its potential so started to go to parties with different styles of music and in 1998 he found himself in a big open air party in the forest..the music was psytrance and with only 15 years old a true passion started..Bought some equipment and 2 years later Rodri was already djing, taking the step of making and producing is own music was just a matter of time. Out World music defines itself for creating stories and spreading messages to the listeners, the objective is to give to the people a really experience on the dancefloor, to take them on a journey, make them go "out of their heads" and try to reach a new level of consciousness. Music was always one of the oldest forms of expression, we can use it as tool to create different realities and different worlds…our OUT WORLD .
soundcloud
[facebook.com]
[quadrabooking.com]
[crystalmatrix.pt]
..........................................................................
AROA
(Dimension X ) cat.
AROA, was born in Cantabria (the North of the Iberian Peninsula) and live in Barcelona, she started to mixing Darkpsy in 2005. She is also considered pioneer of this style in Spain. She played in infinity stages parties and festivals with national and international artists. Actually was involved in HippFl Rec and has collaborated in the organization and sound system with the family Ravespirit, Psykomaniak Crew and Red Dust. Her sets make us travel and dance with the most powerfull rhythms from the dark side.
soundcloud
[facebook.com]
..........................................................................
NIL KASHMIR
(Teuf Kulture) cat.
Nil Marty was born in Barcelona in 1992. From a very young age he showed an above average curiosity for music. This interest was born due to his father's passion for music bands like The Beatles or Pink Floyd.
​In just five years Dil Kashmir has participated in some of the most important electronic festivals in Catalonia, like The End of The World, Montagood, Montacore, Tramunfest, ADM Festival and Munay, and has played his music in some of the most important nightclubs in Barcelona, like Razzmatazz.
He has also participated in some international festivals, like bulgarian festival Balkan Station.
​But Dil Kashmir, in his aim to make all the city to dance to the rythm of Drum & Bass music, his favorite musical genre, he created in 2013 Teuf Kulture Barcelona and he organises parties with international artists in some of the most emblematic clubs in Barcelona and sorroundings, like KGB, Sala Becool, Upload, Razzmatazz, Sala Plataforma or Mama Mandawa.
soundcloud
[facebook.com]
More to be announced very soon
Deco
Deco
Fluor Deco by Fluor Deco by QuetzalbWattio
Info
Info
► + 10 000W extra Soundsystem by Atypik Sound
► More news & Surprises coming very soon!
Location
Location
The club M7
C/ Mexic, 7, 08004 Barcelona, Spain
Organizer
Organizer
Dimension X & Teuf Kulture