Backend
Nibirii Carnival: iDirty Showcase w/ Necmi, Parra + Gourski uvm.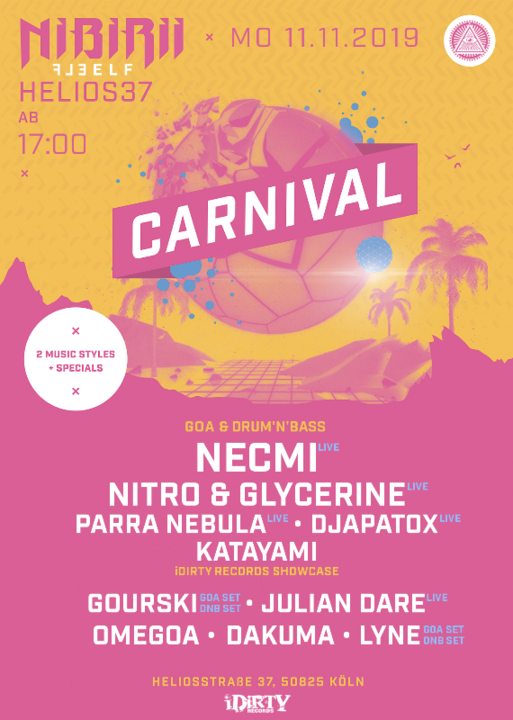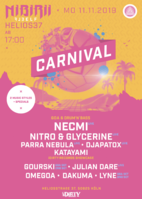 Line Up
◘ Psytrance / Progressive Trance / GOA
◘ Drum & Bass
▬▬▬▬▬▬▬▬▬▬▬▬▬▬▬▬
Necmi
Gourski
Nitro Glycerine
Julian Dare
Parra Nebula
Djapatox
Katayami
Omegoa
Dakuma
Lyne
Deco
Deco
Farbenspiel Dekoration
Info
Details
♒ Psytrance, Progressive Trance / Drum & Bass ♒
+DEKO by Farbenspiel dekoration
NIBIRII,
Monday, 11th of November 2019, HELIOS37, Köln.
▔▔▔▔▔▔▔▔▔▔▔▔▔▔▔▔▔▔▔▔▔▔▔▔▔▔▔▔
One of the most colorful times in Cologne - CARNIVAL!
For those who can't listen to carnival-classics anymore, but want to keep up the spirit of carnival, we invite you to our Nibirii Carnival. Celebrate the craziest time of the year with us.
▔▔▔▔▔▔▔▔▔▔▔▔▔▔▔▔▔▔▔▔▔▔▔▔▔▔▔▔
Nibirii:
[instagram.com]
[twitter.com]
[facebook.com]
▔▔▔▔▔▔▔▔▔▔▔▔▔▔▔▔▔▔▔▔▔▔▔▔▔▔▔▔
Einlass ab 18 Jahren / Age for admission 18 years
Helios37 / Heliosstraße 37, 50825 Köln
Location
Location
Helios37
Heliosstraße 37, 50825 Köln