New Decade (Birthday Party)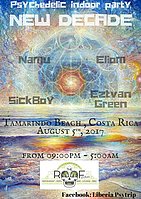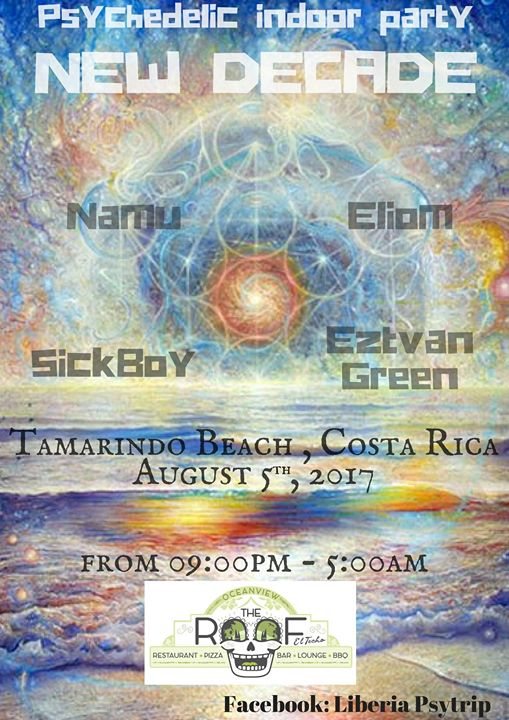 Line Up
Es un agrado volverlos a invitar a otro evento de Liberia Psytrip, esta vez la locación será playa Tamarindo. En un bar bien bonito, en un 3er piso, más un 4to piso al aire libre y vista al mar. Buena deco y promos.
It's a pleasure to us to invite you to a psychedelic indoor party, with an amazing view to the beach,.
°°° We will have special music that'll make you travel into your minds, thanks to:
***Komplexx*** 20:00 - 21:30
***Eztvan Green*** 21:30 - 23:00
soundcloud
***Namu (Love Corp)*** 23:00 - 00:30
soundcloud
***Eliom (Love Corp)*** 00:30 - 2:00
soundcloud
***Sick Boy b2b Komplex*** 2:00 - 5:00
°°° Fire Show (4th floor)
*** Daniels Carballo (Sámara Fire Performance)***
youtube
***Manfresco (Producciones Equilibrio)***
youtube
***Bryan Juarez (Tamarindo Fire)***
*** Irina Obando & Sharon Bejarano (Tamarindo Artists)***
°°° Vicionary art deco by special guest***
[facebook.com]
°°° Cover
Pre-Sale: $6 (private message) Liberia Psytrip , Manfred Parkour Castro
At door: $10
°°° Location: The Roof Tamarindo
°°° Important:
* There is no Camping area.
* Come with all your positive vibes.
* Doors will be close at 2:30 and the party will become private, only for the people who where already inside and family.
Location
The ROOF
Au dessus du Super Compro
50703 Tamarindo
Entry fee
Entry fee
Pre-sale: $6
At door: $10
Organizer
Organizer
Liberia Psytrip
Added

5y 6m

· Update

5y 6m

·