Backend
[NEW DATE] PsyBus Crew pres. WHITENO1SE & GOURSKI [GOA & DNB ON 2 STAGES]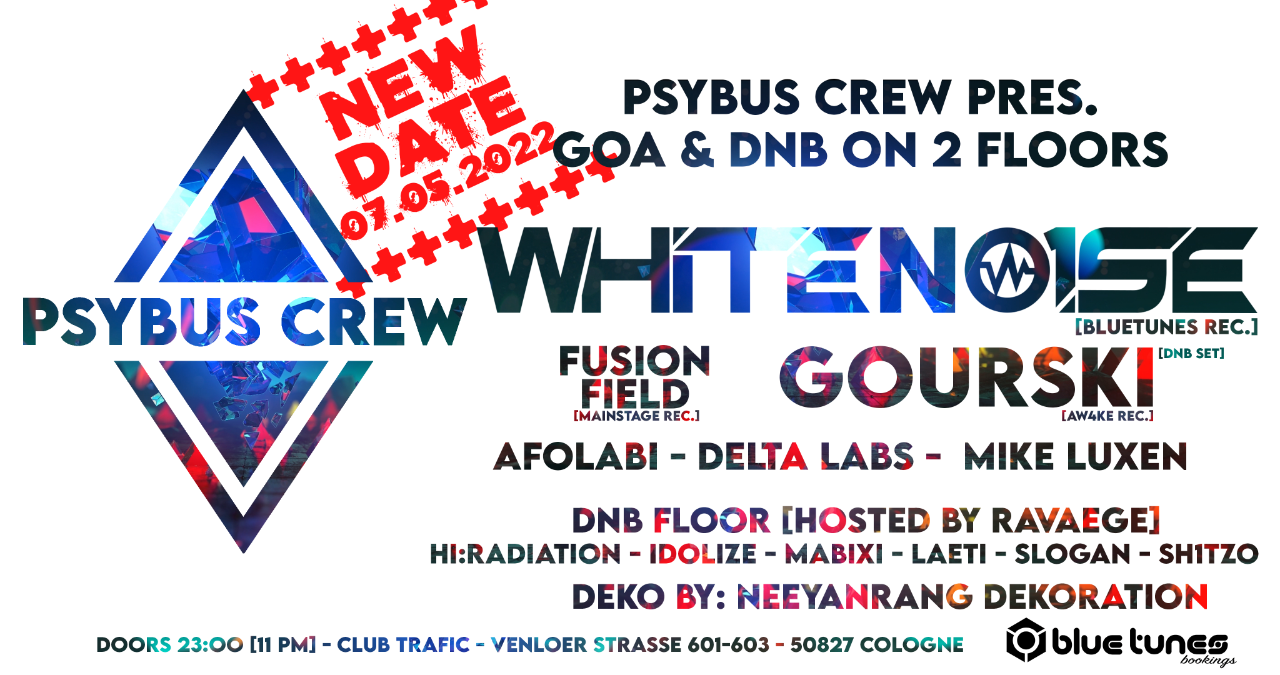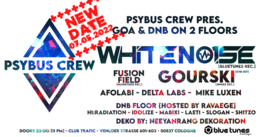 Info
TICKETS RUNNING LOW:
[tickethype.net]
Wir sind wieder zurück und dieses Mal größer als jemals zu vor.
Dafür haben wir mit WHITENO1SE einen der aktuell bekanntesten Acts der Szene zu uns nach Köln ins trafic eingeladen.
Aber ohne lange um den heißen Brei drumherum zu reden hier einmal die Biograhpie zu WHITENO1SE.
"Itay Eliya is a producer and DJ hailing from Israel, a country that has been a center of electronic music for years. Immersing himself in the music culture from a young age, he has been DJing since he was 11 years old, and producing original tracks since 16. Itay has developed an unparalleled style of sound, in which groovy and rhythmic bass lines dance with classically influenced melodies as synths clap their hands wildly in the stands, reminding the listener about everything; from an epic movie soundtrack to that incredible club party they once attended, to the sunrise on a beach. This talented musician is currently tirelessly dedicating himself to his project: Whitenoise, a psytrance storm that combines classical elements with driving and infectious rhythms for the nighttime, under which he has been featured on numerous mixtapes, while applying finishing touches to an EP to debut in late 2012-after the successful release of a remix album, in which he put his own twist on tracks from EDM legends such as infected mushroom, Swedish House Mafia,Depeche Mode, and others. And all of this has of course been tested on thousands of listeners; Itay has headlined music festivals that draw in excess of thousands people in the crowds in numerous countries outside his native Israel. He has rocked the people in Mexico, in Brazil, in Australia, Japan, Russia, Serbia, and in Italy. And in late 2012 you can take the test yourself when the debut album releases, and see why so many around the world can't wait to get on the dance floor and get lost in the WHITE NOISE!"
WHITENO1SE & RANJI feat. Nina Nesbit – These Moments I'm missing
youtube
WHITENO1SE at "A State of Trance Festival" @ Mainstage
youtube
BLASTOYZ vs WHITENO1SE – Transmission Live
youtube
Abgesehen davon, dass wir den Main wieder mit den feinsten progressiven Klängen verwöhnen haben wir außerdem RAVAEGE für den Second eingeladen die euch schnieken Drum and Bass präsentieren, u.a. mit GOURSKI, einem der bekanntesten DnB Acts der Kölner Szene.
Abgerundet wird das Paket im Mainfloor noch mit Fusion Field, DELTA LABS, Mike Luxen und Afolabi.
Coronaregeln: Es gelten die zu dem Zeitpunkt gültigen Regeln.
Rückerstattung:
Falls das Event auf Grund von Corona nicht stattfinden kann, so wird das Event auf den nächstmöglichen Tag verschoben, alle Tickets behalten ihre Gültigkeit und können voll zurückerstattet werden.
Tickets:
Tickets bekommt ihr wie gewohnt bei unserem Ticketsystem.
Dieses mal haben wir das System automatisiert und ihr bekommt euer Ticket sofort nach Geldeingang.
Link:
[psybuscrew.com]
Hard Facts:
Name: PsyBus Crew pres. WHITENO1SE & GOURSKI [GOA & DNB ON 2 STAGES]
Venue: Club trafic Cologne (Venloer Straße 601, 50827 Köln)
Date: 04.12.2021
Open: 23 Uhr (11 PM)
End: 7 Uhr (7 AM)
Price: 20€
Tickets:
[psybuscrew.com]
Styles: Progressive/Psy-Trance & Drum and Bass
Anlage: Harmonic Design TourSys 1
[harmonic-design.com]
Deko: Neeyanrang Dekoration
[instagram.com]
Socials:
[linktr.ee]
Location
Location
Club trafic // Venloer Str. 601, 50827 Köln
More events from PsyBus Crew