NEVERLAND --**Chapter 1**-- LIVE SINERIDER & AIOASKA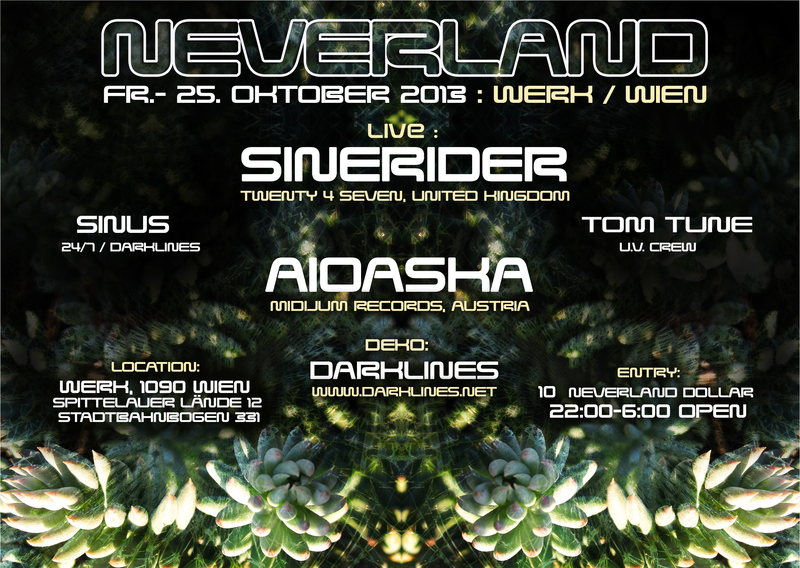 Live
Line Up
SINERIDER / TWENTY 4 SEVEN ( UNITED KINGDOM)

Sinerider is one of the several top UK acts emerging onto the world circuit at the moment. Constantly researching current sound trends in the London psy-trance scene since 2000 as well as those of the world festivals and parties he has attended, Sinerider is designing cutting edge music for the floors of the future.

AIOASKA / MIDIJUM RECORDS (AUSTRIA)

.. started to play his music live 2 years ago and it was amazing from the first gig. At the beginning he got most bookings in Austria and played really much, on quite every big event, for example Paradise festival, Spirit Base festival, Sound Lab Pirates parties, and Cosmic Space Discos. Last year he also got bookings in other countries like Hungary, Romania, Greece, Switzerland, Czech, Croatia, and so on.
SINUS / TWENTY 4 SEVEN - DARKLINES (AUSTRIA)

At the age of 13, he kept listening to electronic mixes on the radio, which quite inspired him. He recorded many of them on tape and heard them over and over again... He admired the big range of mixing styles and the great variety you can present to the crowd. So he decided to get his first own decks! The first gigs came with organising their own venues, which soon got bigger and bigger. The last two decades of electronic music formed his style.


TOM TUNE / U.V. UNDERGROUND VIENNA (AUSTRIA)

Tom Tune is a part of the psytrance family since 1999. Very soon he started to dj and organize parties, which were always supposed to be non commercial, family gatherings.
Just like Peter Pan, he discovered Neverland and never wanted to leave it again.


LINEUP:

22:00 - 00:00 SINUS

00:00 - 01:30 AIOASKA

01:30 - 03:30 TOM TUNE

03:30 - 04:30 SINERIDER

04:30 - 06:00 THE LOST BOYS ; )
Deco
Deco
DARKLINES
Being confronted with the artistic achievements of all the past masters, one might easily get disillusioned as a young artist these days and choosing a career respectively may seem like an unlikely choice. But if you feel the call to express yourself and create things corresponding to
your visions, there is no way escaping it.
In his early teens Michael Moser discovers that he can express his emotions by means of pictures far better than through words.Certain states of minds, sensations and situations that he experiences especially in his dreams, seem ineffable and so he starts to make his visions come alive.
[darklines.net]
Info
Info
Das Neverland (oder Nimmerland) ist eine fiktive Insel, ein Ort, an dem Kinder niemals erwachsen werden. Hier gibt es Elfen, Piraten, Indianer, Meerjungfrauen, Hippies, Psychonauten, Künstler und natürlich Kinder. In Neverland muss man nur an etwas glauben, damit es passiert.
Location
Location
WERK, 1090 Wien
Spittelauer Länder 12
Stadtbahnbogen 331
Entry fee
Entry fee
10 "Neverland Dollar"
Organizer
Organizer
U.V. Underground Vienna