Natural High(nat157) presents --ETERNAL MOMENT 3--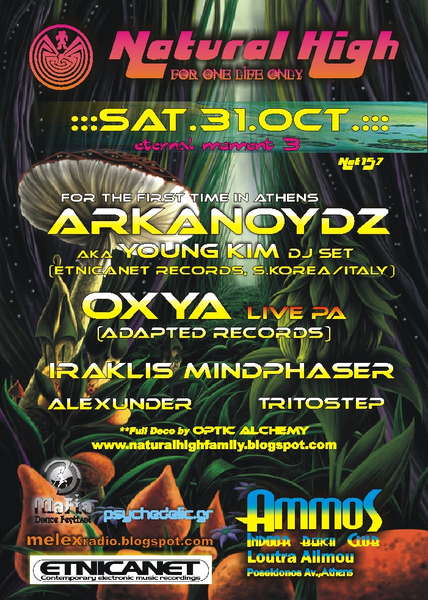 Line Up
>>OXYA Live PA
(Adapted records Greece)

Oxya is a robot.
Manufactured back in 1982,
it exists among people using the legit name Joey Dianos.
Oxya has its primary base established in Greece,
while its main purpose as a time-traveling robot is to constantly import sounds to the present time from the past and the future.

Oxya is currently powered by Adapted records (Australia)
which is totally responsible for its latest sound imports to this time.
One of the greatest shipments of sound is marked under the name
"I See An Icy Sea" and is distributed worldwide in the medium of a full-length audio cd right now!
>>YOUNG KIM // ARKANOYDZ Dj set
(Etnicanet,Sonic Dragon Records S.Korea/Italy)

Korean-born YOUNG KIM spent his childhood in Milan and in 1999 moved to London for
university. Since then, he performs all over the world promoting his live project ARKANOYDZ as well as the
record label he manages: ETNICANET RECORDS. Established at the turn of the millennium in the world's
clubbing capital IBIZA, Etnicanet quickly became one of the most respected and well known labels of its kind,
famous for the authenticity and innovation of their high quality releases.
Young performs dj sets since the late 90's, and first established his reputation in London,
performing regularly as resident DJ of Chichime and Fairy Tales, 2 of the UK's most acclaimed club events
at the time, as well as regular guest performances at many of London's top events including Antiworld,
Psygate, and Mindscapes, appearing at legendary venues such as The Drome (SE1) and Tyssen Street
Studios.
ARKANOYDZ was formed in 2006 when Young joined dj Giotto and Andrea Rizzo (one of the
founding members of ETNICA, responsible for many of their classic hit melodies during the 'Goa' Trance era).
They released their debut album TYPE ONE on Australian label Sonic Dragon in 2007, while their 2nd
album TYPE TWO is currently in the works. The Arkanoydz sound is a blasting amalgamation of irresistible
groove, full psychedelic delight, and a pinch of Ibiza flavor.

And from NATURAL HIGH Family/SoundSystem:

>>IRAKLIS MINDPHASER
(Natural High,Velvet Vision)

>>ALEXuNDER
(Natural High,Optic Alchemy)

>>TRITOSTEP aka Dimitrio Nats
(Natural High,Melex Radio)
Deco
Deco
++Vj:TELECTRON+GLOBAL EYE(Void Network,UK)

++Fluo Deco+Installations:OPTIC ALCHEMY
Info
Natural High presents + invites you to listen for the first time in athens
2 artists that produce what we call psychedelic trance...KIM YOUNG/ARKANOYDZ
+ OXYA(live pa) we are sure that they will satisfy even the most demanding
psytrance ear...!!!
These all happens at AMMOS CLUB (Indoor - 10 meter from the Beach!).
The club becomes indoor (for rain + cold protection)
by big special crystal doors so you will not miss any of the magnificent
outdoor view!!!
More info:
[blogspot.com]
[myspace.com]
[myspace.com]
[myspace.com]
[myspace.com]
[myspace.com]
[myspace.com]
[myspace.com]
[myspace.com]
[blogspot.com]
***Next confirm Event on SAT 28 NOV 2009
9TH Anniversary(2000-2009) with KOXBOX
Full details soon!
Location
Location
@ AMMOS BEACH(INDOOR)CLUB
Loutra Alimou(24hr Tram Station)
Poseidonos Avenue
Entry
Entry
-entrance:
20e Inc.1 Drink
15e Inc.1 Drink for Natural High Members
Organizer
Organizer
NATURAL HIGH TRANCE FAMILY,Athens Greece