NATURAL HIGH(nat 163) POGO (Nano),ARCHAIC (Wildthing)!!!!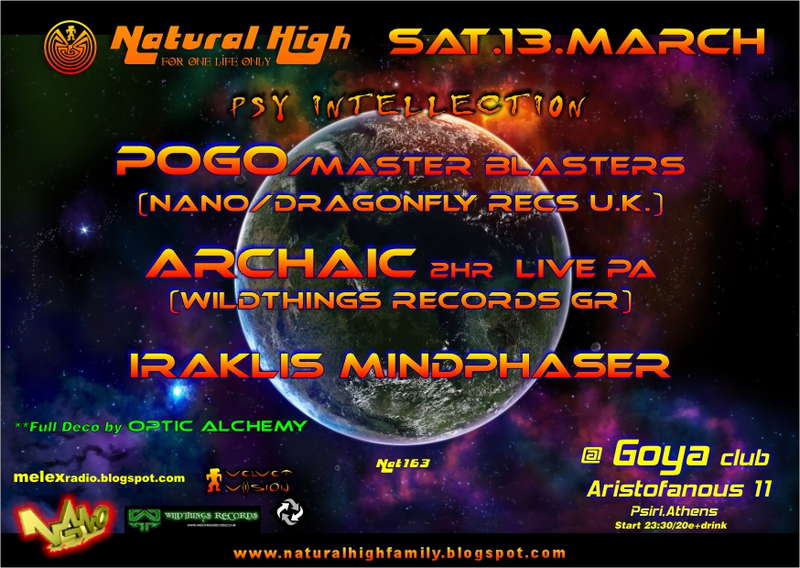 Live
Line Up
>>ARCHAIC 2 hours LIVE ACT!!!
a.k.a. DJ LORY
(WILDTHING RECORDS,GR)
[myspace.com]
hi!.welcome!!my name is kostas kanlis.i started with the music at young age,played bass in punk&experimental bands.From 1990 i started to dj,mixing underground electronic music,acid house,techno,breakbeats. in 1993 i went to my first free psychedelic trance party in london put on by ahimsa.the experience was unique,cosmic,spiritual and changed my life.after going to more parties like pagan,dragonfly,tip paries and more,i dedicated my self to explore the psytrance movement,organising and playing at parties in greece,under by name dj lory. I started to write my own music at the end of ninetees when i took my first synth (prophecy)and others like wicrowave,novation&more 1997-98..My first album was in 2002 under by name initia(shining beings)in a greek label called (loopsnoo rec).i 've released also some tracks to various compilations for this label and others like (harmonia rec)tracks like(humanimal,birds magic)and more. From 2007 i joined up to wildthings records family which is my favorite label, under by name archaic,and with the great support of alex e.v.p,beardy and spiney i released the first 2 tunes(lost tribe,anaconta)in the compilation called:(digital music therapy)2008..end of this year i released my first archaic album(wildness) in wildthings and in 2009 i released another 2 tunes for the last wild compilation(cymatic freakquencies),tracks(shamanic crisis,visionary plants). i released a tune(breathing techniques) to the last compilation(epicentre)for (hadra) label.and a track called(soothsayer) for phar psyde rec,compilation called(frogology)........ Archaic is my sound exploration in the altered states of human conciousness and focusing in the field that archetypes and mythological scapes exist... i try to create a mystical environment beyond the music.Nature,animals and cosmic soundscapes with mystical shamanistic,throbbing rhythms, that can go the listener into this field... the harmonic resonance between all these elements is the key for a good and positive vibration tune!.
>>POGO/MASTER BLASTERS dj set
(NANO/DRAGONFLY RECORDS,U.K.)
[myspace.com]
Pogo (Jamie Patterson) was originally inspired by tribal trance and early psychedelia. He started DJing in the mid nineties, and organised one of London's first weekly psy-trance clubs 'A Grain Of Sand'. He began to organise summer parties in the beautiful English countryside, and in 2000 the Wingmakers organisation was formed, launching the first of many legendary solstice parties.
In 2001 Pogo emerged from the underground and released two compilations on Dragonfly Records ('[b]Beaches & Cream' & 'Wingmakers[/b]'). These included his first collaborations, with various producers including Protoculture, Tristan, Youth, Dickster & Laughing Buddha.
He continues to organise Wingmakers parties, while also performing DJ and live sets around the U.K., Europe, Japan, India, and South Africa.
Over the last two years Pogo has been studying sound engineering and has thrown himself whole-heartedly into studio production. This has resulted in his first proper album: 'Wingmakers - Beyondwards & Upwards' due for release on Nano in february. This includes solo tracks and collaborations with Prometheus, [b]Tristan, Laughing Buddha, Dickster, Aphid Moon, Lucas, and more...[/b]
Pogo is delighted to join the Nano family, bringing his own unique brand of psychoactive future funk to the table.
Onwards & Beyondwards...!
>>IRAKIS MINDPHASER
(NATURAL HIGH,VELVET VISION)
[myspace.com]
>>ALEXuNDER
(NATURAL HIGH,OPTIC ALCHEMY)
[myspace.com]
Info
Info
LIMITED CAPACITY/come early!!!
-Full Aircondition system
-Start:23:45
-Sound modulation by Nats
-Lasers + UV Lights!
-TECNARE Sound System
-Age over 18
-Management reserves the right to
refuse admission
Location
Location
@ GOYA Club
ARISTOFANOUS 11
Psiri Area,Athens
Entry fee
Entry fee
20e Inc.1 drink
Organizer
Organizer
NATURAL HIGH Trance Family