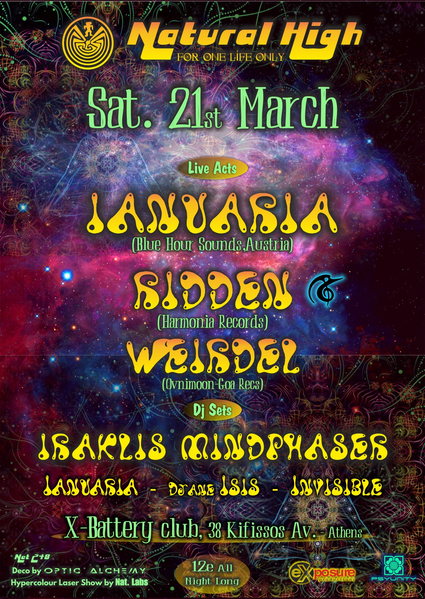 Line Up
►►► Live acts:
●●IANUARIA Live set + Dj set
(Blue Hour Sounds,)
Behind the Project "Ianuaria" is Josef Hofinger based in Austria.
I started treading my musical path at the age of 6, taking drum lessons at music school for 11 years, and during that time,
i played in various kinds of bands and ensembles.In 1996 i started djing Psytrance and, caught by the fever,
i started to produce my first own tunes in 2002.
My first album "Da capo al fine" (Hardboiled Records, 2007) brought me international credit and also some single track releases on
Glowing Flame Records and various other labels.
Now i am signed with Blue Hour Sounds Records (http//www.bluehoursounds.com), and after a successful, digital EP release (The full spectrum EP/s),
I am ready to present my second album "Beware of the fish" in 2011.
It is all about music .I describe my music as experimental psychedelic twisted, and took alot of inspiration from the oldscool sounds
of the early 90/s like Koxbox,Psychopod, X-Dream, Hallucinogen, TIP, Parasense,Orichalcum, Slinky Wizard, Etnica, Doof,MWNN,
Elysium, Prana, Hux Flux, old Rastaliens, Total Eclipse,old Xenomorph, Logic Bomb and many more......
[ianuaria.com]
●●RIDDEN
(Harmonia Records)
Ridden is the breakthrough project developed by Michael Chavales, a sound engineer born in Athens, Greece in 1983.
With a deep interest in music technology, Michael started producing psychedelic trance music in 2005, after attending his first festival.
It wasn't until 2008 that he joined Harmonia Records and the "Ridden" project was finally born. With two full albums in his background, "Art & Science"
and the latest "Journey of Enlightenment" along with many other releases and collaborations in compilations he has managed to captivate even the most
demanding listeners.
With a growing international reputation, Ridden has participated in numerous major events, making a great impact in any performance.
His production characteristics are heavy kick drums, warm baselines, dreamy rhythms and alluring melodies imprinting his distinct signature sound!
soundcloud
●● WEIRDEL Live set
(Ovnimoon,Goa Records)
WeirDel started playing music at 2000.Started as a dj but over the years dealt with the production of psytrance and forest trance music.
Now he is a producer on Geomagnetic-Ovnimoon-Digital Drugs Coalition-Goa Records-Boundless-EDM-Discovalley Records and member of
Natural High Family Athens Greece!!!Behind the project is Pantelis Kontodimos!!Born in Athens Greece 1983!!!
[weirdel.gr]
►►►DJ SETS
●● IRAKLIS MINDPHASER
(Natural High,V.V.)
[facebook.com]
●●Djane ISIS
Soundcloud.com/isidora_djane_isis
●● Dj INVISIBLE
(Natural High)
Deco
Deco
●● Fluo & UV Decoration by Optic Alchemy!
+ HyperColour Laser show by Natural Labs!●●
Info
Info
~Facilities
► Powerful Soundsystem Installed by Dynacord
► Friendly Security and Friendly Bar Prices.
► The Club Is Fully Airconditioned.
► Natural High mini shop
Location
Location
X-Battery Stage
Kifisou Avenue 38(KTEL Kifisou) Athens
Entry fee
Entry fee
EnTrance :on Door 12 euro !!!
Organizer
Organizer
Natural High Psy Trance Family