Natural Frequencies 5 - Synaptic Dreams 5 years anniversary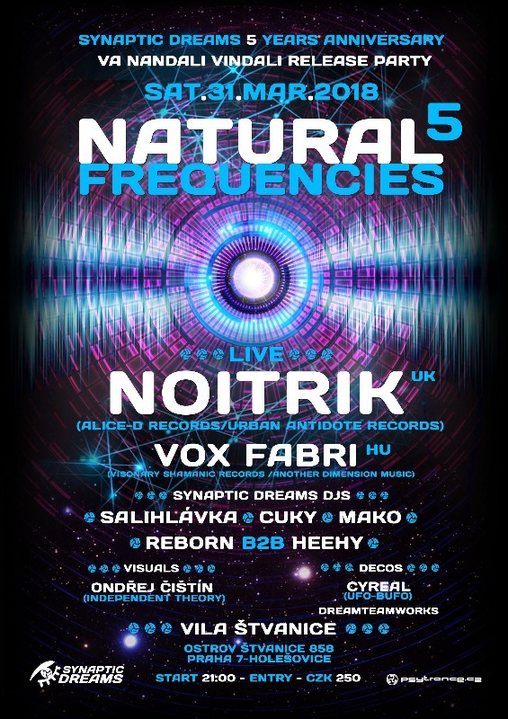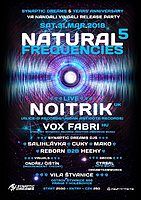 Line Up
▂ ▃ ▅ ▆ █ ★ NATURAL FREQUENCIES 5★ █ ▆ ▅ ▃ ▂
✶✶✶✶✶✶✶✶✶✶✶✶✶✶✶✶✶✶✶✶✶✶✶✶✶✶✶✶✶✶✶✶✶✶✶✶✶✶✶✶
★SYNAPTIC DREAMS 5 YEARS ANNIVERSARY ★
★VA NADALI VINDALI REALEASE PARTY★
…………(0 0)
.—oOO– (_)—
╔═════════════════╗
║ Invite your dearest friends ║
╚═════════════════╝
'———————-oOO
……..|__|__|
………. || ||
……. ooO Ooo
Even though it seems like yesterday when we decided to devote a part of our lives to psytrance, it has been full 5 years, 5 years of gatherings, parties, afterparties and festivals. We've encountered many events, the possitive and less postive ones.
Now it seems to be the right time to properly celbrate, evaluate and realize everything that has gone on, look back at the past and recall all those adventures we've experienced together. However, we won't be just reminiscing. We'll give free rein to our imagination. We'll let our ideas and visions of what else we'll achieve together be carried away on waves of phantasy.
So please accept our invitation and come celebrate with us. Let's face the future together!
✶✶✶✶✶✶✶✶✶✶✶✶✶✶✶✶✶✶✶✶✶✶✶✶✶✶✶✶✶✶✶✶✶✶✶✶✶✶✶✶✶
★★★ Live ★★★★
► NOITRIK (Alice-D records/Urban Antidote records) UK
soundcloud
[facebook.com]
►VOX FABRI (Visonary shamanic reocrds/Another dimension Music) HU
soundcloud
[facebook.com]
★★★ Synaptic Dreams DJs ★★★
► SALIHLÁVKA
► REBORN b2b HEEHY
soundcloud
soundcloud
► CUKY
► MAKO
★★★ Decos ★★★
► CYREAL (Ufo Bufo)
[facebook.com]
► DreamTeamWorks
★★★ Visuals ★★★
► mapping by ONDRA ČIŠTÍN (Kinocirkus/Independent Theory)
Entry:
250kč
▂ ▃ ▅ ▆ █ ★ VILA ŠTVANICE ★ █ ▆ ▅ ▃ ▂
Ostrov Štvanice, č.p. 858
170 00 Praha 7
Location
Location
Ostrov Štvanice 858, 170 00 Praha, Česká Republika
Organizer
Organizer
Synaptic Dreams Records