Natural Exposure Xmas with Etnica - Pantomiman - Weirdel & Mindphaser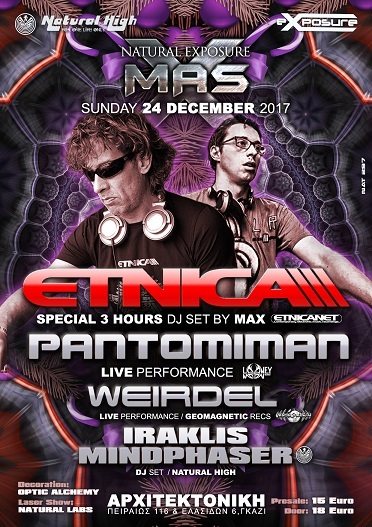 Line Up
Natural Exposure presents its Xmas event in Athens on Sunday 24 December 2017 at Arhitektoniki Live Music Stage featuring some of the hottest names of the psychedelic trance scene !!!
Facebook Event Link :
[facebook.com]
Line Up :
MAX LANFRANCONI from ETNICA-PLEIADIANS (Etnicanet / Ibiza) Special Xmas DJ Set !!!
[facebook.com]
PANTOMIMAN (Looney Moon Records / Russia) Live Perfomance
[facebook.com]
WEIRDEL (Geomagnetic Records / Greece) Live Perfomance
[facebook.com]
IRAKLIS MINDPHASER (Natural High / Greece) DJ Set
[facebook.com]
PRESALE TICKETS 15 EURO UNTIL 23 DECEMBER
TICKETS ON THE DOOR 18 EURO
Information Lines Cosmote Whatsup 6984235330 and Vodafone CU 6946496006
1000 People Capacity
Extra Powerful Soundsystem Installed For This Special Night
Laser Show by Natural Labs
Fluo & UV Decoration by Optic Alchemy
Friendly Security & Friendly Bar Prices
Date of the event is Sunday 24 December at Arhitektoniki Live Music Stage (Pireos 116 & Elasidon 6, Gazi, Athens) and doors will open at 23:00
No illegal substances will be tolerated, respect the hospitality of the venue and help us to protect our scene.
Management reserves right to refuse admission. Age Limit 18+
See You On The Dancefloor !!!
Location
Location
Arhitektoniki Live Music Stage (Pireos 116 & Elasidon 6, Gazi, Athens)
Entry fee
Entry fee
PRESALE TICKETS 15 EURO UNTIL 23 DECEMBER

TICKETS ON THE DOOR 18 EURO

Information Lines Cosmote Whatsup 6984235330 and Vodafone CU 6946496006
Organizer
Organizer
Natural Exposure