Natural Exposure : Conwerter / E-Mov / Mindphaser & El Mahico SAT 26 FEB ATHENS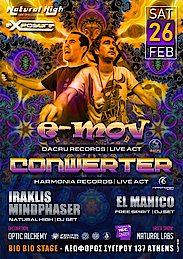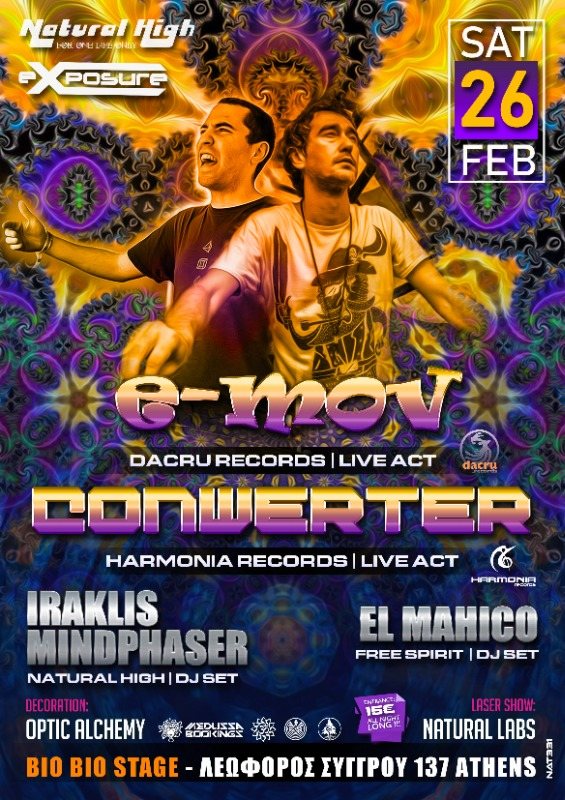 Line Up
Natural Exposure presents Conwerter / E-Mov / Iraklis Mindphaser & El Mahico in Athens at BIO BIO STAGE on Saturday 26 February 2022 !!!
Facebook Event Link
[facebook.com]
Line Up :
CONWERTER (Harmonia Records) Live Perfomance
[facebook.com]
E-MOV (Dacru Records) Live Perfomance
[facebook.com]
IRAKLIS MINDPHASER (Natural High) DJ Set
[facebook.com]
EL MAHICO (Free Spirit Records) DJ Set
soundcloud
15 Euro Entrance At The Door All Night Long !!!
Information hotlines Cosmote Whatsup 6984235330 & Vodafone CU 6946496006
Powerful Soundsystem.
Laser Show by Natural Labs.
Fluo & UV Decoration by Optic Alchemy.
Friendly Security & Friendly Bar Prices.
The event will take place on Saturday 26 February at BIO BIO STAGE located at Leoforos Singrou 137, Athens (next to Alcatraz Erotic Stage) and doors will open before midnight.
Location
BIO BIO STAGE located at Leoforos Singrou 137, Athens (next to Alcatraz Erotic Stage)
Organizer
Organizer
Natural Exposure