Backend
Namaste & OZON in EspaiFuturama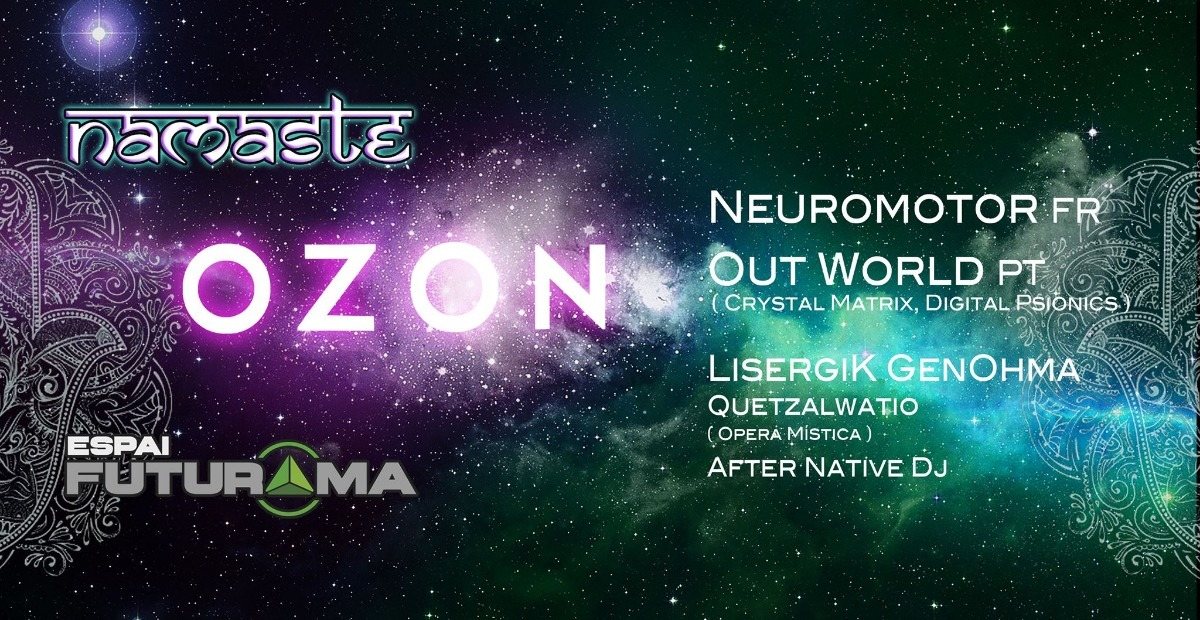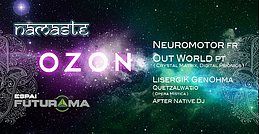 Line Up
NEUROMOTOR ( Francia ) Dj y productor desde hace 30 años a
[quadrabooking.com]
Neuromotor is Frederick Ali Talaa, one of the pioneers of the Global Psychedelic Dance Music scene with over 20 years of inspiring people to groove and move. On staring
A high energy force that has been consistent in making waves, Neuromotor has recently carved dance floor smashing sonic stories for some of the major psychedelic trance labels including Nano Records & Fractal Records.
Fred being a classically trained musician, his multiple releases in the past, for the industry's most proficient underground labels from Peak Records and Paradiso Records to Paravati Recors and Bom Shanka Music showcases his diversity of redefining the psychedelic dance-floor.
His first album "Neuro Damage" released on the legendary techno-trance label Acidance Records in 1999 and sold around 50,000 copies and with that turbo energy, in 2001, he started his own label called Mechanik Records.
Having created a powerful foundation in his musical thoughts, ideas and directions, Neuromotor continues to experiment with the trance dance music experience, defying the concept of sticking to one particular genre through the numerous singles, special collaborations, eps & remixes planned for as part of future releases.
Neuromotor has been constantly referred to as one of the best Live Performance acts in the trance dance arena with energy fueled appearances in over 5 continents and numerous countries including Japan, Australia, New Zealand, India, Nepal, North Africa, United Arab Emirates (Dubai) Russia, Scandinavia, Germany, Belgium, Spain, England, Ireland, Canada, United States, Mexico, Guatemala, El Salvador, Costa Rica, Brazil, Peru, Argentina & other Eastern European countries to name a few.
Amongst his alter go duos successful are ESXS, Growling Moon Spirits, Plastyk Elephant, Neurochrome, Los Diablos and the most talked about, The Crazy Lions Cult by collaborating with artists like Hyperfrequencies, Electrocult, Shanti, Chromatone, Phatmatix, Mechanix, among the dozens of them.
His sets at Boom, Ozora and many other music festivals, gatherings and tours in countries including India & Mexico have been unforgettable and a massive shout out to everyone who has facilitated, supported, bought, played, danced and experienced Neuromotor for all these years! He's just getting warmed up.
Currently based in Barcelona, Fred continues telling his uniquely constructed frequencies for the mind, body and soul. Like most talented musicians, giving back to society through his teachings is an idea he always dabbled with and it is with this vision that he created an Academy to teach music production. With his certification as Apple "Logic Master Pro", Fred is now is one of the highest regarded teachers of sound design and audio storytelling amongst the new wave of top-quality producers in the genres of Techno, Trip Hop, Deep House, Electro and Trance. Fred also produces music for movies and mainstream artists within the Trap, Indie-pop & Electro genre.
His methodology while approaching audio creation or teaching is a combination of high energy experimentation that pushes boundaries and develops immediate neural connections with the listeners/learners. Neuromotor audio experiments will always hold the high-quality high-energy psychedelic structure and combined with his live performances, it will be where the force meets the troopers and dance-floor bursts into fractals of magical ideas, genre no bar.
OUT WORLD ( Cristal Matrix, Digital Psionics, Portugal )
[quadrabooking.com]
Out World is Rodri Andrade from Portugal but living in Bcn . After finishing his degree in Electronic Music Production and 2 years after in Audio Engineering he decided to stay.
His musical journey started with guitar classes and music theory at 12 creating even a rock band with some friends. After a while he discovered electronic music and its potential so started to go to parties with different styles of music and in 1998 he found himself in a big open air party in the forest..the music was psytrance and with only 15 years old a true passion started..Bought some equipment and 2 years later Rodri was already djing, taking the step of making and producing is own music was just a matter of time.
Out World music defines itself for creating stories and spreading messages to the listeners, the objective is to give to the people a really experience on the dancefloor, to take them on a journey, make them go "out of their heads" and try to reach a new level of consciousness.
Music was always one of the oldest forms of expression, we can use it as tool to create different realities and different worlds…our OUT WORLD .
Soundclouds
soundcloud
soundcloud
Beatport releases
[beatport.com]
[beatport.com]
-Lisergik GenOhma Live+Dj set
Quetzalwatio - Sergio Pelayo ( Opera Mística ) étnic instruments, native flautes, didgeridoo etc
AfterNative Dj ( musiConcept Espai Futurama)
Soundclouds
soundcloud
soundcloud
Info
Info
NAMASTE en colaboración con OZON ofrecen en Espai Futurama de Terrassa esta sesión especial
Location
Location
Espai Futurama

Font Vella 78, 08221 Terrassa