Nahual Spirit Festival 2023
· Today ·
Starts in

6h 56min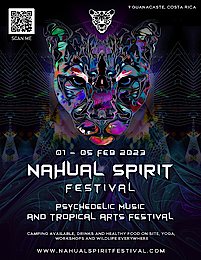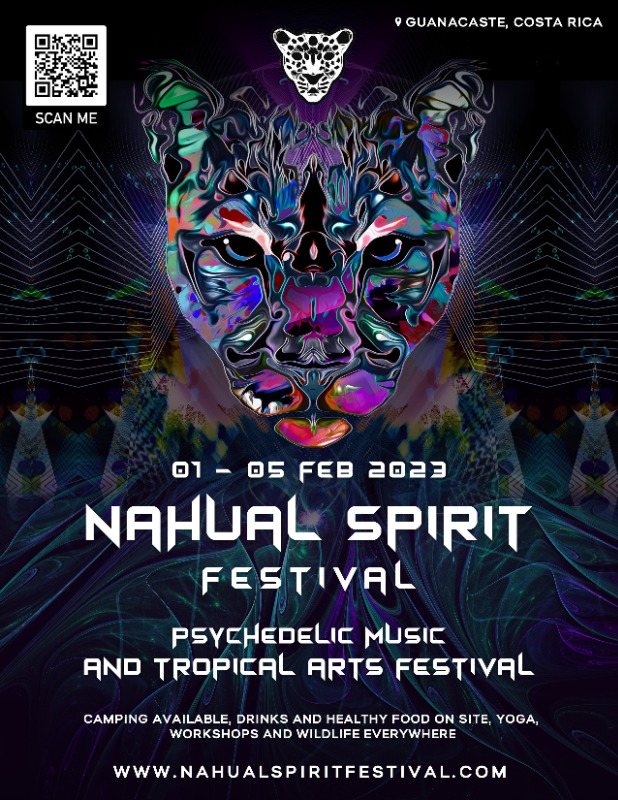 Line Up
LIVE ACTS

Kabayun 🇺🇸 (Live Act) SANGOMA RECORDS
Daksinamurti 🇩🇪 (Live Act) SANGOMA RECORDS
Superluminal 🇺🇸 (Live Act) SANGOMA RECORDS
Cocodrilo 🇲🇽 (Live Act) Purple Hexagon Records Cocodrilo / Purple Hexagon Records
Holon 🇲🇽 (Live Act) New Skulls Records Holon
Deuteroz 🇲🇽 (Live Act) Padang Records & Enki Lab Records
Hamssa 🇲🇽 (Live Act) Enki Lab Records Hamssa Psytrance
R2 🇨🇷 (Live act) Looney Moon Records
SEV 🇨🇷 (Live act) Soma ritual records
Borucca 🇨🇷 (Live act) Hekwapi récords
Synthetic Samadhi 🇨🇷 (Live act) Isotropic Sounds, Dream Crew, Psy Unity
Crooked Mind 🇨🇷 (Live act) Banyan Records
Coska 🇩🇰 (Live act) Paranomal Rec
Tonal Sense 🇬🇹 (Live Act) Enki Lab Records
Arkam 🇨🇷 (Live Act) Modular Frequency Records, Trilochanaa Records
Mantradelic 🇲🇽 (live Act) Popol Vuh Rec, AncientDruidsRec, Açaí Rec
Tsokör 🇨🇷 (Live act) U-Suré records
FunkAssociation 🇲🇽 (Live act) Enki Lab Records
Arbolunar 🇲🇽 (Live act) Codices Naturales Records
Partícula de Dios 🇨🇷 (Live act) TMPL



🎚DJ SETS 💿🎧

Dharma 🇨🇷 (Dj set) Digital Shamans Records
Panicat 🇸🇻 (Dj set) Irori Music / Mind Ctrl
Eliom 🇨🇷 (Dj set) Stonehead Records / Love Corp
Loocifer 🇸🇪 (Dj set) Independent
Kiran 🇩🇪 (Dj set) Independent
Apaq 🇨🇷 (Dj set) Nahual Spirit
Meik 🇩🇰 (Dj set) Harkali records / Skizodelic Mind
Humansse 🇲🇽 (Dj Set) Enki Lab Records
TONIA 🇲🇽 (Dj Set) New Skulls records
Blue Man 🇨🇷 (Dj Set) Psynomads
Namu 🇨🇷 (Dj Set) U-Suré records
Crown 🇨🇷 (Dj Set) Bipolar Soundsets
Medussa 🇨🇷 (Dj Set) Bipolar Soundsets
K 🇨🇷 (Dj Set) Bipolar Soundsets / Melted Brain Records
D-cosmic 🇨🇷 (Dj set) Chicken music cr
Canna Dub 🇨🇷 (Dj Set) Psynomads
Q´anil 🇨🇷 (Dj Set) Enki Lab Records / Nahual Spirit
Vampyromorpha 🇺🇸 (Dj set) Hella Frosty
Units
DropaStone 🇨🇭 (Dj Set ) Skeleton Syndicate
Entheon 🇲🇽 (Dj set) Hunab-Ku / Popol-Vuh records
Fischmehl 🇦🇺 (Dj set) Hunab-Ku Records
Ophiucox 🇨🇷 (Dj set) Psychedelic Vibes
Mr.Nob0dy 🇵🇦 (Dj set)
Winak 🇲🇽 (Dj set) Hunab-Ku / Popol-Vuh records
Torth 🇨🇷 (Dj set) FamilyTrip, Psyfunktion, Sobredose records
Lucretia Døse 🇨🇷 (Dj set) Son Letal
Sibokomo 🇨🇷 (Dj set) Independent


✂️Stages design 📏
Artístico World

🎥Visual Mapping 📽
VJ Infante


🖌 Visual Artists 🎨
Laetitia 🇫🇷 – Raul 🇨🇷 (Live painting) Espirit id x Laetitia' Lechner & Raul Martinez
Christopher Venegas 🇨🇷 (Graffiti Live Painting) Seguidores del Arte
Joss 🇨🇷 (Live painting) Huetara con el coco loco
David 🇨🇷 (Live painting) Siwa ikaro tigre
Kech 🇨🇷 (Graffiti Live Painting) Seguidores del Arte
Work 🇨🇷 (Graffiti Live Painting) Seguidores del Arte


🤹‍♀️ Performances 🤹‍♂️
Javiera 🇨🇱 & Franz 🇩🇪 (Performance organizers) Fire Space PV
Manfrezco 🇨🇷 (Fire Show) Nahual Spirit Fire Crew
Kat M 🇨🇷 (Fire Show) Kath Fuentez
Pelusa & Cata 🇨🇷 (Fire Show) Psytribe Crew Pelusa Velez & Catalina Gonzales
FireGreen 🇨🇷 (Fire Show)
Bractal flow 🇨🇷 (Fire Show)
More to be announce...


🧘‍♀️ Workshops 🔮
Mayi Luz 🇨🇷 - Yoga, Vinyasa Flow, kundalini
Hector 🇨🇷 – Bird Watching
Desastre 🇨🇷 – Juggling
Pibe 🇨🇷 – Useful Rainforest Plants & Rainforest Ecology
Plants in trouble 🇨🇷 Potting with recycled materials for urban gardens
Andrey Ramirez 🇨🇷 Taller de cuento corto con MSC
More to be announce...


💆‍♀️💆‍♂️Healing Area 🧙‍♂️
Ihuiltemok Bajlum 🇲🇽 Chiropractor and Qualified Herbal Advisor
Info
Info
To all our friends from all over the world and especially to those who are now part of this incredible loving family, we want to thank you for existing, we invite you to our Nahual Spirit Festival, the third festival in the tropical jungle of Costa Rica. We have suffered this horrible pandemic and we know that you have too, but that does not prevent us from dancing and believing that there is a universal energy that will unite us to share, smile and experience again.
We have prepared 5 camping days, starting on Wednesday, February 1, 2023 and ending on Sunday, February 5, 2023, where we will enjoy good music, quality sound system, excellent choice of artists, fire space (show area), bathrooms, showers, sales of food, drinks, crafts and more.
Location
How to get to Nahual:

From San José:

Airport to stations: walk out of the airport and get any bus to San José downtown, that cost about $1, get off in Torre Mercedez stop and walk 400 meters north to Pulmitan de Liberia Station or get a cab to Caribeños Station to get the Deldu bus to La cruz.

Pulmitan de Liberia station: 400 meters north from Torre Mercedez building. They have two buses directly to Santa Cecilia every day at 6:50 am, 12:30 at noon and 2:30 pm. The bus goes back at 4:00 am, 7:00 am and 2:00 pm.

This is the easiest from San José straight to Santa Cecilia where you can get the 10 minutes shuttle to Nahual every two hours.

You can also get the bus in the same station to Liberia (every hour from 6 am through 8 pm) and from the station on liberia walk one block towards the front side of it to get to the other public station, there are buses every hour to La cruz until 7 pm starting at 5 am, once in La Cruz get the bus to Santa Cecilia.

Deldu station: Located in the Caribeños Station (easy to find in google maps and all cab drivers know where it is), here you can find buses starting at 3:15 am to La Cruz, they don't have many but is easier since you don't have to change bus in Liberia and only have to get on the bus from La Cruz to Santa Cecilia to get the Nahual Shuttle.


From Liberia airport:

Walk out of the airport and then walk left to the beginning of the building where every half an hour there is a bus that takes you to the Liberia bus station, once there take the bus to La Cruz, from there take the bus to Santa Cecilia and once there the shuttle to Nahua at the place where everybody gets off that bus.


Other Locations in Costa Rica:

There are buses to Liberia from Tamarindo, Nicoya, Puntarenas. There are connections from everywhere to get to Liberia. From there to La Cruz and from there to Santa Cecilia to get the shuttle to Nahual.

From other countries in Central America:

Tica bus: Panama, Nicaragua, Honduras, Belize, Guatemala, El Salvador, México.

Central Line: Nicaragua and Honduras.
Added

1y 24d

· Update

11d 4h

·