n2o present the 4 elements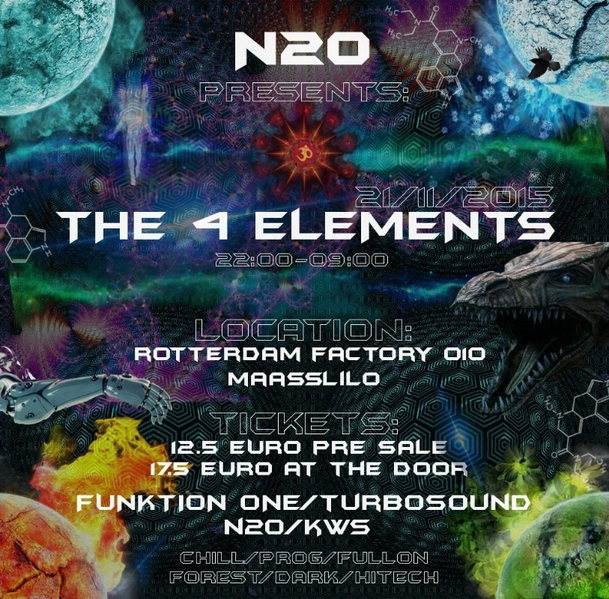 Line Up
Area 1: Water
Prog / Full-On
HYPNOCOUSTICS (Liquid Records) eng
soundcloud
MAYA (Y.S.E. - IT)
soundcloud
SOLADRIA (finland)
soundcloud
GOPA: Psychedelic.FM (nl) prog
SEMENTIX (nl) psychedelic.fm
LUCID SPIRIT (Lucid Spirit Records)
soundcloud
Area 2: Fire
HiTech
MIMIC VAT kamino rec. (pt)
soundcloud
PARANDROID: humaninstinct/freakrecords
soundcloud
PARALOCKS: Kamino rec. South Afrika
soundcloud
TEHUTI - Team Inifinity Funktion One (San Francisco)
soundcloud
I-LOGIC lunatic alien rec. Fr.
KATSUMI - (n2o audio) Be.
Area 3: Earth
Forest /dark/experimental
SCOPE (lost theory rec). be.
[scopeproject.com]
soundcloud
LEPTON (lost theory rec). be.
soundcloud
MEERKUT (Funky Freaks Records) fr.
soundcloud
DOGORA (Aura) (Finland)
soundcloud
SECRET SENSES (finland)
soundcloud
SHIVANKI - (3rd bit events) nl.
Area 4: Air
Chill-Out / Smoke Area
BLIEPERTRONIC chill dj
[facebook.com]
Harmonic Frequency
[facebook.com]
Info
SOUND:
FUNKTION ONE by N2O Audio
TURBOSOUND by KWS Audio
COMBI TICKETS IN PROGRESS BY ANOUGH RESERVATIONS.
PARTY+TOURINGCAR TICKET
Dear party people,
for the people who have no transport and want to go
to the party we try to give you the opportunity to come by touringcar.
Or if you want to party hard and not have to drive home yourself afterwards. ;)
bus 1: Groningen, Leeuwarden, Amsterdam.
if you like to go with this bus sent a email to,
busgroningenrotterdam@gmail.com
bus 2: Maastricht, Tilburg, Breda
if you like to go with this bus sent a email to,
busmaasstrichtrotterdam@gmail.com
bus 3: Gent, Antwerpen,
if you like to go with this bus sent a email to,
busgentrotterdam@gmail.com
We'll keep you updated in the next few weeks!
We need about 25/30 peolpe to fill up a bus. So if we have 25/30 mails on any of the email adresses we can start giving out the combi tickets.
We'll try to be more precice about the price a.s.a.p.
Spraid the word!
Please share this en invite all your friends for this amazing event :)
Location
Location
factory010, rotterdam
Entry fee
Entry fee
pre sale 12.50

at the door 17.5

combi tickets bus/entre in progress

more info about the combi tickets is coming soon
the bus+ ticket is only possible with enough interest.