Mystic Tribe | Willem Twee Poppodium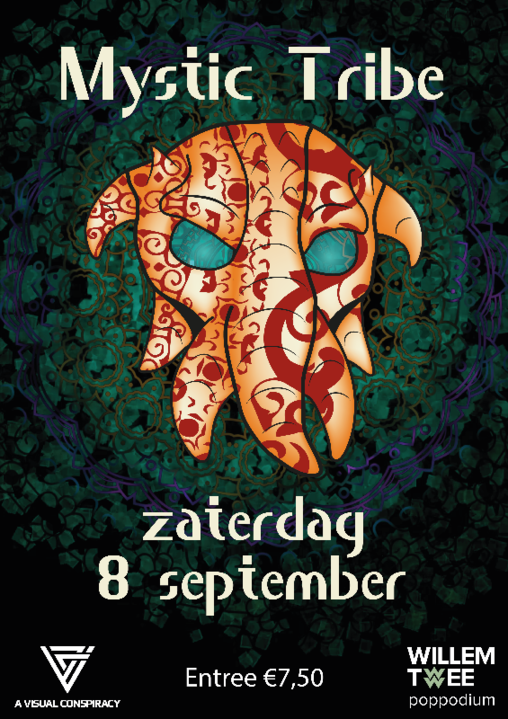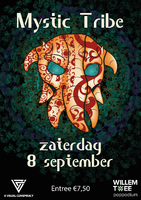 Line Up
Pystrance - Oldschool - Melodic
Full On - Live Act - Reggae/Dub
▸ Entree: 7,50
▸ Doors: 22:00 - 3:30
Let's gather our tribe voor de derde editie van Mystic Tribe.
Een nieuw jaar, nieuwe reis; ditmaal waggelen en stampen door de Sahara.
We openen gezamenlijk met LIVE trance act dus kom niet te laat!
youtube
Main Stage:
▸ keyaki 欅 Zelkova Echo; Live Trance (BE/Japan)
▸ Ethica (Yucka + B-Flip); Melodic/Fullon (NL)
▸ HandaPanda; Melodic/Fullon (NL)
Dub Area:
▸ Hosted by Oaks & Baggabiekk (Boomshakalak)
----------------------------------
Zelkova Echo (Live Trance Project)
Solo project van keyaki 欅
Live didgeridoo, percussie en elektronische dance.
Oorsprongkelijk uit Japan, woonachtig in Belgie. Heeft op verschillende festivals in Europa opgetreden, Buskersfestival, Street Art Festival, Yogafestival. Hij bracht 2 volledige albums uit en 1 digitaal mini-album.
[jimdo.com]
[click here]
soundcloud
Ethica (Yucka + B-Flip) (NL)
Twee producenten uit Nederland (Leiden/Den Bosch) met een missie om energieke earcandy te produceren voor verwarde zielen, rockende en schuddende dansvloeren over de hele wereld!
soundcloud
[facebook.com]
HandaPanda (NL)
Begon 10 jaar geleden als oldschool dj bij BoomBats. Verwacht melodische full-on met stampende beats, een full body expierence van head to toe. To blow our minds and come back in our bodies.
soundcloud
Oaks & Baggabiek (NL) (Boomshakalak Soundsystem/Nijmegen)
Roots Reggae, Dub, Digital Dub, Steppas, en Dubstep
soundcloud
[facebook.com]
Deco
Deco
Deco & Visuals by A Visual Conspiracy
Location
Location
Willem Twee poppodium
Boschveldweg 473, 5211 VD