Backend
Mystic Tribe | Willem Twee Poppodium ▸Naveya, Shamosis, BinnenOosten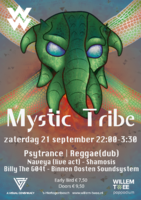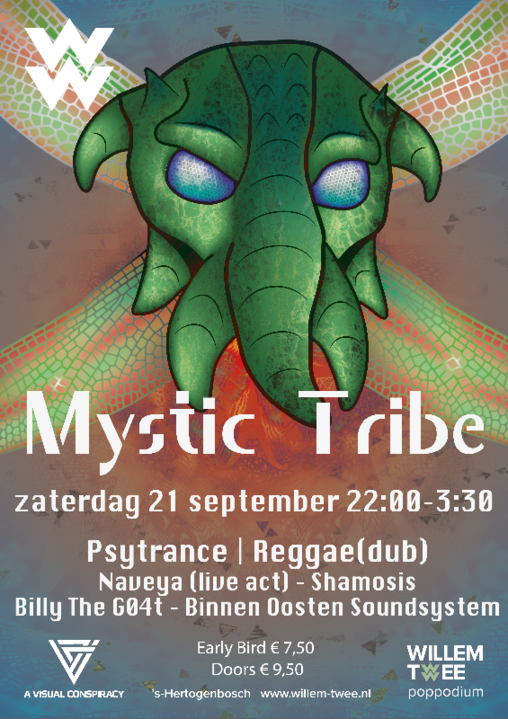 Line Up
Main Stage:
▸Naveya
▸Billy The Go4t
▸Shamosis
Naveya
Naveya is een samenwerking van drie musici die haar instrumenten Al deze invloeden smelten samen in een
rijke alchemie van sound, reizend van Stillness naar Ecstasy.
Op 7 Februari 2019 hebben ze hun 2e album 'II Duality' gereleased met een compleet 'immersive' show in Kytopia, Utrecht.
[facebook.com]
[bandcamp.com]
Shamosis (Global aura/ Sita records) (NL)
Kevin van Laanen (Mislukt) & Daan van Ham (Okape). Bekende Dj's van Global Aura nu aangesloten bij Sita Records. Hun eerste EP is nu verkrijgbaar;
Dance Of The Kirlia. Vanavond geven ze jullie het ultieme euforische gevoel met upliftende Melodische Nitzhgoa.
[facebook.com]
[sitarecords.com]
[bandcamp.com]
BILLY THE G04T
Onder een rode maan troffen ze hem aan in de tempel van Ruigoord / Landjuweel Festival, Van Breda tot in Berlijn gedraaid en sloot afgelopen New Years eve Party af bij de Willem Twee Poppodium.
Een unieke mix van Goa, Psytrance en Psychedelische Funk.
[facebook.com]
Binnen Oosten Soundsystem (22:00 - 3:30)
Collectief uit omgeving Tilburg. Vooral bekend van de Hall of Fame en Wadada Festival. De kleine zaal wordt omgebouwd met een Full Sound voor de echte liefhebbers! Verwacht een avond vol Roots, Reggae, Dub & Steppers.
[facebook.com]
Deco
Deco & Visuals by A Visual Conspiracy
Artwork by Van der Kraan Productions
Location
Vanaf het NS-station 's-Hertogenbosch loop je in ongeveer 10 minuten via de Boschveldweg naar Willem Twee kunstruimte en Willem Twee poppodium. De stad 's-Hertogenbosch is aangesloten op het NS-nachtnet. Check hier de actuele vertrek en aankomsttijden van trein en bus: ns.nl

Parkeren
In de directe omgeving zijn drie parkeerplaatsen in beheer van de Verkadefabriek; P1, P2 en P3. Let wel: meestal is er voldoende ruimte, maar bij heel grote drukte kunnen deze drie parkeerterreinen vol raken. Parkeren in de buurt is heel beperkt mogelijk en er wordt streng gecontroleerd. Houd daar rekening mee.
P1 & P2 Kosten: 50 cent per 20 minuten. Betalen: Chipknip (bij de slagboom) of contant (bij de betaalautomaat in de hal van de Verkadefabriek). Let op! Na sluitingstijd van de Verkadefabriek worden P1 en P2 afgesloten.
P3 Kosten: 50 cent per 20 minuten. Betalen: Pin (bij de betaalautomaat op het terrein) of contant (bij de betaalautomaat in de hal van de Verkadefabriek). 24 uur per dag open.