Mycelium Marshland - Mycelial Expansion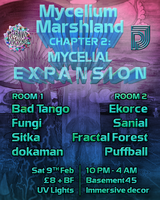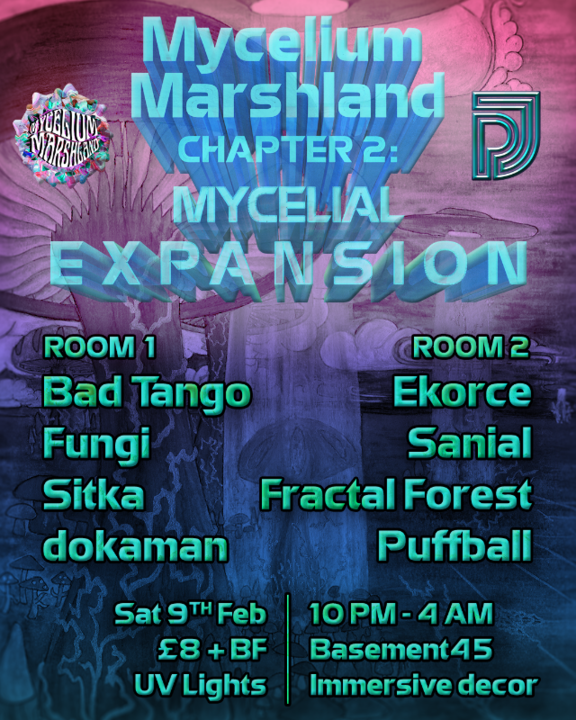 Line Up
Greetings Marshlanders! We are ecstatic to announce that we are returning! This time we are are migrating over to basement 45 for another night of psychedelic mayhem, this time spanning two rooms! Prepare to be transported into a world of immersive UV decor and mind blowing music!
More info and ticket details soon
Room 1 - Techno, Tech-Funk
Bad Tango [Broken Robot Records]
soundcloud
Fungi [Mycelium Marshland]
soundcloud
Sitka [Animal Behaviour]
soundcloud
dokaman
Room 2 - Psydub, Downtempo, Glitch - Hosted by Psychedelic Jelly
Ekorce (France) [Merkaba Music] (UK Debut)
soundcloud
Inspired by psychedelic music for many years, Kyrian launched the project Ekorce in 2014. The name is derived from the french word "écorce" emphasising the organic and raw aspects of his music. In the last year he has released with both Audio Alchemy (Hedflux's label) and Merkaba Music!
Sanial [Psy Jelly]
soundcloud
Label masterer for Psy Jelly and all round musical wizard Sanial will be bringing his unique style of psychedelic glitch to keep you moving your feet!
Fractal Forest [Psy Jelly/ Visionary Shamanics]
soundcloud
Co-founder of Psychedelic Jelly Fractal Forest will once again be gracing the decks to bring you plenty unreleased and forthcoming material!
Puffball [Psy Jelly]
soundcloud
Local producer Puffball's heavy dub and psychedelic influences result in delicious squelchy beats that you can't help but bounce to!
Deco
Mycelium Marshland & Psychedelic Jelly
Location
Basement 45,
8 Frogmore Street, BS1 5NA Bristol, United Kingdom
Organizer
Organizer
Mycelium Marshland; Psychedelic Jelly
Added

4y 23d

· Update

3y 11m

·