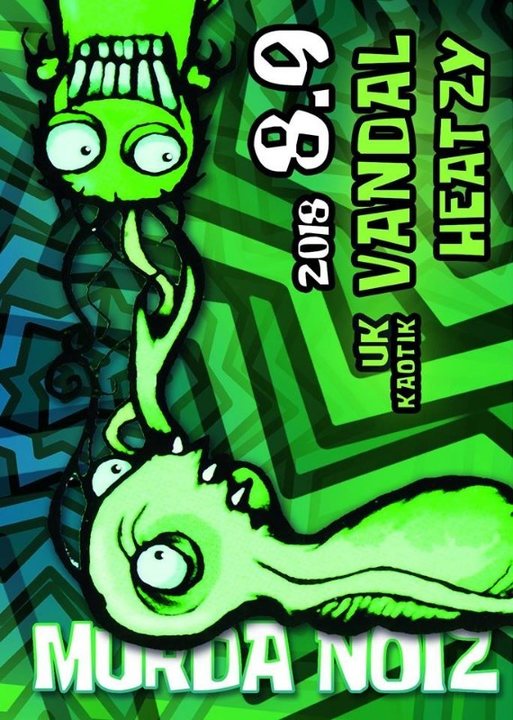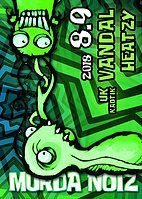 Line Up
1. Floor

Vandal
Heatzy
Hutek Impro42
Kymatek
Wickedsquad
N3ocort3x
Vjs: Gipsy Green & Miss G

2. Floor Psy

Trip Commander
Human Groove - Flow Rec.
Pendulux - Flow Rec.
Origin - 24/7 Records
Helios

3. Floor Jungle - DnB

Dropshop
Beneptic
Skruff
Rexar
Tonikum
Deco
Deco
Murda Noiz & Friends
Info
Nach der entspannenden Sommerpause sind wir wieder voll motiviert und freuen uns schon sehr darauf wieder mit VANDAL and his new hot MURDA NOIZ richtig abzugehen .

es gibt wieder 4 verschiedene Floors zu be-shaken.
also für jeden, der die schnelle elektronische Tanzmusik mag ,
ist sicher was dabei.

das ganze Lineup gibts in den nächsten Wochen online.

.......und nicht vergessen : watch out for the collectable flyer !
halte Ausschau nach dem Sammel - Flyer
teil 3 wird Anfang August verteilt !

unter allen, die einen ganzen Monsterbilderrahmen gesammelt haben , wird ein VIP Ticket verlost ;-)

......... also sammeln sammeln sammeln



für alle die jetzt denken : waaas ? schon wieder Vandal ?
er hat wieder richtig fette neue Trax für euch im Gepäck

also schnallt euch schon mal an, es wird wieder richtig murda mäßig abgehen.
Location
Location
Arena Wien
Baumgasse 80
1030 Wien
More events from Kay Siampsy