Backend
Multiversum by Comport - Cosmic Love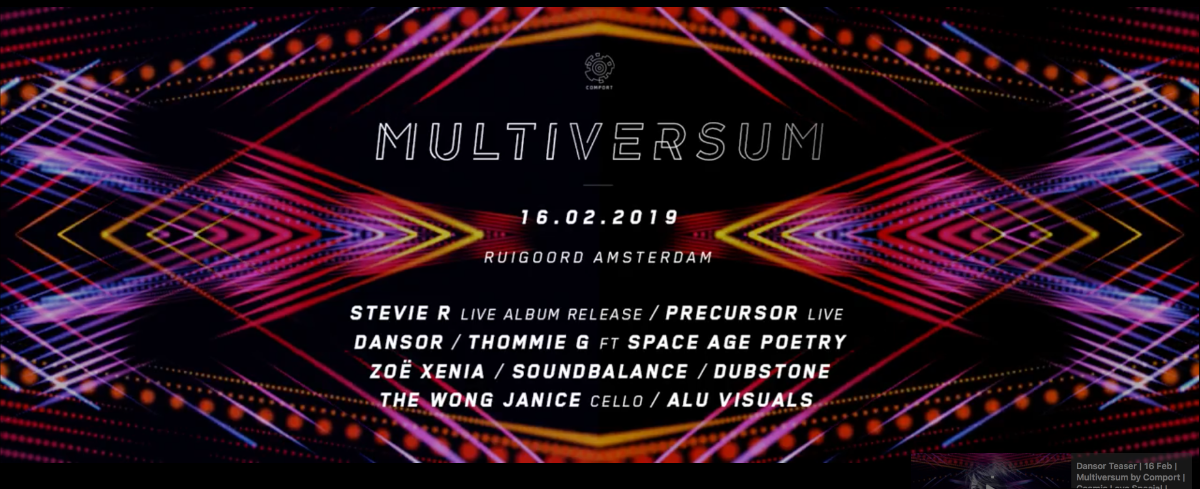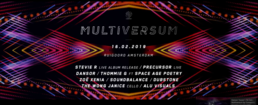 Line Up
◣ LINE UP ◢

Live Performances
Stevie R - LIVE (UK) | Melt { λειῶ } Album Release
Precursor - LIVE
Thommie G ft. SpaceAgePoetry - Spoken Word
The Wong Janice - Cello Performance

DJs
DANSOR
Zoë Xenia
Soundbalance
Dubstone
Deco
Visuals by Alu Visuals
[tumblr.com]
Space Couture by Jos van der Meer
Info
After a mindblowing ADE edition in association with Do Not Sit On The Furniture, Comport Records' MULTIVERSUM is back at the church of Ruigoord with a Cosmic Love Special on February 16th, 2019.
MULTIVERSUM is a place where underground electronic music is blended with cutting-edge installations and live performances to create a unique experience - at a special location.
This new event is intimately connected to new technologies and aim to open a space for artists to join forces and create an experience all-together.
Music Producers, Live Musicians, Visual & VR Artists, Creative Technologists and Fashion Designers.
We are a network of creative minds sharing a positive vision of the future.
#TheFutureIsUs
Event theme / dresscode: COSMIC LOVE
◣ ABOUT COMPORT ◢
Since 2010, Comport Records has been a pioneering force of the underground electronic music circuit, experimenting with a fresh fusion of sounds and branching out into unknown territories. Comport Records is known for its innovative, cutting edge style and unique vision. The label represents a diverse international selection of tastemakers including artists such as Dansor, Thomas Gandey, Onur Ozman, Rumex, Andrea Ljekaj, Zoë Xenia, Just Her, just to name a few, that make up their roster. Comport is more than just a label, it's a movement blending all elements of music, art, technology, fashion, and events into one interactive spectacle.
[facebook.com]
soundcloud
[instagram.com]
◣ ABOUT RUIGOORD AND THE VENUE ◢
« Empower the Imagination »
Ruigoord is a creative village surrounded by an industrial harbour atmosphere just outside Amsterdam. In 1973, the abandoned village was squatted by a group of artists from Amsterdam and has since become a small but flourishing community. It has been the source of many major Dutch creative movements and continues to play a central role in Amsterdam's underground art scene.
[facebook.com]
◣ GETTING THERE BY PUBLIC TRANSPORT◢
Ruigoord is about 15km from the centre of Amsterdam and easily accessible:
From Amsterdam Sloterdijk take bus 382 direction IJmuiden and stop at Ruigoord.
The last bus leaves at 00:21 from Sloterdijk.
More info:
[9292.nl]
◣ WANNA HAVE A FREE RIDE? ◢
Be smart and install the ViaVan app, a cheap alternative for Uber.
Use this promocode: anett8u4
and get a free ride worth of €15 to Ruigoord.
[viavan.com]
Location
Ruigoord 76
1047 HH Amsterdam, Netherlands
Entry
◣ TICKET PRICE ◢
€ 12 ex fee - Early Bird
€ 15 ex fee - 2nd Release until Jan 18th
€ 20 ex fee - until full capacity
◣ TICKET LINK ◢
[eventbrite.com]
◣ Resident Advisor ◢
[residentadvisor.net]
Organizer
Organizer
Comport Records