Backend
Multiverse Online Psychedelic Festival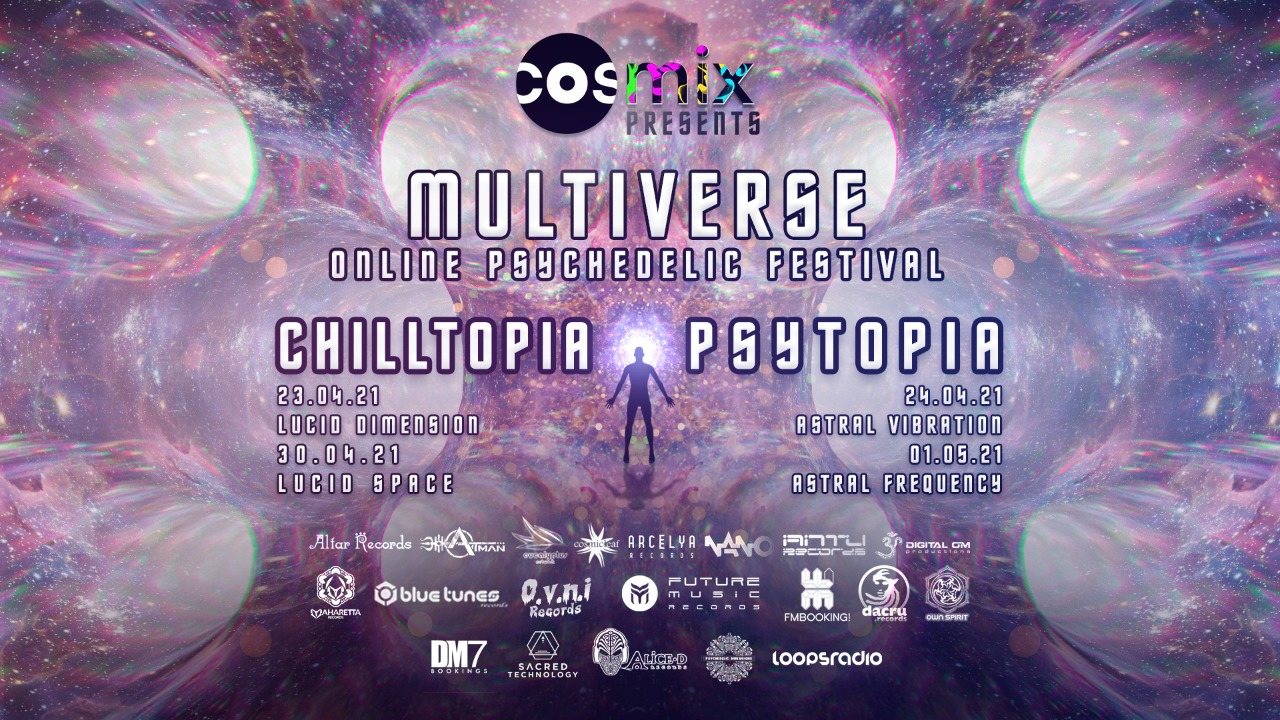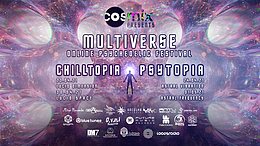 Line Up
CHILLTOPIA ॐ
LUCID DIMENSION
23.04.2021
22:00 🎧 INCREDIBLE SCIENCE (PSYCHEDELIC DIMENSION - TURKEY)
🎶
soundcloud
23:00 🎧 LYDIA (ALTAR RECORDS - SERBIA)
🎶
soundcloud
00:00 🎧 COSMIC DUST (ALTAR RECORDS & ATMAN FESTVIVAL & EUCALYPTUS NETWORK - INDIA)
🎶
soundcloud
01:00 🎧 ARGUS (ALTAR RECORDS - SERBIA)
🎶
soundcloud
02:00 🎧 G.M.O (BLUE TUNES RECORDS & COSMICLEAF RECORDS - GERMANY)
🎶
soundcloud
✨✨✨✨✨✨✨✨✨✨✨
PSYTOPIA ॐ
ASTRAL VIBRATION
24.04.2021
22:00 🎧 PONDORA (BANDORA RECORDS - ISRAEL)
🎶
soundcloud
23:00 🎧 TROPICAL BLEYAGE (DACRU RECORDS - SERBIA)
🎶
soundcloud
00:00 🎧 SKIZOLOGIC (FM BOOKING & FUTURE MUSIC RECORDS - ISRAEL)
🎶
soundcloud
01:00 🎧 AMPLIFY (ANTU RECORDS & MAHARETTA RECORDS - MEXICO)
🎶
soundcloud
02:00 🎧 BRAINCELL (NANO RECORDS - SWITZERLAND)
🎶
soundcloud
03:00 🎧 NAZARI (MAHARETTA RECORDS - SPAIN)
🎶
soundcloud
04:00 🎧 ATHZIRA (OVNI RECORDS - GUATEMALA)
🎶
soundcloud
✨✨✨✨✨✨✨✨✨✨✨
LUCID SPACE
30.04.2021
22:00🎧 CHRONOS (ALTAR RECORDS - RUSSIA)
🎶
soundcloud
23:00 🎧 I.M.D (ALTAR RECORDS - MEXICO)
🎶
soundcloud
00:00 🎧 SUDUAYA (ARCELYA RECORDS - FRANCE)
🎶
soundcloud
01:00 🎧 SOULFUL WHALE (COSMIX CREW - TURKEY)
🎶
soundcloud
02:00 🎧 MOBITEX (ALTAR RECORDS - ISRAEL)
🎶
soundcloud
✨✨✨✨✨✨✨✨✨✨✨
ASTRAL FREQUENCY
1.05.2021
22:00 🎧 RELATIV (DIGITAL OM PRODUCTIONS - SERBIA)
🎶
soundcloud
23:00 🎧 HYPNOISE (MAHARETTA RECORDS & ANTU RECORDS - SPAIN)
🎶
soundcloud
00:00 🎧 HYPATIA (DIGITAL OM PRODUCTIONS & OWN SPIRIT FESTIVAL - SPAIN)
🎶
soundcloud
01:00 🎧 ITAL (ANTU RECORDS - CHILE)
🎶
soundcloud
02:00 🎧 NOFACE (SACRED TECHNOLOGY - ISRAEL)
🎶
soundcloud
03:00 🎧 EDDY BLACK (COSMIX CREW - TURKEY)
🎶
[click here]
04:00 🎧 DARK WHISPER (ALICE-D RECORDS - ITALY)
🎶
soundcloud
Info
Cosmix Proudly Presents;
Multiverse
Online Psychedelic Festival
(23.04.2021 - 02.05.2021)
Welcome to Multiverse, our inter-universal gathering with the participation of 24 brilliant artists from 14 countries.
Our first journey will start in the Chilltopia Universe on April 23 by offering a deep experience of sound between the amazing selections of Psychill and Psybreak in the Lucid Dimension Galaxy.
On April 24, Psytopia Universe, Astral Vibration Galaxy will lead us through an intense experience from Psyprogressive to Hi-Tech.
On April 30, We will return to the Chilltopia Universe, this time we will embark on a mystical Chillgressive journey within periphery of the Lucid Space Galaxy.
Our last stop on May 1 is the Psytopia Universe, the Astral Frequency Galaxy. We will end our journey with Hi-Tech after wandering around all of Fullon's sub-genres with the full power of great sound.
You can experience this unique musical journey on Loops Radio.
via
[loopsradiotrance.com]
Beautiful flyer design;
[instagram.com]
Lovely Banners;
[instagram.com]
Added

1y 1m

· Update

1y 1m

· 1