Moon Maya Gathering 2019 (Nepal)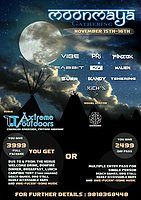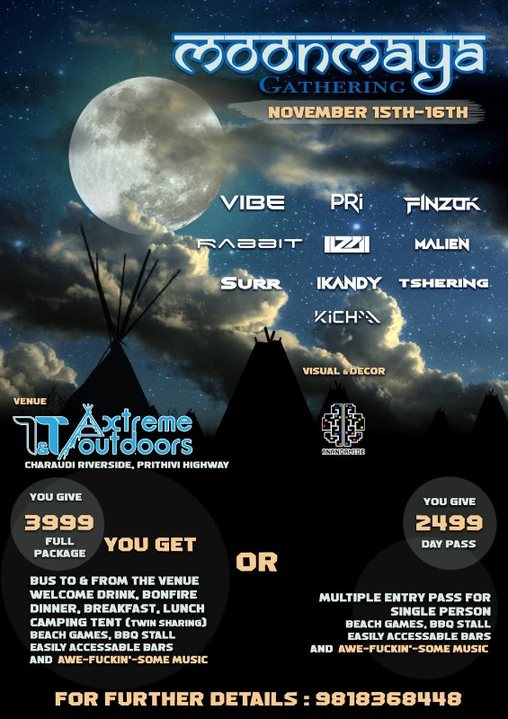 Line Up
MOONMAYA GATHERING 2019
Line Up

-Vive(909)
- PRI
-KICHA
-Finzok
-RAbbit
-IZZI(909)
-MALIEN(INVISION RECS)
-SURR
-IKANDY
-TSHERING

You can Trust Invision Events as its the Only Genuine Government Register Company In Nepal, Not Only That we are Professional Team Mates Working Together all The Top n professionals In Nepal and we confirm our Line Up Before Posting. Be aware OF Fake Event In Goa Base In Nepal, as any one can post in Goa Base,Its My Responsibility to Take care Of Our Brothers and Sisters and friends Who Visit Nepal and Who wants to have a Great Time In Nepal, We are Not Here to Loot You but, Give you Proper Entertainment and Get away Event in Nepal where we care bout your Precious Time and Earnings.
Deco
VISUAL/ DECO by ANANDAMADE VISUAL
Info
Info
We're all mysteriously attracted to the moon. It's believed that moon phases have a significant effect in our mind and body. Traditionally, every Full moon is a festival Nepal. Perhaps our ancestors knew something pretty well that we don't comprehend anymore. But we want to make sure that we celebrate it in our own way. Our goals is to create a gathering that facilitate interaction and communication between similar minded people who preach Peace and Love.

Moonmaya Gathering offers high quality electronic music experiences at location surrounded by green hills: right next to the Trishuli River. The gathering features performance from nationally renowned DJs and visual artists in a relaxed, natural and inspiring atmosphere. It's an musical event that unites people together to celebrate Moon and Maya under the same moonlit sky.

Tickets are limited in number. A Full ticket for the gathering gets you driven on a party bus to TNT extreme adventure resort at Charaundi on 15th Nov and back to kathmandu on 16th Nov. After dumping your bags in the assigned tents at the resort, ALL YOU DO IS PARTY and RELAX. Delicious dinner, breakfast and lunch are taken care of. All the gathers (those who purchase the day pass) have access to 24hrs paid bar, food stalls, bonfires and of course non stop amazing music by our talented artists.
See you all there!
Location
AXTREME OUTDOORS -River Side Camping, With Outdoor Games, Good foods, drinks, camping,Will Take Every party ppl to the Secreat Venue From Meeting Point In Kathmandu.
Entry fee
Entry fee
3999 Package or 2499 please Check On The Flyer For more details
Organizer
Organizer
INVISION PROMOTING PARTNER
Call Malien for tickets Booking 977-9813178500 or Grab Your Tickets from ELECTRIC PAGODA (EP)
ADDRESS (SEVEN CORNER STREET), Thamel, Kathmandu
Web
[facebook.com]
ALL EVENTS IN NEPAL YOUR FLYER UPDATER GROUP ON FACE BOOK.
[facebook.com]
Your FacebOok Event Link
JUST COPY AND PASTE It. CHeers
Added

3y 2m

· Update

3y 2m

·