Moolight Ocean -Summer Solctice-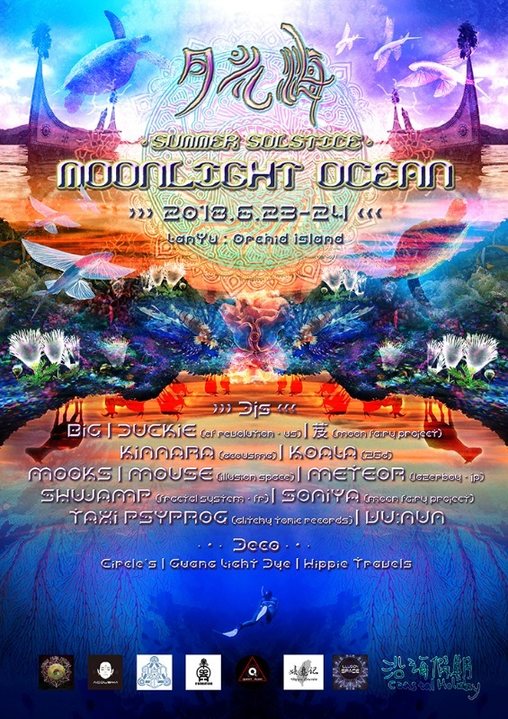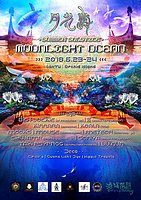 Line Up
٠•٠ Djs ٠ •٠
>>> Big (TW)
>>> Duckie (EF Revolution) (US)
>>> 芨 (Moonfairy Project) (TW)
[click here]
>>> KINNARA (Acousma) (TW)
soundcloud
>>> Koala (26D) (TW)
soundcloud
>>> Meteor ( Lazerboys / Maimai bros.) (JP)
>>> Mooks (TW)
[click here]
>>> Mouse (Illusion Space) (TW)
[click here]
>>> Shwamp (Fractal System) (FR)
[bandcamp.com]
>>> Soniya (Moonfairy Project) (TW)
[click here]
>>> Taxi Psyprog (Glitchy Tonic Records) (TW)
[click here]
>>> VU:NUN (TW)
[click here]
٠• music ranging from Psy-chill, Full-on to Forest, we are about to gathering to experience the psychedelic tribe... •٠ ٠
Info
٠• Link Event •٠
[facebook.com]
>>> 夏至月光海 <<<
第一天從中午的那一刻音樂開始走過日落,到月初的晚上看著月光, 照映在海面上發亮直到晚上12點後休息。好好的享受大自然的蟲鳴鳥叫、大青蛙的聲音與海浪聲,直到第二天太陽再次升起,早上8點,開啟音樂一路狂舞到日落結束。想充電的舞客好好把握這次的充電來蘭嶼,吸取日月能量,載著滿滿的能量回程 。
Moolight Ocean -Summer Solctice-
With the moon, with the sun, the incredible natural landscape of Lanyu (Orchid Island) ; full of magic with ancient tribe energy around this amazing magical southern island. music ranging from Psy-chill, Full-on to Forest, we are about to gathering to experience the psychedelic tribe...
Notice:
1. Please bring your own campaign equipment, warm clothes, torch, hat and sun glasses.
2. To maintain the natural environment, please classify and recycle your own trash, DO NOT leave any garbage behind.
3. Swimming is not suggested since the area around the venue can be quite dangerous. You are welcome to go diving with professional coach around.
4. We have a no drug, no violence policy and co-operate with the police together to enforce this.
5. In case of typhoon and natural disasters occur, the event will be postponed, tickets refund is unacceptable.
6. We have an alcohol check point at the entrance, no outside alcohol is allowed.
7. Please respect the local community and do not take photos of the local people and their houses without asking for permission.
8. Mind your own safety when driving. There only very limited lights on some roads. Be careful not to hit the goats and pigs on the road
9. Wear long pants and shirts when going to the area with grass to prevent getting bitten by mites. In the case of feeling unwell, you can go the local clinic to get medical care.
10. The organizers have the rights to reserve any change.
11. Tickets purchasing are regarded to agree with all above rules.
Location
Location
952, Taitung County, Lanyu Township, 6 鄰 1-4 號, Costal Holiday.
Organizer
Organizer
Moonlight Ocean 月光海.
Added

3y 4m

· Update

3y 4m

· 1