Backend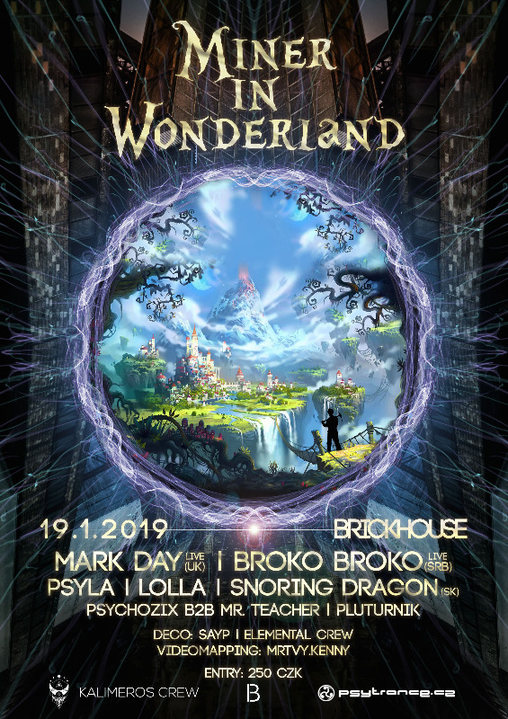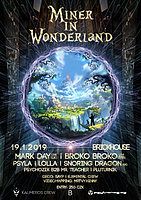 Line Up
Dear rawers!
Let's dig together deep into our psychedelic heads and become The Miner in Wonderland!
Be tempted by unmistakable and unforgettable feel of industrial and yet incredibly colourful heard of city Ostrava! This psychedelic delicacy will take place for very first time inside the old steel factory where all our magic was forged - BrickHouse DOV!
Explore our wonderful venue with us – Kalimeros crew the spiritual caterpillars of Czech psytrance scene led by jumpie rabbeat DJ Ondrej Psyla and hard scary drums of night queen Lolla. The dark Hatter of London psytrance castle himself, the guest of honour, Blue Hour Sounds clan Mark Day will bring you onto a mysterious trip to show you, how deep can the rabbit hole be!
Brick Houses unforgeable rooms capable up to 1000 miners inside will be arranged by the most desirable psychedelic artists – El maestro Sayp and Elemental crew. All supported by massive videomaping.
All this journey will be of course led in the comport of brand new acoustics filled by massive and cushy sound! So lets dance the shoes!
ૐ●•٠··٠•●ૐ●•٠··٠•●ૐ●•٠··٠•●ૐ●•٠··٠•●ૐ●•٠··٠•●ૐ●•٠··٠•●ૐ
★ ★ ★ LIVE - ACTS ★ ★ ★
► MARK DAY (UK)
(Blue Hour Sounds)
soundcloud
[facebook.com]
► BROKO BROKO (SRB)
(Tandava Records)
soundcloud
[facebook.com]
★ ★ ★ DJS ★ ★ ★
►SNORING DRAGON (SK)
(Tandava Records)
soundcloud
[facebook.com]
► ONDREJ PSYLA
(Digital Forest Festival)
soundcloud
[facebook.com]
► Djane LOLLA
(Independent Theory)
soundcloud
[facebook.com]
► PSYCHOZIX b2b MR.TEACHER
(Kalimeros crew)
[click here]
[facebook.com]
[click here]
►PLUTURNIK
(Kalimeros crew)
[click here]
Location
BrickHouse DOV
Vitkovicka 3365, 70200 Ostrava